Is Harry Kane overrated?
Harry Kane is a good player with a great goal-scoring attitude. The English striker can score all sorts of goals. He's still young, but he doesn't have a lot of potential if he stays at Tottenham. Tottenham haven't won the league since 1961, and although this is the best Spurs side the soccer world has seen, Harry Kane must move somewhere else if he wants to win anything.
Now, he has won individual awards, such as the 2018 WC Golden Boot, and the Premier League Golden boot for two seasons in a row. However, his career goal is to win team titles.
So is he not as good as most soccer fans think he is?
Freshman Adriano Grassi says, "Kane's a good player, but he doesn't meet the expectations of fans around the world. People make him out to be better than he is."
It sounds ridiculous to suggest that he's not nearly as good as most people think he is, so why is such a statement being made? He is overrated simply because people don't realize that he is one-dimensional. He does a great job of scoring, which is a striker's job. Also, he is excellent at being at the right place at the right time. The famous soccer quote inhabited all around the world "It doesn't matter how you put em' in, all that matters is that it's a goal," describes his scoring abilities.
However, there's so much more to the game than just scoring. You can't score if there's no build up. The tactical ability to get the ball from point A to point B takes a lot of hard work and creativity. Now, Kane works hard maintaining his fitness off the field, but his work rate on the field is rather dull. He never pressures the defense, and unlike all strikers, he rarely chases after a ball that isn't easy to get. Now it's time to go back to the point about creativity.
All strikers have their ways of succeeding on the pitch. Jamie Vardy is a specialist of creating something out of nothing. Mohamed Salah is a master of using his pace and skill to beat defenders. Aubameyang succeeds by giving himself space between the defenders on and off the ball, especially on the counter.
Harry Kane's strengths are penalties, deflections and tap-ins. If you don't understand the difference, let's put it this way: Kane mainly relies on other players doing all the work for him, or defenders' and goalkeeper mistakes. Now, taking penalties requires skill, but it's not even close to being one of the main qualities as a player.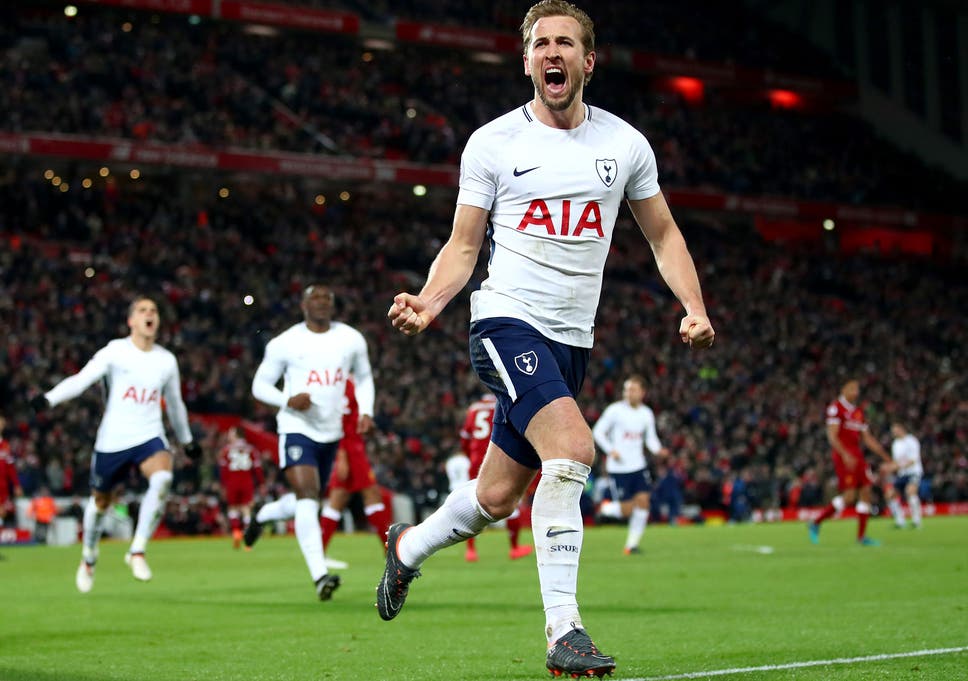 Harry Kane celebrates a penalty conversion to make it 2-2 against Liverpool in the 94th minute at Anfield. The decision was controversial, as it appeared that there was no foul.
Harry Kane celebrates a penalty conversion to make it 2-2 against Liverpool in the 94th minute at Anfield. The decision was controversial, as it appeared that there was no foul.
Going back to the point about creativity, when he occasionally drops to midfield to receive a pass, only on rare occasions, he often struggles do to anything else with the ball. Even without the ball, his movement isn't fantastic and you can sense his frustration on the ball.
According to https://www.fctables.com/players/harry_kane-246316/, Harry Kane has a pass completion rate of 67% , which places him 16th out of 20 starting Premier League strikers. And although he has a great shot, he bangs in 1 goal per every 151 minutes, which translates to a little bit under 0.6 goals per game.
This statistic isn't bad, but not as high as most of the other top strikers in Europe, who the biggests soccer fans compare him to.  If you compare his statistics to strikers like Luis Suarez, Robert Lewandowski, and even more top strikers, you will be surprised he doesn't reach those standards.
There are a couple of other reasons why he's so overrated. First, to add on to the point about penalty taking, about third of his goals in the past year came from penalties, which is a takes up a ton of his goal tally. Infact, soccer fans around the world joke that Harry Kane practices penalties during actual games more often than he does in training.
Mauricio Pochettino, the Tottenham coach, probably doesn't encourage his players to dive, but Harry Kane, Son Heung-Min, and Dele Alli spent a combined total of 8 minutes on the ground against local rivals Arsenal a few weeks ago. This is more than half the amount of time Neymar spent on the ground in a matter of five games.
It might sound like Tottenham aren't being judged fairly, but it's clear as to what their strategy to win is. This strategy works most of the time. A similar situation took place at the World Cup this year, where Harry Kane scored six goals, three of which were penalties.
Now let's look back at the positive side of Harry Kane. He's talented, and we all know he can have a very successful career, but he has to do it at another club. To add on to the point about relying on other players, Harry Kane won't be able to learn from his current teammates. A move to Real Madrid, for example, would help him improve his overall qualities as a player and become the best.
The difference between teammate Christian Eriksen and Kevin De Bruyne of Manchester City is that De Bruyne makes players around him better while Eriksen feeds his teammates. Look at Sane, Aguero, and Sterling. None of those players would be at the astonishing level that they are at without De Bruyne. Harry Kane can meet people's expectations of him if he learns from his teammates.
About the Writer
Elias Swift, Reporter
Elias Swift is a reporter for the iNews Network. He covers the topics of sports and music. Apart from journalism, his main passion is piano and singing....