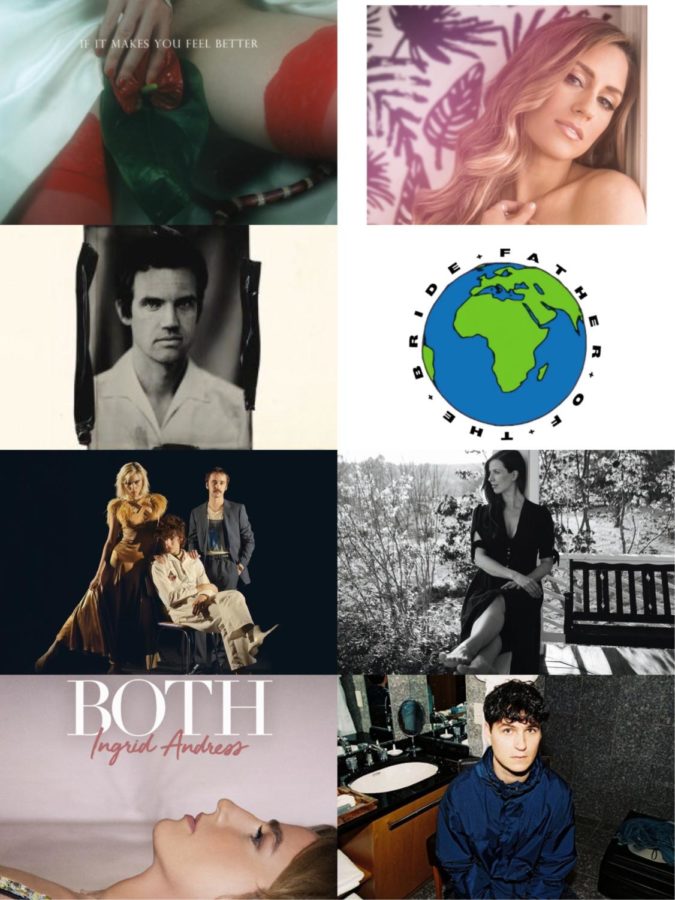 Over the past five months, there's been a lot of new music. It's hard to keep track of what's being released anymore as anyone can release anything at any time. The school year is winding down, but the workload is more substantial than ever. In the midst of all the chaos, finding the songs that stop you in your tracks can flip your entire mood. Here are some songs that have come out in the last year that if you don't know yet, you need to:
"If It Makes You Feel Better"- Kira
I stumbled onto this song last week, and I could not be more obsessed with it. London indie-psychedelic pop duo Kira's first single is dreamy and lonely in the best way. Katie, who sings lead on this track, follows the lyrics in a way that's very intimate. Will, the other half of this duo's production, is very HAIM meets Fleetwood Mac meets Rostam. I have a feeling this will be a sleeper hit, as it's too good not to be on everyone's radar.  
"Cool"- Rachel Reinert
Fresh out of country harmonic group Gloriana, Reinert released her debut solo "Cool," and it's a perfect combination of her southern California roots and new home in Nashville. The production is warm and driving, and the best part of the song is it's flow. It's one of those songs that feels like it just happened, and those are sometimes the best songs.
"Married In a Gold Rush"- Vampire Weekend featuring Danielle Haim
Everyone's talking about the new Vampire Weekend album Father Of The Bride, and rightfully so: it's their first project in six years, and it's also the first album without main collaborator Rostam Batmanglij, and the sound is completely different. One of the highlights is the Paul Simon-esque duet with HAIM member Danielle Haim. It's alternative meets southern rock, and although the sound is current, there's an old-fashioned vibe to it that works. It's lyrically simple and approachable.
"The Trouble With Wanting"- Joy Williams
Half of the now-broken-up folk band The Civil Wars, Williams released a new album that's a return to her singer/songwriter roots. She details the death of her father and her return to Nashville as the main inspiration behind the record, and it's one of the best albums I've heard in a long time. Fan-favorite track "The Trouble With Wanting" is painfully honest. It's simple in production but layered in harmonies, and there's such depth in the lyrics. "The trouble with wanting is I want you/and I want you all the time," she sings on the chorus- it almost sounds like it's haunting her. It's a really powerful track, and I look forward to seeing what she does in the future.
"Only A Moment"- Sunflower Bean
I'm convinced that the NYC-based indie group can only create songs to soundtrack moments. Last year, they released the summer-like "Twentytwo," and this year they released "Only A Moment," a song that could have been played on a 2000s teen television show (in the best way), had it come out 12 years ago. It's synthy and sleepy, but not in a slow way. Sunflower Bean has the ability to create timeless music, and it's always interesting to see the direction they go in.
"When The Night Moves"- Tyler Hilton and Kate Voegele
Speaking of the 2000s, Tyler Hilton is back with a new album, and it might be his best piece of work. It's the perfect merge of alternative, rock and country. Partially produced by Charles Kelley, the frontman of Lady Antebellum, Hilton's new sound is fresh, but also pays homage to where he started back in the early 2000s. One of the best tracks on the album is "When The Night Moves"- it's a duet with Kate Voegele, and the two compliment each other with driving harmonies. This is a song that is perfect for summer.
"Both"- Ingrid Andress
This might be the third single from Andress, but she's hardly a newcomer. She's written songs for people like Sam Hunt and Charli XCX, and the groovy new track "Both" showcases her skilled songwriting and her powerhouse vocals. Andress is one to watch.