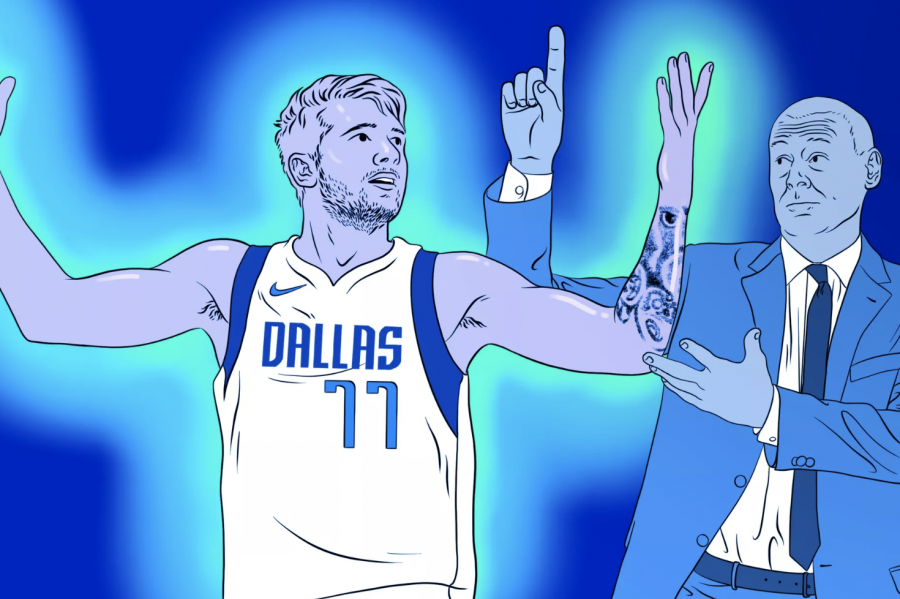 A GOAT, a name that shows your greatness, that shows that your the best and that there is no one better. Players like Lebron James and Micheal Jordan have left their marks as goats of the NBA but there is another GOAT that is rising to the top at such a young age. 
His name is Luka Doncic and he is becoming a young star, helping the people around him become better and at this rate, he will truly become the next goat of the NBA. 
"Arguably the best player in the NBA right now, " Jeff Teague (a player for the Timberwolves)
In the history of the NBA, there have only been two other players who have been able to average 20 points before the age of 20: Kevin Durant and Lebron James.
 Now Doncic joins the party. We have never seen anyone be able to accomplish these numbers at such a young age ever. 
The young star is shy one more point to average a  triple-double like superstars like Russel Westbrook, Oscar Robertson and again Lebron James. He's currently averaging 30 points a game, 9.8 assists a game and 9.2 rebounds a game. He's already passed Micheal Jordan's record of the most consecutive games of scoring more than 20 plus points a game, 5 assists and 5 rebounds.
NYC iSchool freshman Frank Tan stated, "that's insane, like the only people to average triple-doubles Oscar Robinson and Russel Westbrook. Luka also said that scoing in the European league was much harder than the NBA."
Born in Ljubljana, Slovenia, Luka Doncic grew up with his mother Mirjam Poterbin and his father Sasa Doncic and since he was one and a little younger than that, he had a miniature hoop that he would shoot on, he loved basketball, and he generated that love the same way his father did. 
Through that love of basketball and his young talent, at the age of seven, he started to play for an organized basketball team at his primary school. He was seven at the time and he was playing kids that were 10 and had much more experience than him, but Doncic always said he had a gift to play the game with some serious basketball IQ. 
In an interview with the EuroLeague, Luka stated that:
"I think it's a gift, I was just born to play basketball. It's true that you have to play basketball with your brain. You need to be smart and make the right decisions. That's very important. But it's just natural for me. I really don't think too much about making the right decisions at the right time. I play better when I don't think about stuff like 'What if I do this? What if I miss this shot?' 
Before he was drafted to the NBA, however, he played for the Real Madrid Team and was one of the best European players. Dončić led Real Madrid to a Maricopa Endesa win, averaging 24.5 points, 13 rebounds, 4 assists, and 6 steals per game. In the final game of the tournament, he contributed 25 points, 16 rebounds, and 5 steals to defeat FC Barcelona and win MVP honors.
As he grew and worked on his game, he has not only has he been putting up crazy numbers but he has overall made the entire Mavericks team better. In 2017 to 2018 season (the season before Doncic got drafted) the Mavericks won 24 games and lost a whopping total of 58 games.
But when Luka was drafted the Mavericks ended up winning 33 games and losing 49 games which were a bit of an increase from last year. But throughout all of it, Luka's number has been the same.
We asked Freshman Nigel Pinn what he thought about this record change once Luka was drafted to the Mavs. He said, "Luka is cracked (really good), he's insane, he made that team much better. Before he joined the team he had no one except Dirk but when he got old and started averaging fewer points, the team was at losing with a good starting five. But when Luka was drafted the team became much better and made it more appealing for other players to join it."
This current season though with the trade of Porgizis, the Mavericks are currently the third team in the Western Conference and are looking good enough to be a playoff contender. They are currently 21  and 12 which is a great start for the European player. Their starters are all really big made up of Porzingis- (7 foot 3 inches), Tim Hardaway (6 foot, 5-inch shooting guard), Maxi Kleber (6 foot and 10 inches), Dorian Finney-Smith (6 foot 7inches) and of course Luka Doncic (6 foot and 7 inches). What makes this team so devastating though is their pure size of the team. Other teams have problems rebounding over this team, trying to trap them in corners because they are so big and just getting the ball overall.
"This lineup is ecstatic, they are never going to lose a game with this crazy line, it's just so big," said my friend Dylan Thompson in an interview.
Even though the young star has only been in the league for 2 years he's doing insane and Luka has a huge future ahead of him. He continues to average these numbers and stay at the top of his game, he will become the next Lebron James or better yet the next Micheal Jordan.