Is sustainability in the fashion world going to save us all?
If you have been looking for an article that talks about timeless pieces, wardrobe essentials, quality clothing, and sustainability, then you have finally found it.
It is important to create your own style, and the first step to that is figuring out what essential pieces you need to have in your wardrobe. Some people all over New York City are spending an immense amount of money on clothing that is trending and not on clothing that will last them for a long time. What you choose to wear becomes a part of you, and our clothing is a reflection of ourselves.
 Fashion has a lasting impact on our society, but it also has a lasting impact on our environment. 
 Fashion
Fashion is all around us; it is a reflection of culture, creativity, and our society. Fashion is something that connects us all and is a reflection of how people feel. As Coco Chanel said, "Fashion is not something that exists in dresses only. Fashion is in the sky, in the street, fashion has to do with ideas, the way we live, what is happening."
"Yes, I like fashion, it's an art form and I like art. I think people can be really creative with it, I like to see what designers are doing with it," says art teacher, Ms. Smith. 
Louise Maiga, a 10th grader at UNHS, also agrees, " I like fashion, I think it is a great way to express yourself. I think social media has influenced my style and my view on fashion." 
In reality, there is no such thing as timeless fashion 
Timeless fashion is a phrase people use to describe clothing items that have survived the fast pace of fashion and continue to be appealing over the years. If you may, timeless fashion items are considered essential pieces. 
An example of a "timeless" piece is Levi's 501 jeans. 
According to Ms. Smith, essential pieces in her wardrobe include "a black sweater…having a nice pair of jeans, black dress, but it can also be fun to mix it up with something bright, something with a floral print, maybe a scarf."
 " I think flannels are really cool…it could be used for a chilly day, it could be for summer, it could be for a winter day. I think it goes with my fashion and would recommend it to other people," says Louise.
Ms.Smith also says," I LOVE red shoes. I always have at least one or two pairs of red shoes and it always makes me happy when I wear them."
Quality items 
High-quality clothing will last you much longer than low-quality clothing, resulting in you buying fewer items and spending money less frequently. High-Quality items generally last longer and are made with durable materials, because of this most of the time the fabric used is less prone to tearing and the stitching is less likely to come apart if exposed to extreme situations. High-quality clothing is not only long-lasting and durable, but is also much more comfortable.
They also tend to fit better and retain their original fit for a longer period than lower-quality pieces.
Donnatella Maharaji, a 10th grader at Spence, says," Some quality pieces I will continue to use and will recommend to others are a good pair of socks, skinny jeans, and white crop tops."
" Never get cheap shoes, invest in good shoes, if you have the patience and have a sense of what you like you don't have to spend a lot of money to have nice clothing," says Ms. Smith
"One thing I have learned from my mother, who is much more fashionable than me … she goes to stores like Tj Maxx, Marshall, all of those cheap versions of stores that have good stuff. They have good stuff, you just have to be patient and you have to have a good eye. She will stand there at the rack and go through everything in her size and if something looks interesting she will try it on. She always looks great and never pays full price for anything. So I would say try those  stores, don't pay full price and trust your instinct," says Ms. Smith 
Leah adds, "Always look in the sale/clearance section because you can always find really good deals, like in urban outfitters where everything is pretty pricey, look in the back of the store." 
Sustainability 
On April 24, 2013, the Rana Plaza incident in Bangladesh killed over 1,132 garment workers and injured over 2,500. This incident left consumers all over the world shocked and wondering who makes the clothing they wear and under what kind of conditions. 
Sustainable fashion is referred to clothing that is designed, made, distributed, and used in environmentally friendly ways.
Fast fashion allows for our clothes to be more affordable, but it comes with an environmental cost. The fashion industry contributes 10% of global carbon emissions, is the world's second-largest consumer of water supply, and pollutes our oceans with microplastics.
According to Donatella, "Overconsumption is a really big problem, factory workers aren't getting paid enough, and it's causing a lot of problems and causing so much damage." 
One way to find unique pieces is by supporting local companies or thrifting. Not only does this help you find cool pieces, but it also cuts down on carbon emission and allows us to visit the places and people who make these products.  
"I think it's good to find things that are made locally where you know that the workers are being paid fairly, there's a lot of clothing that is made in countries by people that aren't being paid fairly, and often it's children," says Ms. Smith.  
Some places to sell and shop for second-hand clothing are Poshmark,thredUP, eBay, and Depop.
Two websites that are great places to find ethical and sustainable clothing brands are  https://www.thegoodtrade.com/features/fair-trade-clothing and https://consciousfashion.co. They both have a variety of small eco-friendly shops to support and where you can locate specific things. They include articles, newsletters, and information on which brands sell the thing you're looking for. By being sustainable in the clothing you buy and where you buy from, you could be saving us all.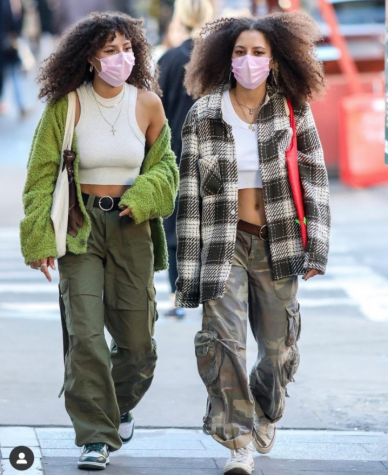 As Ms.Smith said, "I think fashion should be a personal choice that reflects who you are.  Of course, we are all influenced by trends to some extent, but it is good to figure out what you like, and try to find clothes that you are comfortable in, that reflect your personality and personal style, not just to choose what everyone else is wearing."