Why did fans love "Wednesday" so much?
March 9, 2023
With her black dress, black hair and black umbrella, Wednesday Addams makes her mark on Nevermore High, and at the same time, Netflix makes its mark on the world with its recent release of the show Wednesday. 
Inspired by Charles Addams's Addams Family cartoon, Netflix's revamped and modernized version of the Addams family recently made its debut. Released just under four months ago on November 23rd of 2022, the series, starring Jenna Ortega, has gained widespread popularity and climbed the list of Netflix's "Most Watched" series. 
The show's "great gothic soundtrack, paired with Jenna Ortega's spectacular acting," says an SCMP review article, makes the series "one to watch." One thing that is, in part, responsible for the show's recognition is Jenna Ortega's feature role. 
"You could tell that Jenna Ortega was dedicated to her role in Wednesday," states iSchool junior Mareez Hasaballa. And "with a personality like Wednesday [Addams], that was probably really difficult." This is partially why the show has received such heightened recognition. 
Jenna Ortega has acted in a number of other series and movies, including the Disney Channel series Stuck in the Middle, the 2018 hit-series You, and the Jurassic Park: Camp Cretaceous movie. In Wednesday, Ortega portrays a character so out of the ordinary that viewers have no choice but to commend her acting. 
"It was cool how Wednesday was [able to be] gloomy yet funny at the same time," states iSchool junior Ishrat Islam. She continues: "I haven't seen a lot of shows where actors can do that. Most of the time, actors like Jenna Ortega portray teenagers." Ishrat knows that "acting under any circumstance is probably really stressful, but acting as a character like Wednesday who has such a wide range [of emotions] is probably super challenging."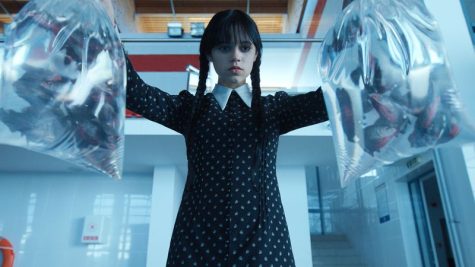 This range of acting has added to Wednesday's appeal. According to a Backstage article, some roles, including the role of a villain or historic character are "harder to research, which can prove frustrating." Jenna Ortega has proven that she's more than capable of embracing this archetype. 
Aside from Ortega, there are a number of other characters on the show that have become fan favorites  this season. Whether they play a roommate or an enemy, every character in Wednesday contributed to the eerie and suspenseful scenery the show takes place in. 
Of the many characters on the show, Enid Sinclair, Wednesday's roommate at Nevermore Academy, has proved to be a well-loved character by many audience members. 
Mareez states that she particularly appreciated Sinclair's character, portrayed by actress Emma Myers, because she was "always loyal to Wednesday and was always willing to help her. Whenever Wednesday was facing something dangerous, Enid was always there to help, even if there wasn't anything that she could actually do. It just proves that she was a really good friend."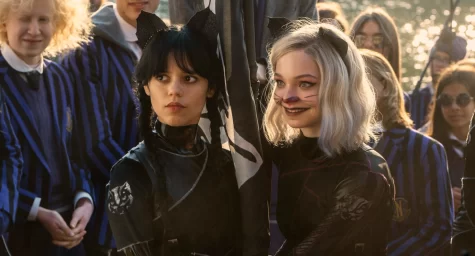 For many teenagers watching, that was what made Enid such a relatable character.
Mareez continues: "I think that I have a few similar traits with Enid. I never find myself in situations that Wednesday is in, obviously, but I think that I have a supporting personality, just like Enid. I try to help whenever I can, even if my help isn't that useful."
And since many teenagers aren't taking up action and talking to a walking hand like Wednesday does, the show still makes sure to have characters that teenagers can relate to. 
Ishrat Islam agrees with this idea. She agrees that "Enid is an extremely relatable character, because you could tell she cared for the people she loved a lot. And she would show that she cared for Wednesday even if Wednesday was acting difficult." 
Other characters in the show have gained attention, as well. Thing, Wednesday's sidekick on the show, was loved by an overwhelming majority of viewers. Although Thing is only a walking hand, and not a person, ET Online describes his "wittiness and resourcefulness as one of Wednesday's greatest assistance."
Thing acts as a helping hand, if you will.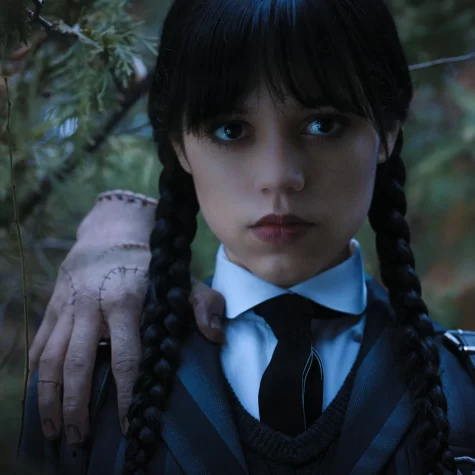 But even though it may be difficult to recognize how teenagers can relate to Thing- a hand- or Wednesday- a character who finds pleasure in the scarier parts of life- there are some ways that audience members can relate to Wednesday as a person. 
iSchool junior Hadassah Chuks notices the similarities between Wednesday and teenagers. She says that "there's a similarity between how optimistic Wednesday and teenagers are. Even though Wednesday dramaticizes her emotions for the sake of the show, I think teenagers tend to pay attention to the negative parts of something, just like Wednesday." This is seen most often through themes of love, friendship and new beginnings in teenage lives. 
This pessimism is made very obvious by Wednesday in the show. Hadassah notes that "she makes it obvious when she doesn't want to participate in things, like school activities, for one." As the Robert Ebert article describes it, Wednesday is "extremely sure of herself but with plenty of growing up to do. That makes her both an extraordinary and typical teen." Someone who "thinks they know everything while continuously being made to learn more." 
As a result, the ability to relate to Wednesday poses some benefits for Gen-Z, as the generation makes up a majority of the show's viewers. Its appeal to the generation allows for the added enjoyment of the show. When exploring issues like "[Wednesday] com[ing] to better understand her parents  as she comes into a more mature understanding of herself," the audience can better immerse themselves in the show through the relatability factor. 
Mareez thinks that "the producers definitely had Gen-Z in mind when they were making the show. It's one of those shows that our generation just goes crazy over."

But the audience extends further than just teenagers. Mareez believes that "the producers still incorporated enough things in the show that other people could relate to, not only people our age." 
And this is true when looking back at the origins of the show. Ishrat notes that "Wednesday is a spin-off of the Addams Family," a 1991 film, and so "it also made the show interesting for older generations."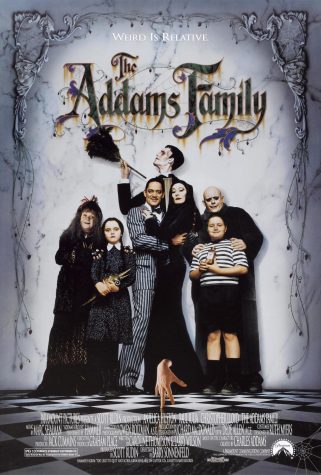 And though the show is teenager-dominated, Mareez realizes that "there wasn't a huge incorporation of social media," and "[she] found that interesting for a show that is heavily watched by teens and portrays teens." She admits that she found it "kind of refreshing," and thinks it is something that older generations would appreciate, as well. 
But the cast still made sure to update us on social media once Wednesday was released. 
Actress Christina Ricci, who played Marilyn Thornhill on the show, has kept viewers intrigued through her numerous Instagram posts on the release of the show. Joy Sunday, who portrays Bianca, haas kept fans engaged by posting numerous behind-the-scenes photos of the show after it aired. With this, viewers are able to relate to the actors off-screen, and be pleasantly surprised when cast members share moments from fan-favorite scenes of the show. 
Of the many scenes portrayed in only 8 episodes, many snippets of the show have gone viral on social media platforms. Two such scenes are Wednesday's dance at the Nevermore ball, and her numerous interactions with side-character Xavier. 
Hadassah says that she loves the dance scene "because it was nice to see Wednesday in a pretty, black dress while everyone else was wearing white. And her dance was iconic, too."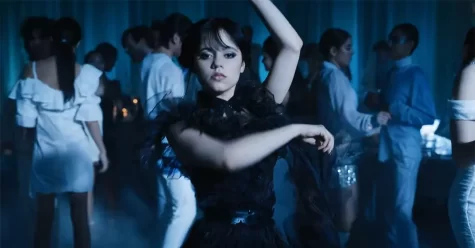 In addition, Ishrat particularly enjoys the more emotional aspect of the show. She notes that she loves to "see Wednesday finally realize how important Enid was to her. When they hugged at the end of the show, after all the emotional things that happened, I felt like you could really see character development from them both." 
And "as such a good sidekick to Wednesday," Ishrat adds, "I think Enid needs more screen time because of it, if there's a season two." 
In season two, Enid isn't the only sidekick that fans believe deserve more screen time. Thing is right up there with her. 
Hadassah says that she "thinks Thing added to the feeling of the scene, and at Nevermore High. The show was all about things that aren't normal, basically, and a walking hand obviously is not normal."
But that's an aspect of the show that keeps viewers intrigued. 
Chuks adds that "Thing was an interesting character to watch. Even though you couldn't really understand what he was saying, because he communicated through tapping that only Wednesday could understand, it almost added suspense to the show.
And that suspense is something that will, undoubtedly, be carried into the second season.
Aside from characters, fans have other things that they'd love to see in the second season of the show. From more action-based scenes, to the exploring of love triangles, there are many high expectations for what is to come of the show. 
The idea of a season two was raised as a question immediately after the first season was released. Considering how quickly the show gained attention, with its watch time of 341.23 million hours during its first week of release, it's safe to say that fans are eager to see how the show continues to blossom. 
Mareez would find it interesting to "learn more about the history of Wednesday's family. The show is based on a family with a lot of history, and that definitely contributes to how the family acts, so I think that could be really useful." She thinks that "if you didn't know about the Addams family a little bit before watching the show, you may not be able to see what the show is really based on." 
But with the consistent attention that the Wednesday series has gained, both season two and that history is- hopefully-soon to become common knowledge. 
Although Netflix has not released the premiere date of the second season, Wednesday fans will be at the edges of their seats waiting.