Oakland: The mysterious city of sports
April 4, 2023
When the Oakland Raiders left Oakland in 1982, the city of Oakland wasn't that upset. After all, they still had the Golden State Warriors and the Oakland Athletics. It was when they left the second time that fans started to get angry. The Warriors also left for San Francisco the year before, so all fans had left for Oakland sports teams were the Oakland A's. 
Though there are other teams not too far away on the other two sides of the bay, for Oakland fans, it's not the same. People who have been die hard fans of the Raiders, The Warriors, and Oakland's ice hockey team, the California Golden Seals, have had their team stripped away from them.
Oakland is one of the most confusing cities for several reasons; one being their sports team history. The city that holds over 400,000 people only has one sports team left in the Oakland Athletics. Even the A's might be leaving soon as well. According to CBS News, the last team left in Oakland may be leaving sooner than people think: "The A's have played at the Coliseum since 1968 and their lease expires after the 2024 season."
NBC states: "After withdrawing plans for ballparks in Fremont and San Jose, the team announced in November 2018 it had found a waterfront location for a new ballpark at Howard Terminal, close to the Jack London Square neighborhood." Things were not as good as it seemed. "The city of Oakland missed a key October deadline for finalizing an agreement with the A's on the $12 billion project." 
This begs the question: What has happened with Oakland sports teams in the past?
In 1971, the city of Oakland acquired the last sports team it needed to have at least one team in all four North American sports: The Golden State Warriors. The first team to leave Oakland would be the California Golden Seals in 1977 where they moved to Cleveland to become the Cleveland Barons before they would merge with the Minnesota North Stars in 1978 and eventually move to Dallas to become the Dallas Stars. 
In 1982 The Oakland Raiders would move to Los Angeles to become the Los Angeles Raiders. This move would be temporary, however, when the Raiders moved back to Oakland in 1995. In 2020 the Raiders moved one final time to Las Vegas to become the Las Vegas Raiders. Even the Warriors moved across the bay in 2019 to San Francisco although they would keep the name of the Golden State Warriors.
One major contributor to a sports team's experience is its stadium.. The only major sports stadium currently in use in Oakland would be the Oakland Coliseum, or RingCentral Coliseum. The Coliseum is home to the Oakland A's and formerly the Oakland Raiders, and it was the last sports stadium shared by a baseball and a football team. 
What do people think about the Coliseum and Oakland sports teams?
One of the major parts of a stadium is how players interact with it. A player who interacted with the Oakland Coliseum quite a bit in his playing career was Doug Martin. Martin, who was born in Oakland, played seven years in the NFL, playing six of those years with the Tampa Bay Buccaneers and one year with the Oakland Raiders. His first time playing in his hometown city was in his rookie year with Tampa Bay, where he scored four rushing touchdowns in a half, tied for the most in NFL history. 
Martin played several other games at the Oakland Coliseum, most of them coming while he was playing for the Raiders. Spending a lot of time in one specific place can either lead to you appreciating it more or appreciating it less as you get sick of it. 
Martin says, "I enjoyed playing in Oakland. I had a lot of friends and family who came to my games and it felt great playing for my hometown." Enjoying playing for a team will make you appreciate your surroundings more and allow you to enjoy being in the place where the team plays. Thus, Martin generally enjoys being at the Coliseum, especially when he is playing. 
Martin's most memorable game in the Coliseum came on December 24, 2018. This game was special because it was supposed to be the last game that the Raiders played in Oakland.(The Raiders played another season there because the stadium in Las Vegas wasn't ready yet.) Martin says, "The announcement was made, and they said that they were  going to start moving to Vegas. I believe it was in 2018 against the Broncos. I remember that game because I got really emotional because I thought that was the last game that we played in Oakland. I played my heart out and we ended up winning the game, 27 to 14."
During Martin's last few games in the Coliseum, and the last season that the Raiders were supposed to play there, he noticed a shift in fans' mentality. Martin says, "These people loved to be there, in the action, and supporting the team. It's a shame they left."
While players interact with the stadium by actually playing, fans interact with the stadium in a completely different way. Fans spend their money to go to games, and when the stadium leaves a fan disappointed, the fan may not want to return. This is sometimes the opposite with Oakland sports fans, as some of them enjoy going to the Coliseum because it's what they grew up with. One of those people is former Coliseum employee Geoffrey Williams. 
"I always felt that us diehard baseball fans in Oakland have just been with the A's and the Coliseum for so long. Oakland is a baseball town, even though most people would rather go over to San Francisco's Oracle Park. Even with that other stadium so close across the bay, I would still rather go to see an A's game," Williams explains. 
It is crucial to recognize the fact that A's fans don't want to see their team leave just like the Raiders and the Warriors did. There is a curse in Oakland, where their sports teams keep leaving, and if the A's leave, it will crush the A's fans. "It would hurt to see the A's go. It's absolutely devastating when it happens. I was a big Raider fan, and it makes it even worse when they left twice," Williams vocalizes. 
Williams was born and raised in Oakland, but currently lives in the suburbs of New York City, so it is always fun for him to see the Yankees play the Athletics. " I love when the A's come out here and it's always fun to talk about. It's cool to support West Coast teams on the other side of the country."
When working at a sports stadium, you start to appreciate the environment of the game.  "I love day games, but there is something special about going to the Coliseum when it is a sold out postseason game," Williams says. 
Working at a sports stadium can enhance your appreciation for said team and games, and someone who appreciates the team more now that they worked there is NYC iSchool History teacher Ms. Resto.
Ms. Resto worked at Citi Field for almost six years, and while some parts of working at a stadium you can get sick of, such as overpriced concessions and tickets, the atmosphere is still very welcoming and comforting.
On the topic of differences between stadiums, Ms. Resto says, "Citi Field brings about a family atmosphere; everyone is friendly and wanting to help. I feel that in other stadiums some people look bothered that you have bothered them with a question."
Several people have had bad experiences in sports stadiums; it's not uncommon for that to happen. However, the A's seem to be the stadium with the most problems and bad experiences. Building and fan interaction issues beg the question, why are the A's still in the Coliseum, and when will they leave?
A better stadium
One of the biggest threats looming above Oakland sports fans right now is the undeniable evidence that the Athletics are in need of a better stadium. One of the biggest issues with the Coliseum is its age. The Coliseum was established in 1968. While not the oldest MLB stadium, it was beaten out by Fenway in 1912, Wrigley in 1914, Dodger Stadium in 1962, and Angel Stadium in 1966. 
The Coliseum is quite old at 56 years. There have been several problems coming with the age of the stadium in the past, notably the sewage leak of 2013. According to the SF Gate, "Raw sewage backed up into both clubhouse shower areas, the umpires' room and all bathrooms on the clubhouse level, as well as both managers' offices and the visitors' training room. The umpires left without showering, as did much of the Mariners' coaching staff and manager Eric Wedge." This is utterly disgusting and awful to know about, and it just proves how an old stadium has several disadvantages.
In the same article, it mentions, "The team deals with this issue on a regular basis because of the age of the building, 'but never to this extent.'" This just goes to show that the age of the Coliseum affects almost everyone who goes there, including the employees and the players.
Several people want the Athletics out of Oakland due to stadium reasons or to give another city a shot. If the Athletics are trying to move out of Oakland, it would mean several things. First, a proposition would occur at the Winter Meetings. If MLB gave the A's permission to move to another city, the stadium would have to be built in said city. Take Las Vegas for example. They don't have a professional baseball stadium, so they would have to construct one. 
According to a source familiar with MLB, "Even if the A's were trying to move to Oakland, the A's needed a place to play. Las Vegas would have to build  a stadium, which would take 2-3 more years. After 2-3 years, the A's would move to Las Vegas. Las Vegas is a viable sports town, and that they would fill out stadiums. The Raiders didn't do great last year. Every game was a sell-out. Every Knights game is a sell-out. It makes a lot of sense for Las Vegas to have a MLB franchise." 
The source says, "I don't see the A's moving for at least 7 or eight years. Oakland will counter. They will try to keep the A's. It's better for them in the long run." While keeping the A's is something that Oakland is trying to do, it seems that it is not a top priority, as they missed the key deadline for the Howard Terminal stadium.
Another part of a sports team moving is changing scheduling. This could be one of the main reasons that MLB would deny or accept a moving proposition. In the MLB schedule, there are 162 games. Each team has four division rivals, whom they play 13 games each. These rivals are all based close to each other to cut down on travel costs. 
If the Athletics were to move from Oakland to a city like Nashville, a city in the central part of the country, a city without an MLB team, it would mean that divisions might have to change, as Nashville is not in the west. Division rivals would have to spend more money traveling to Nashville, and it wouldn't make much sense. 
However, if the A's were going to move from Oakland to Las Vegas, there wouldn't be much more money spent on travel, and Las Vegas is still on the West Coast, so divisions wouldn't have to change. As the source said, Las Vegas is able to fill out sports stadiums. In theory, it would make sense for the Athletics to move there, if the city of Oakland didn't offer them a better deal at the end of their lease with the Coliseum at the end of the 2024 season. However, if the A's did move, what would happen to the A's fans? They would have lost 3 sports teams over the course of five years. How much of an impact would that have on the typical A's fan?
How would the A's leaving affect Oakland?
Disgruntled former players and employees like Martin and Williams would be upset, but how would current Oakland citizens react?
Someone who would be affected by the Oakland Athletics leaving would be current Oakland citizen Judy Myers. Myers, who has lived in Oakland for multiple decades, would hate to see the A's leave. She has witnessed the Raiders leave twice, just like Williams, but the key difference is that she still lives in Oakland. 
"I'm not a big A's fan, but it would still sting to see them leave," Myers states. "I'm a big football fan, so it really hurt when the Raiders left. I'm not even that big of a Raiders fan, I mostly root for the 49ers. It's just so painful when a sports team leaves your city."
The Raiders leaving also changes how citizens look at the Coliseum. Myers says, "Before the Raiders left, us taxpayers paid for a big revamp of the Coliseum. Then the Raiders left, leaving just the A's in Oakland." 
This revamp that the Oakland Coliseum got in 1995 left a sour impression on several of the taxpayers for several reasons, the big one being because this debt was still being paid in 2019, a year before the Raiders would move to Las Vegas.
However, another reason that citizens of Oakland dislike the Coliseum after the renovation in 1995 is the addition of Mt. Davis. Named after former Raiders general manager Al Davis, Mt. Davis was, according to OaklandSide, "[A]22,000-seat expansion[and a] massive addition of seating that obliterated the view of the hills, and which neither the A's nor the Raiders would ever be able to fill. According to many fans, 'Mt. Davis' mauled the experience of watching a game at the Coliseum. It certainly made the Coliseum less sightly."
Several people despise this new addition to the Coliseum, mainly because it would cost $100 million, according to the San Francisco Chronicle. Mt. Davis severely hinders the view of the mountains in the background of the Coliseum, leading to a more secluded and shaded area for games, which some fans may like, but several others don't.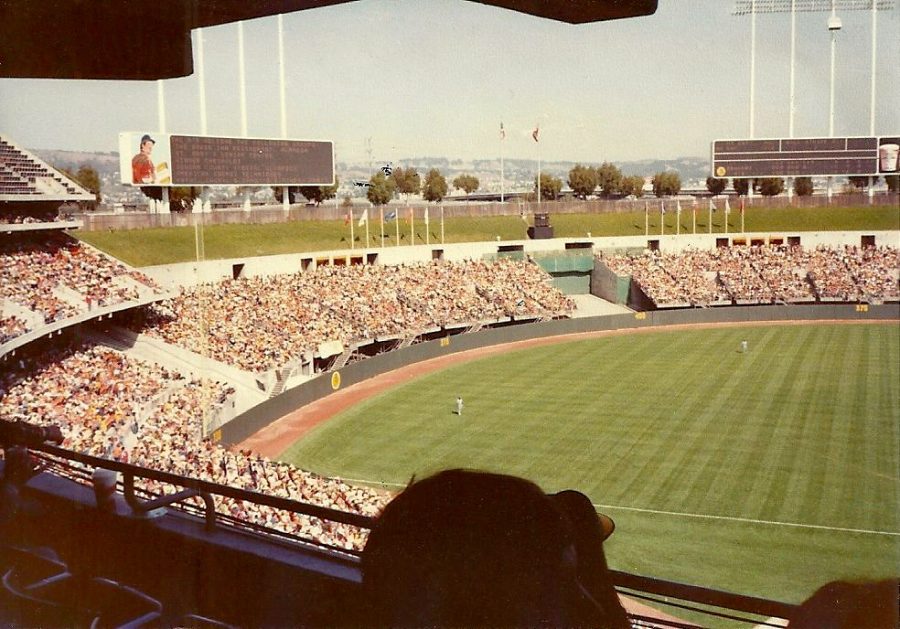 Again, this $100 million cost of the renovation was paid for by the taxpayers, and as Myers said, it is disappointing to see that this money was spent for a team that would eventually leave, not including the fact that these seats didn't have much of a chance to be filled. In fact, the Coliseum put up a tarp over some of the seats in Mt. Davis in 2006 that currently recognizes famous A's players whose numbers were retired. 
On the topic of the A's leaving Oakland, Myers says, "I really think that the A's will leave. The city of Oakland was so reluctant to come to an agreement on a stadium near the water. Another city will chime in and the A's will go there."
What Myers is saying isn't all that far fetched either. The A's plan to move to Howard Terminal was abruptly cut short after the city of Oakland failed to come to an agreement with the Athletics before deadlines passed, leading several to believe that the A's would end up moving somewhere else. 
If the city of Oakland truly wants to keep the Athletics, it is crucial that they come to an agreement soon. After all, according to AP News, commissioner of MLB Rob Manfred says that the A's require a new stadium: "'I think Mr. Fisher wants to make the best deal to secure the future of the A's, whether it's in Oakland or in Las Vegas,' Manfred said. 'They need a new stadium. I think that's kind of beyond debate.'" 
Why is Oakland not the most attractive city for sports teams?
To understand why Oakland isn't the most popular city for sports teams, you have to look far back into Oakland's timelineThe reason that Oakland is stuck with the Coliseum and not a better stadium dates back to even before the Coliseum was built in the 1960's. Oakland is struggling with money and has been since the California Gold Rush of the 1800's. Dr. Mary Catherine Greenfield Ph. D. talks about this history. 
"The reason Oakland is poor is called tax space. Tax space is the money that is given to the government through taxes paid by people in the area. The people with all the money were paying taxes to San Francisco, and the people with no money were paying taxes to Oakland," Dr. Greenfield says. More taxes were paid into San Francisco because of the richer and bigger population leaving Oakland in the dust.
Myers also points out the tax base issues and how they relate to modern day times. "A bunch of Office corporations have moved out of Oakland after the pandemic. Stuff like this is contributing to there not being a lot of tax space in Oakland." With even more businesses moving out, there is less money for the city. 
The reason why there is uneven wealth in the Bay Area goes all the way back to the California Gold Rush. According to Dr. Greenfield, "There was really nothing going on in Oakland until they hit gold. It was a port. When there was the gold strike up in the mountains, every ship in the harbor was deserted. Everybody bailed on their ships and went running up the hills to get gold." During the Gold Rush, everybody left their jobs to find gold. This resulted in the bay area becoming a big and important area in the country, and eventually a popular place to play sports. 
"Leland Stanford, a grocer, was the guy who came up with the idea of selling shovels and supplies to the miners. He ended up making more money than any of them," Dr. Greenfield states. With so many people looking for gold most people didn't find any. However, all of the miners would need shovels and tools for mining, so they came to people like Stanford, who would end up earning more money than the miners in the long run. 
Dr. Greenfield mentions, "You had minors coming from Venezuela, Peru, France, and not all of them would be on the peninsula of San Francisco. Some of them are going to be across the bay in Oakland." As Oakland was closer to the Gold Rush sites, all of the people looking for gold were living in Oakland. These people included minors coming from several different backgrounds to see if they could strike it rich.
"After the Gold Rush mania, all the people who lived on the peninsula were the rich people and the poor people and the industry and the people of color were all in Oakland," Dr. Greenfield says. All of the people who had spent their money on trips to Oakland or buying equipment to look for gold most likely found no luck in the mining business. This resulted in them not having much money. This would result in the wealthier people of San Francisco trying to get as far away from Oakland as possible, as it was seen as the poorer city.
"Hopkins, Stanford, Huntington and Crocker (all supply selling businessmen from the Gold Rush, known as the big four) backed up the building of a railroad. So the railroad, which had to go through the Sierra Nevada and the Rockies, met up in Promontory, Utah. The Pacific Union Railroad was pretty much owned and financed by these wealthy men." These men were not satisfied after making tons of profit from selling supplies for mining, and they decided to work on transportation instead.
Dr. Greenfield explains, "The people who built this railroad were poor Irish and Chinese people. Huntington actually said he was ordering people by color in carloads. These were people who were going up to build the railroad and their base was out of Oakland." As there were no railways in the west and people wanted to come to the west for the Gold Rush, they constructed more railways and the old miners who ended up failing in the Gold Rush needed jobs so they took it in a heartbeat.
Dr. Greenfield mentions, "Oakland wasn't raising money from the poor people. They then started redlining in Oakland, which kept the white people up in the hills and everybody else down in the flats." Redlining is a practice that discriminates against minorities in a way so that minorities are placed in a different part of a city or town, as to account for them differently in primarily in insurance and banking. As a result of this, less businesses opened in Oakland because of the difference in loans and insurance. As Dr. Greenfield says, Oakland was and still is a city with several people of minorities, meaning more people who were redlined. It was easier for the wealthy white rich residents of San Francisco to open businesses because they weren't discriminated against, unlike the residents of Oakland.
"Oakland has a much poorer tax base than all the rich people who lived in San Francisco. Without a tax space, you can't build great big stadiums. You don't have tons of people with extra money to go to games," Dr. Greenfield says. With minimal money to build a nice stadium, Oakland doesn't attract new teams. With fewer people to buy tickets, Oakland doesn't seem like a big enough market. It makes teams in Oakland think about leaving, and less teams consider Oakland a place of interest to move to. 
Tourists visit the more popular and populous city of San Francisco more than the city of Oakland, leading to more revenue going to the San Francisco economy. Dr. Greenfield touches on this by saying, "All that money in San Francisco built the Golden Gate Bridge. The Golden Gate Park, the Transamerica Building. Nobody wants to be in the Oakland flatlands." The Tourists are mainly focused on visiting more popular landmarks such as Oracle Park rather than the Oakland Coliseum.
The minorities of Oakland still suffer because of the reasons that Dr. Greenfield mentioned earlier. Dr. Greenfield says, "These inequalities are deeply entrenched. They have serious long-term historical reasons, like the redlining that kept all the people of color out of the more expensive Oakland hills, and even though that redlining no longer exists, the people of color were never able to build up the same amount of capital by owning a home that was going to rise in value. Because they lived in the flatlands and those houses were never going to rise in value much." Though the city of Oakland's redlining history is mostly over with, the long term effects are still there today, and affect a widespread number of people.
Dr. Greenfield states how Oakland could compare if they had more people which would make the place a bigger market. Cities such as San Jose and San Diego are all bigger markets because of the increase in people. These cities are all outnumbered by Los Angeles, which Dr. Greenfield says is a completely different story: "Los Angeles is really more of a county than a city. They chopped up L.A. into all these little towns so that it would not be one big governable city. It would have all these little townships, and it's enormous geographically, whereas Oakland is much smaller land-wise." Los Angeles is a giant city made up of little cities. Oakland is more compact and small, leading it to have a much lower population than the larger cities in California and the rest of the United States.
While Oakland has generally had an issue of money, the city across the bay is completely different. "No one can afford to live in San Francisco anymore. It's got a huge homeless problem because no one can get an apartment. Oakland is probably going to gentrify more, but as it gentrifies, the tax base will increase," Dr. Greenfield mentions. Oakland's population is like a football salary cap. The city only has so much space for people. Though people are leaving San Francisco for Oakland because they can't afford it, The city of Oakland has a limit. This means they won't attract new teams as a sporting market.
Dr. Greenfield says, "Remember, in California, you're having incredible issues with global warming. You have massive forest fires, and then you have torrential rain. So the forest fires destroy the root structure that holds a mountain together. And then you get torrential rain and that causes a massive mudslide." These horrible conditions also detract people from moving to northern California, which contributes even further to why Oakland has such a low population compared to San Diego and Los Angeles.
"There was a huge earthquake in 1989 in San Francisco, and a part of the Bay Bridge in the middle of it fell out. There are two tectonic plates on the pacific ocean that shove right up on the coast and make the cliffs, whereas there is only one tectonic plate on the east coast, and it goes very slowly down into the Atlantic. The Atlantic is much smaller, much shallower and much less dangerous to sail across than the Pacific." Earthquake problems also detract people from wanting to come to Northern California as the earthquakes in places such as San Francisco, Sacramento and even Oakland can be vicious.
An Alternative to Oakland?
With Oakland not being the most attractive city to host sporting events, there are clear alternatives, such as Las Vegas. There are several differences between the two cities, one being tourism. Las Vegas is the casino capital of the United States. It is also a huge place for business conferences. Several tourists are coming in and out of Las Vegas, and some of them are staying for sporting events. Las Vegas also has a bigger population than Oakland. As Williams and Dr. Greenfield said, not many people are visiting Oakland, but instead San Francisco across the bay. 
Other alternatives for sports are places like Canada. Canada boasts seven NHL teams,  but only one city holds any other sports which is Toronto. Toronto has the Toronto Raptors and the Toronto Blue Jays. Montreal used to have a baseball team, the Montreal Expos, but the Expos moved to Washington D.C. and became the Washington Nationals. 
Montreal has two times the population of Oakland and would love more sports. Vancouver also has more people than Oakland. Adding more sports teams to Canada makes more sense if they want more countries and people interested in their sport. Canada also has their own private leagues for all four major sports showing that there would be a market for people who want to come to games. 
An interesting idea would be to put a team in Mexico City. Mexico is the only land border to the United States that doesn't have any of the four major sports. Surely it would be expensive but the market is there. According to Macrotrends, Mexico City holds twenty-two million people. That's more than the populations of New York City, Los Angeles, Chicago, Houston and Phoenix combined. While the fanbase of the four Major League sports may be lower in a place like Mexico, it is clear that there is some interest, as Mexico competed in the World Baseball Classic, and has a professional American football league.
Some more ideas  for teams are places like Las Vegas or Austin Texas. Las Vegas already has two sports teams and with their new additions, they have shown they can be an avid sports city. As our anonymous source states Austin has no sports teams besides the nearby San Antonio Spurs despite having almost a million people to its name.
There are also some cities in the midwest that deserve a shout-out. Kansas City has half a million people despite only having two sports teams. The Kansas City Royals and the Kansas City Chiefs. Even some places on the crowded east coast would be good ideas. Places like Raleigh which also has half a million people despite having only one team in the Carolina Hurricanes. However, this is very close to Oakland's population of slightly over 400,000, so these cities may not be the best option for a movement or addition of a team.
Another alternative for a team like the Oakland A's might be a place close by like San Jose or Sacramento. They both have large populations of sports fans and there is already some transportation set in place between those places. San Jose only has one team in the four major sports despite having almost a million people which would be the San Jose Sharks. Sacramento also only has one team in the four major sports despite having about half a million people being the Sacramento Kings.
The Oakland A's situation is a unique one. As the last team left in Oakland, there is a lot more pressure to keep them there. All their collateral is gone. These talks between MLB, the Oakland board, and the Oakland A's themself could go south in many ways. MLB is putting pressure on the A's to get a deal for a new stadium by 2024 or leave Oakland. Meanwhile Oakland doesn't have much money to throw at a new stadium so these talks are even more intense. 
Fans are on the edge of their seat with these talks. Oakland had all four major sports, now they have one and they're on the verge of losing it. Fans have to hope that if it comes to a point where the A's have to leave, that they would move somewhere close by like Sacramento or San Jose, but the odds don't seem in their favor.
The A's as a franchise have always been kind of cheap. They have never had the kind of money that teams elsewhere have as shown in the book and movie Moneyball. The movie depicts General Manager Billy Beane working with the little money he has to build a roster that could boast a championship run. Though they didn't win a championship, they exceeded everyone's expectations and achieved a historic twenty game win streak. Though this strategy wouldn't continue to work in following years, it would cement the A's in history. 
The Oakland Coliseum has always had problems, the A's have always had problems, and the city of Oakland has always had problems. It's a bad combination and it makes it impossible for Oakland to hold more sports teams. Whether it's ingrained in history, and for the future, the city of Oakland isn't nearly as sustainable for sports teams as it once was. Every team except for one has left the city behind and the last one looks to maybe follow in his footsteps. Redlining, tax space, compact cities all contributed to what Oakland is today.