Give us your food orders and we'll rate them
October 26, 2021
The second hand slowly ticks…
determining the upcoming fates of many. Followed by a strange sound, comparable to the rumbles of an avalanche.
The stomach is truly a remarkable organ, isn't it? 
Hunger eventually turns our focus on food, and the remaining class time turns into a room/lecturer communicating in a gibberish state, almost like one of those cartoon shows.
Everyone is so desperate to leave their classrooms and head downstairs. It's a competition, a race, to be the first and swipe their card hearing that "Finally! We're out!" ding from the computer.
Roaming the streets of Soho/Tribeca, where do you usually go for lunch?
We wanted to find the best eateries therefore, we compiled a list of student reviews of prominent eating establishments and the elements of food quality, distance from school, price, and popularity.
In turns of events, we're also going to be rating their order(s) out of 5 mint chocolate scoops (we both like ice cream, but Edgar hates mint chocolate). 
"Somebody should really buy out one of the stores, like I don't know, Walgreens, and open a 99 cents pizza. You would make a lot of money." -Malachi Peters
Our first interviewee is Malachi, from our iNews module! 
He specified that "Most of the time I go to McDonald's, but sometimes if I wanna switch it up a little bit, I go to Dunkin Donuts and get pizza. Usually, I get there and McDonald's has not even started on my food yet and it's very annoying…I'll order either small or to large fries depending on what my points say on the McDonald's app, depending on what the deals are, and I'll always get a drink with it and sometimes if I'm really hungry, I'll get an apple pie too."
Fast food, generally McDonald's, is a popular spot for many iSchool students. The walk there doesn't take long, it's several blocks away. The issue however is the wait inside, it's rather different, as Malachi revealed. The quality isn't too bad, and on several occasions you'll be served hot food. 
Final verdict, we grant McDonald's a 3 out of 5 (mcs). "I'm lovin' it."
Speaking of McDonald's, Ashlyn, a freshman that attends iSchool also happens to go too!
"I usually go outside and eat at McDonald's, I get a McChicken, 10 piece chicken nuggets, and small french fries. It usually takes me 10 minutes to get from iSchool to McDonalds and I have at least 20 minutes to eat afterwards."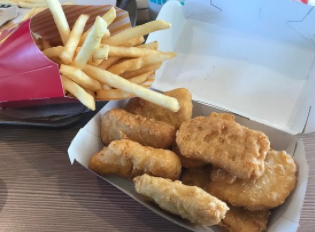 Photo taken by daisyferret1, Fries and Nuggets
Walking 10 minutes to McDonald's is not too far and her choice of food is really worth the money. Considering, it is fast food and cheap. 
The chicken nuggets and fries are a superior combo. We would have given her a 5 out of 5 but there's no drink. Ashlyn would have ascended to another world if she had the drink, but no, she mentioned no drink. 
She also mentioned that she had 20 minutes to eat afterwards, which is more than enough time to eat. 4.5 out of 5 (mcs) for this meal!
Coincidentally, we also happened to bump into Ashlyn's friend, Katherine and asked for an interview. She agreed to let us interview her, and this is what she said:
"If my friends like Ashlyn want to eat McDonald's, I usually go with them. When I go to McDonald's, I just buy one McChicken. I spend around $6 and it usually takes me around 10 minutes to get there. I'm a really slow eater, so I take 10-15ish minutes to be fully done with my meal, and if I barely have any time, then I just rush."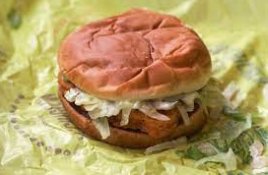 Nick Kindelsperger/Chicago Tribune/Tribune News Service via Getty Images, McChicken Sandwich
We rate this a 1.5 out of 5 (mcs). This has to be the worst food order anyone has ever gotten. It takes her ten minutes to go to McDonald's, and she simply orders a McChicken. She says she pays $6; why would a McChicken cost $6?
Is coffee really a meal?
The answer is no. Coffee or any beverages should never be a meal replacement, but can be paired with food. 
You're not getting enough nutrients, and this is a risk factor for disordered eating. Caffeine use is well established to be harmful in excess.
There's been a surge of people drinking coffee for that energy boost, most of which include teenagers.
How convenient we have a Starbucks right near our school. It's also no surprise this isn't where lots of iSchool students go.
We happened to interview our friend Humarya, since she gets coffee for lunch. Drinks at Starbucks are customizable, which we believe is a huge factor in popularity.
"A small iced coffee, with oat milk and  hazelnut sweetener" is Humarya's go to order.
This gets 2.5 out of 5 (mcs) because it's not too special, everyone gets coffee, you know? However, the hazelnut sweetener bumped the 2 to a 2.5. For the most part, we've never really gone to Starbucks, but heard they were expensive. The quality though is top tier, so overall not bad, but basic. It's not too far from school too, it takes less than five minutes to walk there.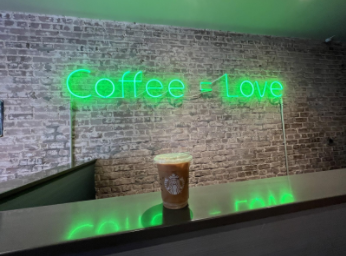 Taken by Edgar at a nearby Starbucks, picture of a coffee.
That One Popular Deli
Those who know this area well will definitely answer Essen Fast Slow Food. With many iSchool students and teachers coming here for lunch, it's earned the spot for its popularity.
Affordable hot and cold food, as well as the seating area on top.
We interviewed our great local friend from advisory, Jayden! 
She commented, "I eat at Essen's…I usually get an acai bowl which is like a smoothie and some fruits on it." 
Essen is by far one of the most prevalent places to eat in this area. In terms of accessibilities, it isn't that far of a proximity, which is great for a 45 minute lunch. Personally, we've seen the size, quality, and price, which kinda threw us back. It's what you would normally expect: an acai bowl with granola, coconut flakes, fruits, etc, however, the portion size was small and a staggering $9 for one. 
Finishing off with a 3.5 out of 5 (mcs)  because of the amount of toppings and quality. We all know Soho's expensive, but we aren't Jeff Bezos or someone like him. If we were, that'd be a different story then.
Another valued customer of Essen is substitute teacher Mr. Morris. 
His go to order was revealed to be said "I usually go to Essen and get the Bibimbap that they sell there."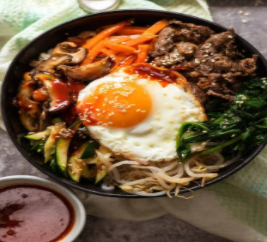 Photo by Nagi, Bibimbap
Bibimbap is a Korean dish with vegetables, meat, and an egg all on top of rice. He does not get any drinks, which detracts from his dining experience. However, the quality and price is fairly marketed.
We'll give him a 4 out of 5 (mcs), for one he has amazing taste.
Moving on to a senior at iSchool, Gladys Porfiro, who also happens to go to Essen. 
"I like eating at Essen most of the time. I'll choose here and there, I almost always get the Caesar salad and chicken teriyaki they sell there. It's convenient because Essen is really close to iSchool, so it takes me around 5 minutes to get there."
"I spend around $6-$9 and when I'm done ordering I eat inside the place. I usually have 15 minutes after ordering my meal." 
The cost of her food tends to be high, if she does go everyday. To be honest, crunchy bread with lettuce is questionable though. Chicken teriyaki on the other hand though is hot, delicious, and a stable comfort food. 
Ending it off with a rate of 3 out of 5 (mcs).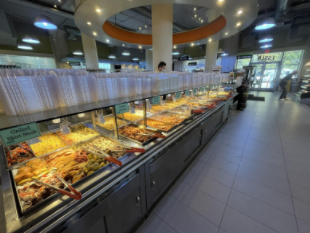 Photo taken by Edgar at Essen Fast Slow Food. Showing a variety of entrees and sides.
Homemade > Take Out
Homemade food is arguably one of the healthiest and cheapest versions of take out. Sometimes, we don't want food from a nearby deli or a Michelin star restaurant. Nothing beats a good homemade sandwich that will fulfill that satisfaction.   
You might be wondering, who even brings homemade food when you can go out for lunch or think it's too time consuming. 
Well, we found Mr. Fitts, the math teacher who is one of those people.
We started by asking, "Do you go anywhere for lunch?", which he went on confirming, "I usually bring my lunch, a lot of times I bring sandwiches. Like today I had a turkey sandwich, and I also like eating at the Trader Joe's snack bar."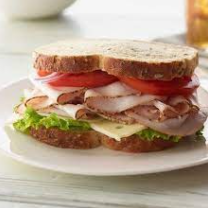 Mr. Fitts, as you can see, is a pretty basic man. He brings his own home-cooked meals with him and on several occasions gets snacks at Trader Joe's. Which is conveniently right across from our school.
We rate that a 3.5 out of 5 (mcs). He usually gets a snack, which is not a meal, and he also never mentioned any drink. He does get points because Trader Joe's is very close to the school ,which leaves him more time to eat and enjoy his snack. The snacks Mr. Fitts usually have are pretty affordable at Trader Joe's.
Trader Joe's
Following up, Trader Joe's is a frequent visit for many. Whether you live or are in the area or not, we can all agree Trader Joe's is something magical and different from many of the other supermarkets. We've also seen many Trader Joe's bags within several teachers' rooms.
We had the chance to interview senior Jackelin Vargas at the iSchool. 
"I like eating at Trader Joe's…at Trader Joe's I like eating chips, cliff bars, and sometimes sparkling water. I usually spend…$4-7 at Trader Joe's. Trader Joe's is really close to school…across the street. Most of the time I get 20 minutes to eat."
This order receives a 4 out of 5 rating from us. Because Trader Joe's is so close, she has plenty of time to eat after. Jackelin rarely orders a meal from Trader Joe's; instead, she grabs a fast snack. Nonetheless, because she does get a drink, she merits a great score. Jackelin pays a fair price for her food.
It's no doubt Trader Joe's has some amazing quality and one of a kind food.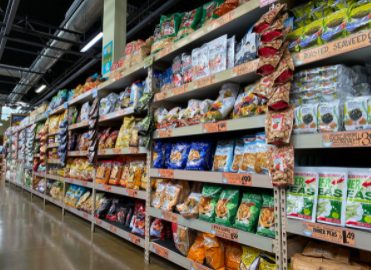 By Larry Zhou/Shutterstock, Trader Joe's Snack Aisle
Sunrise Mart = Japanese Version of Essen?
It's true, Sunrise Mart in many ways is similar to Essen. The hot food, snacks, seatings on top, and popularity. Except, it's more of a small Japanese market. 
It's a sample of well-known Japanese cuisine. With numerous iSchool students including me (Stephanie) going to Sunrise Mart during their lunch time, it's one of the more affordable options in Soho. 
Edgar's brother, iSchool senior Eric Garcia, also frequently goes to Sunrise Mart.
He shared, "I usually eat at many different stores around the school, but my favorite place is Sunrise Mart. So my favorite food to eat at Sunrise Mart is the cup of ramen they have. They have an option to heat it up so I pay for the heating service and I eat upstairs with my friends. The total of my food is usually around $5 including a drink. It takes about 5-7 minutes to get from iSchool to Sunrise market. It's not that far but it's a good walk from school. After ordering my food I get to eat for about 20 minutes before I have to go back."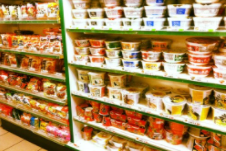 Photo taken by East Village Sunrise Mart, Ramen/Cup of noodles section
We give it a 4.5 out of 5 (mcs). It's a pretty inexpensive supper, but it's also really tasty. The walk from iSchool to Sunrise Mart is also not too terrible. He has more than enough time to eat now that he has ordered his supper. Most importantly, he purchases a beverage! 
We didn't give him a 5 out of 5 (mcs) because he is my (Edgar's) brother. We skewed the ratings since siblings never deserve a perfect score.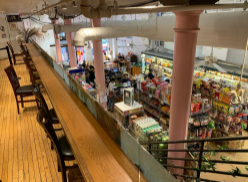 Photo taken by Rex W. (Yelp), August 17, 2019 Sunrise Mart, Soho, NYC
Which is the best?
McDonald's, Essen, and Trader Joe's were our top three favorites based on the amount of interviews we conducted. It's difficult to select amongst these because they each have their unique specialties. We're all going to one of these establishments at the end of the day.
Hopefully, one day, a mall will be built with several of these eateries within, so we won't have to trek as far and will have a wider variety of options.