New Yorks' Popular Pop-up: The Color Factory
November 8, 2021
You grow impatient after trailing the swarm of tourists waiting as eagerly as you are. You're almost there – you can tell by the beaming assortment of colors near the front of the line. Your excitement is hard to contain when you get a glimpse of the conveyors that reveal pastel cookies. 
Colorful objects surround you and you know you have made it to the Color Factory. 
The Color Factory is located at 251 Spring St, New York, NY 10013, right next to the iSchool! The Color Factory is an art exhibit that focuses on color. It includes a variety of different  aspects including, food, photography and interactive activities. 
This art exhibit has gained a lot of popularity throughout New York. Pop-ups are a huge part of New York culture. Pop-ups are temporary features, that can honestly be anything. Whether it is a toy store, or restaurant, if it is not established permanently, it is known as a pop-up. The sense of urgency to the Color Factory has made it a very frequent spot for tourists visiting New York.  Let's see if this exhibit is as worthy as these tourists are making it out to be. 
As I said previously, one of the aspects of this exhibit is photography. In every room, pictures are taken of you, which are sent to you once you scan your personalized scan card with a QR code linked to your email. It's very efficient, and you don't have to worry about taking photos yourself, leaving you free to enjoy the exhibit the entire time. 
The photography aspect of the Color Factory is one of the reasons this exhibit is so popular. Visitors of the exhibit post the photos taken of them on social media platforms, which gain a lot of attention towards the exhibit. 
When asked her opinion on the photography aspect of this exhibit, visitor Dory Vaughan said: 
"During this exhibit, photos were taken in every room and I thought that was really interesting. I enjoy photography myself and looking at the ways photos turn out to look always excites me. Photography being a major part of this exhibit definitely made the experience even better."
If you are into photography, the color factory might be the place for you. You get the chance to take your own photos and see the results of the ones taken for you. 
Now this isn't the only interesting part of the Color Factory. They also incorporate food into their exhibit. Here is what Vaughan thinks of the food aspect here: 
"I definitely enjoyed this aspect of the factory. We got to try mochi, macaroons and this sparkling drink, which were all very delicious.  I think it was really cool that this exhibit includes food because not all do. I thought that was a fun addition." 
If you enjoy trying tasty treats, this exhibit might interest you! There is no additional cost for the food, so once you pay for your tickets, these snacks are provided. 
Now that you have learned about the two aspects of this exhibit that make the Color Factory unique, let me tell you a little about the different rooms here. 
There are 16 different rooms, that's a lot to explore, so I will share the top three rooms that seem most popular. This way you can choose one of these rooms to start off at and go from there.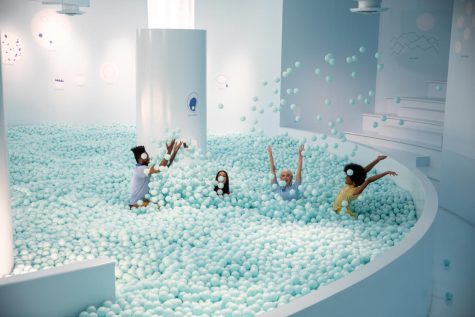 After looking through 'How to Make the Most Of NYC Color Factory' by Marco Feng and interviewing a visitor at this exhibit, I found out the ball-pit was by far one of the most favored rooms. 
When asked what her favorite room in the exhibit was, Vaughan said:
"My favorite room in the exhibit was the ball pit. It was really fun and gave you a chance to enjoy a physical activity, instead of observing."
According to Vaughan, the ball pit gives you a chance to experience a hands-on activity. 
'How to Make the Most Of NYC Color Factory' also includes the ball-pit as one of the best rooms out of the top seven they listed.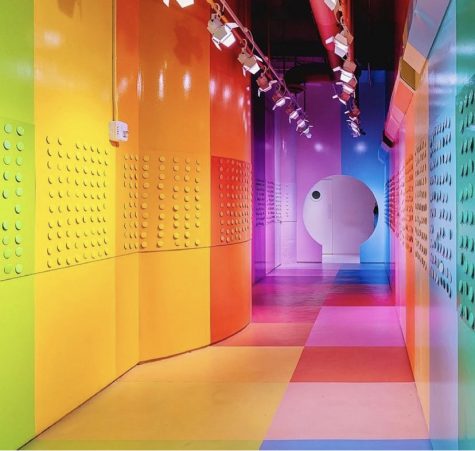 The Rainbow Room is another very popular room in this exhibit. This is the most colorful room in the exhibit and it is very fascinating to look at. Visitors love taking photos in this room, and it is overall a great room to observe.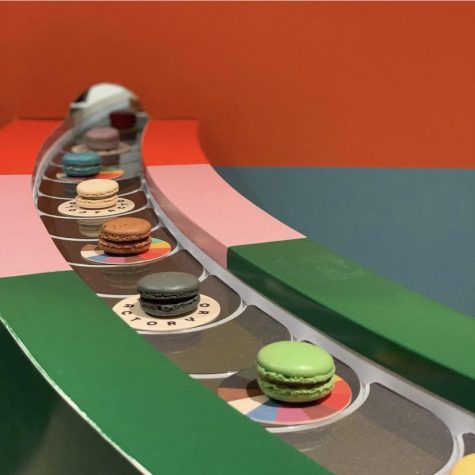 One of the last rooms most popular at the Color Factory is the 'Flavor, Any Flavor' room. This is the room where you get to experience the food aspect of this exhibit. You have the chance to try tasty snacks and watch the conveyors release different colored macaroons.
If these rooms have piqued your interest and you're interested in going to the Color Factory,  read below to see the admission fee and the location of this exhibit.
For adults the price of one ticket is $38.00, plus tax. For kids from age 3 to 12 the price of one ticket is $28.00, plus tax. For children two years old or younger, tickets are free.
One more thing you should know before going to this exhibit is that it can be enjoyed by all ages. There is a large variety throughout the rooms at the Color Factory, some will interest younger kids more, while others will interest adults more. When asked what age group this exhibit is meant for, Vaughan said:
"I think some rooms might be a little more fun for younger people since some aspects of the exhibit like the ball pit might not be as fun for older age groups. However, I do think there are still parts of the exhibit that older people would enjoy seeing. It is also a great family experience so grandparents would still have fun visiting this exhibit with family."
If you are ever traveling near any of the Color Factory locations or live in the area, and this exhibit seems interesting to you, check it out! Pop-ups aren't permanent, so why not engage in a fun family experience before they are gone? Hopefully this helped familiarize you with this exhibit before visiting it.