Curry better than Micheal Jordan?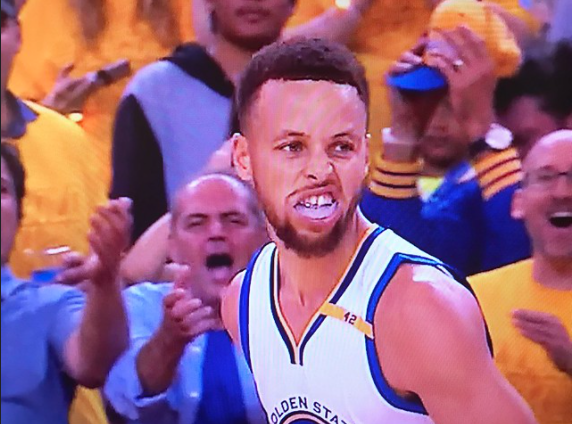 Tom Brady, Connor Mcgregor, David Ortiz have one thing in common: all three of them are very good at their respectable sports, and you can say they're godly at this point in their careers.
In basketball, there are debates about who is the best current or past player. Some people have said that their favorite players are Lebron James of the Miami Heat and Michael Jordan of the Chicago Bulls.       
What does it mean to be a G.O.A.T? It can be the animal goat or in sports it means greatness of all time. In baseball the G.O.A.T is David Ortiz, in soccer it is Cristiano Ronaldo, in football it's Tom Brady, and in boxing it is Connor McGregor.  In basketball it is very difficult to determine who the G.O.A.T. is. Some people are saying that the G.O.A.T is Michael Jordan or Lebron James, but there is an upcoming G.O.A.T in the NBA and his name is Werdell Stephen Curry, one half of the greatest duos in NBA history – "The Splash Brothers' ' on the Golden State Warriors. 
Werdell Stephen Curry II was born on March 14, 1988. He is the son of Dell Curry and the brother of Seth Curry who has three kids named Riley Elizabeth Curry, Canon W. Jack Curry, Ryan Carson Curry, and he has a wife named Ayesha Curry. 
Before Curry went to the NBA, he went to Davidson College where he averaged 25.3 points per game, 3.7 assist per game, and 4.5 rebounds per game. During his college years he was a 2x southern POY,2x consensus AA and NCAA all religion. 
In 2009, Stephen Curry was drafted to the NBA 7th pick in the first round by the Golden State Warriors, and he picked the number 30 like his dad, who was a point guard for the Charlotte Hornets. In his first ever season with the Warriors his stats were 17.5 points per game,4.5 rebounds per game, 5.9 assist per game and 1.9 steals per game.
In reference to whether or not Curry was expected to be a great athlete or a bust, Summit employee Ron Mcintosh stated, "To be honest I thought his career wasn't going to go far due to his injury. I think over the years GS got better on taking care of the players. You can see how Curry's career rose from being injured to now being the leading 3pt shooter in the NBA. That record will take years for it to be broken." 
NYCischool student Mario Ilievski followed up with this statement: "Curry for me in his rookie season was pretty solid and looked to have bright potential. Over the years you can see how he truly developed into one of the best 3 point shooters of all time." 
While Mario felt that Curry's potential was solid, others like Frank felt differently  by saying, " I didn't watch Curry's rookie season but probably no one thought he was going to be too good. He was small and injury prone. At the time, three point shooting wasn't too dominant so his skills weren't familiar."
After a NBA player's rookie season is over and if they win the rookie of the year award, the coach of that team decides if they want to trade the star or they want to keep him for more years.   
Every year in the NBA, players are traded to other teams. Teams can choose to trade their star player(s) or pick from the draft to get someone better in order to get to the playoffs or the finals. Once the teams are chosen, they get ready for the special event called the NBA Draft. The warriors have a choice whether or not they should trade him for somebody or he should stay for more years. Ron said, " It's a business if they want to keep paying the luxury tax to keep the splash brothers or they take less money and let the young guys take their place. They can't play forever." 
Fellow up by what Frank said, "No, the warriors should not trade him. He is one of the best players in the NBA and the greatest shooter of all time. Literally, everyone would want him on their team. He is literally the Warrior's entire franchise." 
Then Mario explained his answer to the question by saying this, "I mean in reality now that they have Klay Thompson back they definitely shouldn't trade Curry as they can win the west this year and possibly the NBA title. I don't think I would see curry on any other team (maybe a dream would be on the knicks lol). They still have a couple of years left together to play." 
In the NBA world, there are some debates that point out if Curry belongs in the G.O.A.T conversations.
Frank said, " He has an argument but in the end, Michael Jordan is better, he has 6 rings and is insanely good. With Lebron I think that they are pretty equal, they've been rivals for like 5 years." 
Meanwhile, Mario had other thoughts, "In terms of Stephen's legacy he has left large shoes for someone to fill as he is definitely the best 3 point shooter of all-time passing greats like Ray Allen, Reggie Miller, etc. I mean the GOAT of the NBA is hard to answer because of how different the time period was. Players like Bill Russell, Wilt Chamberlain, Kareem Abdul-Jabbar played the early NBA days and stages. Larry Bird, Micheal Jordan, Magic Johnson, played during the 80s- 90s and rocked the NBA back then. Or even the early 2000s with Tim Ducan, Kobe Bryant, Shaquille O'Neal who dominated during their primes. Then finally with players like Lebron James, Steph Curry, Kevin Durant, Giannis, Kawai Leonard, playing in recent days and considered goats in some people's eyes. Now since I didn't see any players before the 2010s, I would have to say Lebron is the goat just because he won with one of the worst franchises in the league (Cleveland)  and was a hometown hero who has won multiple MVPs, all-star appearances, and 4 NBA rings with 3 different teams."
Based on the interviews, no one has come to a consensus regarding the G.O.A.T. in basketball. 
Instead of one G.O.A.T, there seems to be multiple in each of the following categories: "Dominant: Lebron, Giannis, Chamberlain, Shaq, Chuck; Great scorer: MJ, KD, Lillard, Bill Russell, Kobe, T Mac; AI Playmakers: Magic, Nash, CP3, Cousey; Shooters: Miller, Young, Curry brothers, Klay, Lillard," Ron said.  
Frank said, "He has an argument but in the end, Michael Jordan is better, he has 6 rings and is insanely good. With LeBron I think that they are pretty equal, they've been rivals for like 5 years."
Lastly, Mario said, "However, Curry is certainly one amazing player who is considered the best shooter of all time and could be in the conversation of GOATS depending on who you ask."