Neighbors that make the neighborhood
 The streets are filled with a kaleidoscope of color – as the traffic light turns from red to green, cars flashing a rainbow color quickly pass a swarm of people equally as colorful. The tops of the skyscrapers reach for the cloudy sky, while their bases protect the busy, chaotic streets below from the whipping wind. People rush past one another, their brand new designer bags and briefcases brushed by one another intensely as they run in their shiny shoes to get to the gray, shiny, train on their way to work and school. It is just another normal day for the people of New York. 
For centuries, New York City has been romanticized, a place filled with wealthy people, glamorous clothes, and luxurious places. A place where doctors, lawyers, and bankers have the privilege of dining at the hot new restaurants where the A-list celebrities go. But beyond this glitzy image, there lives the heart of New York City, the everyday people who live in your neighborhood, and make each community truly unique. These are the people who style all the beautiful hair you see, take care of your building and others in ways you do not even know, and the people who work at the neighborhood deli for years giving you your morning sandwich and juice.  
The magic of the neighborhood deli: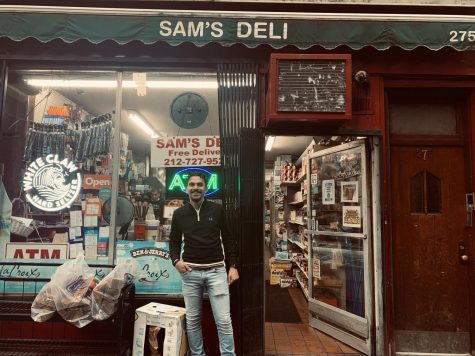 In 1960, a family decided to open multiple delis spread around New York City. Originally, the family established delis near Beacon Theater, on 1st Avenue, and on West Fourth Street.  Over the years as the founders got older and the family grew, they downscale the business, so they only kept the West Fourth Street deli open. It was there that they grew the popular family business called Sam's  Deli that stays open from 4 am to midnight.
̈Today, Sam's Deli is a huge part of the Greenwich Village community that continues to be run by members of the same family.  A worker shared  ̈I'm in this business because of family, really more of an obligation to my family."  The family also considers the community as part of their extended family and treats them as such.  According to an article on a deli's website,  "Delis are usually small family-owned businesses and they treat all their customers as a part of their family since they know that most of their customers live in the same neighborhood." 
 Sam's deli is not any different when it comes to that.  Even though the hardships of the pandemic they continued to put the wellbeing of their customers and employees first. According to an employee, we were able to break even pay to employees, we did not wanna lay off anyone, that was our goal, no-layoff whatsoever my dad was like no layoffs, I don't care, payout of pockets, they all have families."
Every day,  the deli serves over 280 people through deliveries and walk-in customers.  A worker shared that daily they have ̈20 to 30 deliveries and a couple of hundred in-store customers.  "I would say, on top of my head, we do a little over 250 transactions ̈
A neighborhood deli worker shared "people come to us first for help with anything. If someone gets locked out and needs help, they come to us. If they need a screwdriver, they'll come to us. Do you want advice on where to go for the night, then come to us. Some people say we give them a sense of security in the neighborhood because we're always here, we're only away for three hours."
As a busy New Yorker, it can be hard to find time to create your meals, and finding a place that is quick and cheap is difficult, which is where having a local deli comes to be helpful. According to an article on a deli's website,  ̈A deli offers a lot of food varieties such as sandwiches, soups, ready-to-eat meals, and more! Delis usually make their food fresh every day using fresh ingredients, so you know you are getting a tasty and nutritious meal at the same time!"  
Not only does the community thrive on local delis, but the delis thrive on the community.  It is because of the community that they survive. They stay open by people coming in and buying items, stuff like milk and eggs. 
Sam's Deli is not just a place to get food; it's a place that is part of the fabric of Greenwich Village. The moment the door opens a lively conversation starts. Whether it's 7 am-noon or 11 pm they show they care about each individual. They treat their customers like family whether you are a one-time customer or an everyday customer.  
It creates an environment where anybody feels like they belong to the community. It's part of the reason that the neighborhood has this welcoming atmosphere and very tight community.  Without Sam's Deli, the neighborhood would just be another place that is not so unique.
Greenwich Village is known for the beautiful brownstone buildings with heavy, decorative, wooden doors and long spotless front steps. They are a place to sit, to meet people, and to talk. 
Like the deli owners, superintendents are also important parts of the fabric of the community. All the work to keep the tall buildings beautiful and the members of the community happy is the work of a superintendent. 
The mysterious job of a superintendent: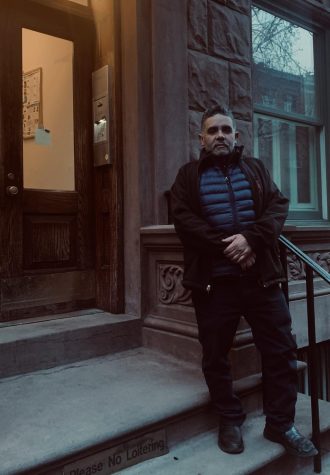 A superintendent called Luis, who has been working for 25 years, takes care of 6 buildings, including the one he lives in.  He does everything from plumbing, carpeting, and construction.  
To Luis, the people he takes care of comes first. He tries to form a connection with each one of them. Luis shares that he tells all the newcomers "Let me make you happy. Let's do something for you." 
To make his tenants happy, Luis might give the walls a fresh coat of paint, shovel away the ice and snow, or fix a leaking pipe.  The superintendent does anything from a small job to a big one. Luis shares  "they have to be happy before I get paid, if they aren't happy, I don't feel good to get the money from the people."
Sometimes there are emergencies, like after a huge storm when flooding or heating problems often happen.  But even if they occur at an inconvenient time, he is one of the first to show up. Luis shares "I love what I am doing. When you love what you are doing, it's not hard." 
Through working 25 years and multiple buildings, Luis has formed a deep connection with people. Everyone knows Luis. When walking down the street, 3 or more people start to have conversations with him, conversations that don't even have to do with the building. Often people just want to say hello and catch up with him. Luis shares "I love these neighborhoods, I love the people in this area." 
The superintendent is not just a little part of a community. They are one of the people who create it. While they take care of each individual person, they also connect tenants with each other.
The superintendent gives a general connection to each person in each one of the buildings they take care of. It is because of them that people are walking in their neighborhood with nice buildings surrounding them and form a connection with people they probably normally wouldn't have.
Superintendents are not the only people forming connections between members of the neighborhood. It is similar to the connections that a hair salon worker can create. Hairstylists not only create these masterpieces with people's hair, but they have the special gift of being able to connect people. 
The Hairstylists Lagniappe: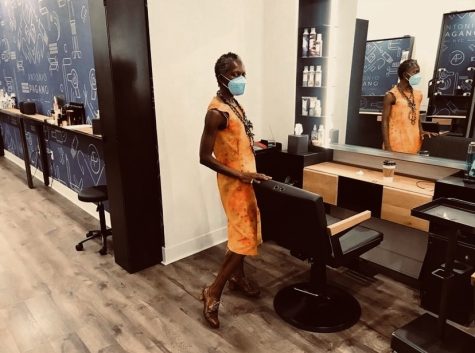 A hairstylist named Edris moved to New York City to be with her mother when she was young. She was always interested in the fashion area. But when she came to NYC, she was more intensely drawn to the beautiful fashion of clothes and hair. Along with the city fashion she fell in love with the vibrant energy of New York City as well as the history.
 Edris had worked in many different areas from the meatpacking district to the flatiron district. Later, she followed her passion and became a hairdresser who has lived and worked in Greenwich Village by the historical Stonewall for 40+ years. 
The hairstylist tends to have a few clients a day and the sessions are not rushed. It gives time to create perfection as well as form an amazing connection with each one of the clients.  This connection is one of the most important parts of the job, and Edris wants more of that not only in the community but also in the world. She has also not only become close to her clients but to the people, she works with as well.
Salons not only offer amazing hair and a way to connect people, they also offer an opportunity for self-employment.  According to probeauty, "Not only do salons and spas provide employment opportunities for individuals of all backgrounds, but they also give individuals the experience to own businesses of their own." 
An NYC neighborhood is more than a random assortment of buildings in a certain part of town. It is a community. Though these communities often include bankers, lawyers, and celebrities, the glue that holds the community together are all those that live and work to make the lives of the people living here better.