Apple's new products: Are they worth the update?
Lights, camera, action! The new Apple event that was broadcasted on March 8, 2022, on YouTube showed us the new products that Apple had been working on, including new features, new colors, and a new processor that is a step forward to newer technology. All of their new products really surprised the people and the reviewers. If students are looking for an update to a new phone, tablet, or a new desktop, they could get new products that surpass their predecessors. They presented a new color for the current iPhone lineup, a better and more powerful chip, a new iPad Air, and the Mac Studio.
New iPhone 13 and 13 pro pine color
Every time Apple releases new iPhones, the old same reliable colors white, black, red cease to exist. Even though they already had a type of green color, they came up with a new Alpine Green color that looks beautiful within the iPhone 13 and 13 Pro's design. 
After Tim Cook, Apple CEO, showcased the brand new Alpine green he announced "iPhone 13 looks stunning in this bold new green with its precision-milled black glass and color-matched aluminum edges and iPhone 13 Pro, in a sophisticated new Alpine Green, joins the most pro lineup we've ever created." 
Jack Woish, an iPhone user, said, "I really like the new color. It looks very cool and is going to look better when I buy it in person."
This color is a darker green color that is sure worth the money for iPhone enthusiasts and people in general who need an upgrade.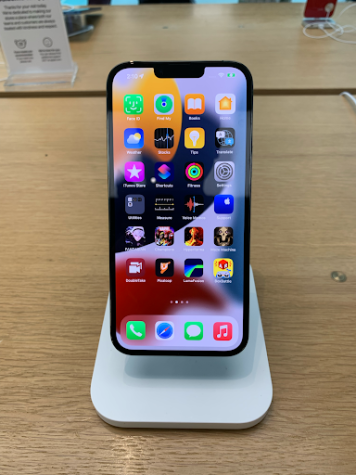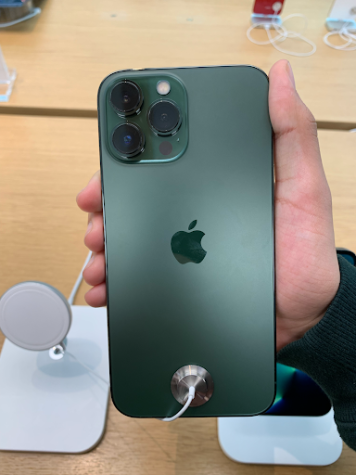 iPhone SE 3rd Gen.
The iPhone SE third generation is a really good and comfortable phone for iPhone users who "want a smaller iPhone and a great value," as Tim Cook announced. This SE is better than all the other iPhone SEs ever made because this new iPhone has the same body as an iPhone 8 but has the most powerful chip that essentially powers the iPhone 13 and 13 Pro 
Santiago Garcia, an iPhone SE user, saw the new Apple SE and expressed that "this new SE is better than the one I have now. This phone has an old body but with a younger brain which is really mind-blowing and really inventive. I'm definitely going to buy this new phone as soon as it comes out. It even has 5G."  
The iPhone SE third-gen has an A15 Bionic chip that is the most powerful mobile chip and enhances all the things an iPhone could do. 
6-core CPU that handles high demanding tasks that are 1.8 times faster than the other older models

4-core GPU that's great for intensive graphics 

16-core Neural Engine that is perfect for machine learning tasks that are capable of 15.8 trillion operations per second, which is 26x faster than the 2017s iPhone 8
All of the technology that is put into the A-15 Bionic chip is surprisingly possible and powerful, and not only that but the design of the iPhone has a 4.7-inch Retina HD display that has incredible color accuracy and includes the toughest glass that makes the phone a beautiful and durable modern iPhone SE. 
Franchesca Sweet, one of the product line managers, states, "bringing this level of performance to our most affordable phone is something only Apple can do. A 15 bionic makes nearly every experience better." It only gets better from there because the phone's chip and design are made up of recycled material. This phone is a really good update for those who want a smaller and faster phone that is capable of doing the same tasks as an iPhone 13. s Pricing starts at $429.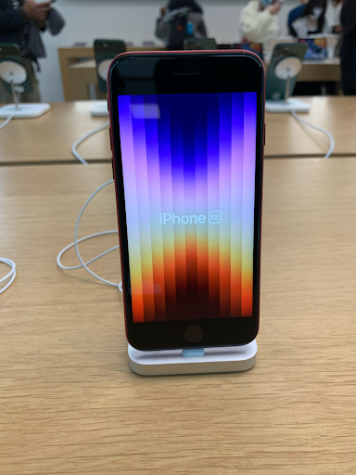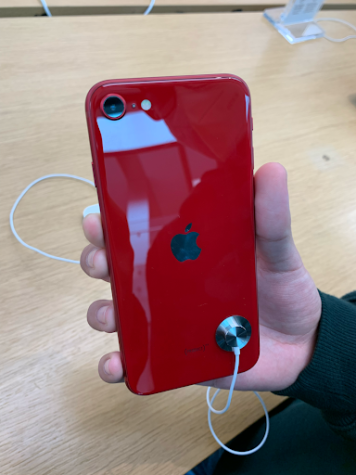 iPad Air
This new iPad Air is nothing compared to the older version of the iPad Air in terms of performance. The powerful and recent M1 chip is coming to the newest iPad air. 
The M1 chip is a never before seen powerful processor that delivers:
8-core CPU can carry out 60% faster performance than the A14 chip that was in the previous iPad air

8-core GPU carry's out incredible graphic performance

16-core Neural engine also enhances machine learning workflows 
In fact, this new iPad air is a really light and slim, and powerful iPad. Angelina Kyazike, an engineering program manager, states, "the new air is up to 2x faster than the best selling windows laptop in its price range, a device that is thicker and 4 times heavier than iPad air."  
Fionna Exley, an iPad user, found out how powerful this new iPad air was. She commented, "what has apple brung to the table, I thought that they were going to put the new A-15 Bionic chip but they decided to put the M1 chip instead."
The iPad Air includes newer features like: 
Center Stage

Faster wireless Connectivity: Share Play 

Accessories: Magic Keyboard and apple pencil

Quick note

Enhanced multitasking
And just like the new iPhone SE, the iPad is 100% composed of recycled material. All of this makes up the new and powerful version of the iPad air only starting at $599.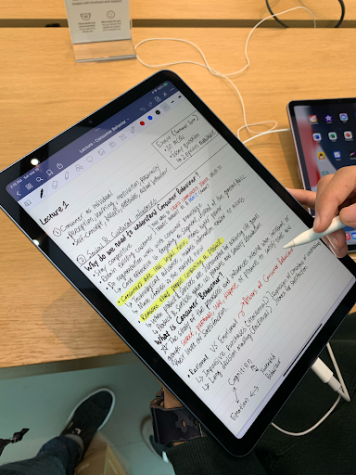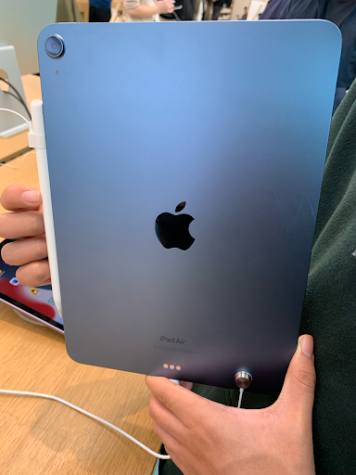 M1 Ultra 
Moving from the A-15 Bionic chip, the new M1 Ultra is going to be added to the trio of M1 chips, including the M1, M1 Pro, M1 Max. The M1 Ultra are two dies, fancy terminology for chips, that are connected with a new state-of-the-art interconnect technology. In other words, this new M1 Ultra is two M1 Max chips connected with new Apple state-of-the-art technology that makes the chips work fast. This new way to connect these dies makes this chip very efficient and powerful.
This new chip also includes 20 CPU cores and a whopping 64 GPU cores for most graphic tasks.
Side by side comparison of an AMD Ryzen 3 CPU versus the Apple M1 Ultra."Mac Studio FULL Teardown – M1 Ultra chip REVEALED!" YouTube, uploaded by Max Tech, 18 Mar. 2022, https://youtu.be/IY0gRMpT4AY.
Mac Studio
Apple is going to take this new M1 Ultra chip to the newest Mac Studio and Studio display so that designers, scientists, and developers have performance and connectivity, including modularity that can turn the Mac Studio into a powerhouse, studio workflow, and a modular system display.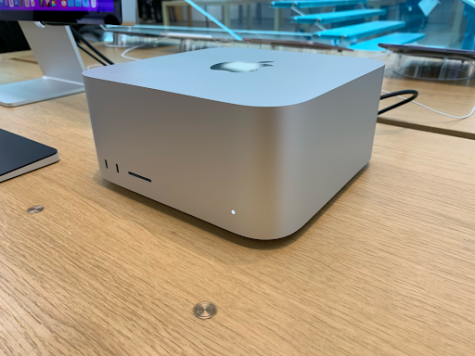 The Mac Studio is basically a powerful Mac that really stretches performance to the limit for Mac users. Colleen Novielli, a product line manager, states, "it's the first computer to put outrageous performance, extensive connectivity, and entirely new capabilities into an unbelievably compact form that lives right on your desk, where it's always easy to reach.
The exterior of the Mac Studio's design is made up of a single aluminum extrusion with a width of 7.7 inches square and a height of 3.7 inches square.
The interior of the Mac Studio contains an innovative thermal system. With unique cooling fans, materials, and the chip's efficiency, the new Mac Studio will be able to manage all kinds of workloads with minimal to no noise at all.
This Mac Studio is more powerful than the 27 inch iMac and the Mac Pro. If the iMac has the M1 Ultra, its CPU is 3.8x faster than the iMac (27-inch) and 90% faster than the Mac Pro. It is exactly the same when comparing the GPU, the Mac studio is 4.5x faster than the iMac, and it is 80x faster than the Mac Pro – starting at $3999.
Mac Display
If you want the best experience and best performance you can get, the Mac Display performs like no other desktop computer. With both the Mac Display and the Mac Studio it's a powerful duo.
The design of the Mac Display is an all-aluminum enclosure, with a slim profile, and the stand allows the Mac to tilt the screen 30 degrees. The other version of the Mac display will come with a tilt and height-adjustable stand that makes the display feel weightless, and the last option is a Vesa Adapter option which will allow your Mac to display it in landscape or in portrait orientation. It also includes a six-speaker sound system. 
The Mac contains an A13 Bionic chip that allows it to have more features to the Mac which includes:
Center Stage

Unbelievable listening experience 

Spatial Audio
It also features connectivity and accessories to the Mac like: 
Charging other Apple devices

Connection to Three Studio Displays to a MacBook Pro

Magic Keyboard 

Magic Trackpad

Magic Mouse 
Of course, who can forget, this new Mac is all made up of recycled material and starts at $1599.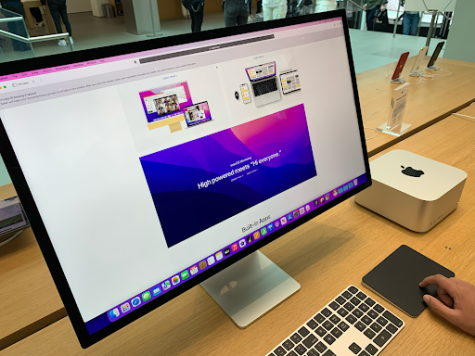 All of these new Apple products are game-changing and really powerful. They are sure worth the upgrade!