The academic competition post COVID: Time management and validation in connection to the future
April 13, 2022
Before you know it, you are walking inside the college office at your school to discuss your education pathways. You think to yourself how time flew, and how you were just sitting in your freshman year classes. As you walk in the office, thoughts rush through your mind. It's all starting to feel real. You thought you had all these years to go and then you didn't. 
You think to yourself if you have done enough in high school to be able to get into the college of your dreams. But then your thoughts start to wonder and question what if you could have done more? Have you managed your time wisely? After seeking all of that academic validation, will it truly pay off? 
Finally, you come to a realization that this was all a unique competition. 
Through the constant standards and expectations that students are seen to be troubled with, there is always constant fear of where this will take them regarding their education in the future. The way that they choose to manage their time is very significant in the ways that it will impact them, not only in the present but in the upcoming challenges that they may be faced with. 
The foundations that students build for the time that they are in high school ultimately determines the skills that they develop for the unpredicted future. 
But, results of this can vary from student to student. In most cases, students are exhausted from the draining schedules that they have set for themselves for the sole purpose of achieving excellence. When the COVID-19 pandemic struck, not only did it cause major change for the public, but it changed the ways that students were able to apply and access vigorous activities and programs. 
With the uncertainty that we are currently experiencing, changes and decisions from higher organizations regarding educational levels rise. It is confusing to many since this isn't identical to the process students usually had to go through. 
In point of fact, lead study author of the University of Tubingen in Germany, Marion Spengler states, "School matters at so many levels and can lay the foundation for a successful life, but the reasons why are something of a puzzle." 
Guidance and support for students, especially during these challenging times, is fundamental. Validation regarding their academics is always something that students strive to achieve, and this within itself is exhausting. 
The question is, what is it about students trying to stand out in their foundation base of education? 
During their years in high school, students build their own skills and abilities to tackle real world challenges. This process can be a challenge to many. One of the most important factors to develop is time management, but this can come with large amounts of procrastination. 
Procrastination can be very hard to maintain – when delaying or postponing deadlines and assignments, it has a way of catching up to you. Whether you like it or not, at some point you are going to have to complete assignments that are missing to have a chance at passing the course. 
Some students procrastinate because of their busy schedules, while others procrastinate because of their mental health issues. However, the key to making sure you are using your time efficiently regarding academics stems from how well you choose to be productive. 
The Top 10 Benefits of Time Management emphasizes this further, "Managing your time helps you work smarter, not harder so you can get more done in less time and capture bigger opportunities.  Time management is important to help you maximise your strengths and plan your day efficiently." 
When having this skill, you have more open opportunities to accomplish your necessities in a shorter period of time which gives you the space to be more productive. 
This does not only matter for a student's high school period, it matters even more in their future pathways. How will they choose to maintain the stress that comes with the future? Will they need further support on learning these certain abilities? 
Oftentimes, it is very challenging to master this and also achieve academic validation. This process can lead students to sometimes overwork themselves, resulting in many detrimental effects. 
Globally, students are striving for excellence. Not only do students have to stand out among their peers, but they have to keep in mind their dreams and be reasonable with themselves on their likelihood of getting accepted to programs and opportunities. 
Sophomore Humayra Hussian considers the idea behind time management and its connection with it being one of the most crucial skills you need in your future. 
She states, "Time management is like, not something that's only important for your academic world, but in general, you have to have good time management to succeed because it allows you to keep things in your path and like straight things out. Time management really relates to your academic accomplishments, because it kind of sets out your goals and stuff and how you're able to achieve them. And also, it relates to organization and if you're able to stick to schedules and actually work towards them." 
She brings up a valid point that time management is crucial when looking into the future and how it impacts the capability of your accomplishments. 
We are all filled with varying levels of responsibilities and are given the same amount of hours within a day. With this, it becomes very important to use it effectively. 
Not only this, but making sure you have time for yourself is just as important. It's okay to take a break and understand what you need for the day to keep moving forward. 
Sometimes students do not realize this and become oblivious that this drains their mental, emotional, and physical health. But why do students push themselves constantly? 
Many students answer this question seeking academic validation. 
As a matter of fact, FILLING THE VOID THROUGH ACADEMIC VALIDATION states, "Truly, as time passes, it becomes apparent that those who attempt to over-compensate in academics are genuinely trying to find a means to fill whatever void exists within themselves. While this may not be the case for everyone, and perhaps is a little bit of an exaggeration, for many, striving for success with this unhealthy mindset can be detrimental to their mental well-being and contribute to more frequent instances of burnout." 
Academics is one of the many factors that students should recognize as important. The accountability that they are meant to achieve is something that differs from person to person, depending on the other factors in their personal life that come into place like family, for example. 
Junior Alexandra Gonazalez- Soriano elaborates on this thought. She says, "All of our lives we have been told to do our best and have been held accountable for such high standards. It is almost like we do not like the idea of disappointing those who believe we can be the best or demand us to be our best. Other times, students may seek academic validation because it makes them feel good about themselves and may or may not give them hope in terms of succeeding." 
Students are handed a society that focuses on this, only making it part of their identities and worthiness. It takes a very long time for students to realize that they can ease into this validation by simply reflecting on what it has done to them as a whole. Being validated by other ventures continues to be a conflict. 
This culture is often known as hustle culture. Nonetheless, this comes down to balance and moderation. If you are not relieving your stress in a positive way, then you are going to end up in a situation where you won't be able to accomplish the task that you have been handed. 
US Colleges Admission Statistics offers data that respectively shows applicants that have applied to colleges in the US from the 2021-2022 school year and the rates of acceptance: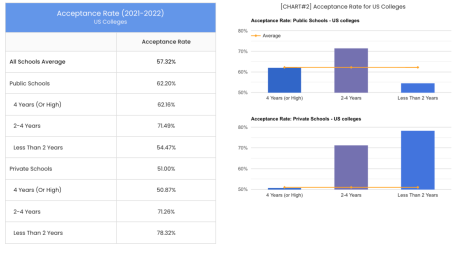 The way that students might be raised in a land that is especially known for certain opportunities and allows dreams to become a reality not only impacts the way they perform now, but for their future routes. 
Speaking of this, there have been many moments of uncertainty in the present world that we live in. 
When the COVID-19 pandemic struck in 2020, students had to not only adapt to learning from a computer, they also had to modify the ways in which they were truly receiving an education. 
Goals that they had set for their future became undetermined and because of this, almost everything that enhanced their futures, including programs and opportunities, were canceled. 
Before this pandemic had happened, students found different ways to participate and stand out to higher organizations that work with their personal future. Laying the foundational bases that they were exposed to in high school was essential. 
Not only did COVID cause anxiety to the world and educational systems that were put in place which included admissions, the student rush of standing out to colleges was necessary. 
Only soon were students coming to a realization that the effort they had portrayed throughout these years was demanding in regards to a competition that they would have to face. But, what does this mean? 
COMPETITION, BUT FOR WHAT?
For some students who are currently enrolled in high school, the next important stage of the academic world is college. Currently, the admissions for colleges have been modified. This is very important for students to know, as this gives them ideas on what exactly admissions are looking for within a student. 
With students that have learned to have a lot of stock in education and academia from a young age, not only did they have to learn how to change the "ideal" application submission for colleges, figuring out how to catch the eyes of different programs and colleges was to say the least, very challenging. 
According to How The Coronavirus Has Upended College Admissions, "So many things that were sacred in the college admissions process may not be sacred anymore," said Angel Pérez, CEO of the National Association for College Admissions Counseling, and former head of admissions at Trinity College in Connecticut. "Colleges and universities are reinventing a process that hasn't changed in over 50 years in the span of a couple of months […] and they don't have another choice."  
To make up for the "missing" parts of the application process like a SAT score, many colleges are taking this a step further. To help bear a student's profile and who they truly are as a person, the patterns and measures that are implemented to assess this helps offices to make up for what they would initially take into consideration.
College counselor Samantha Grande considers the changes that were made over the past 2 years. Not only does she understand what has been going on throughout the admission process, she accounts for students who may not be as successful with specific tests. 
She says, "I sure hope so [test's staying test optional]. I think that schools have had to create a model to sustain test optional admissions, even just in the last two years. So I hope that since they were forced to create systems that allowed students to apply to test optional, why would you go back? Especially when we all are very clearly aware that standardized tests do not portray your ability to succeed in college long term and also are racist, and, you know, beta tests that are not made for all of our students and everyone." 
As part of changing the process of admissions into college, students have been trying to achieve a goal of allowing colleges to understand that they're worth so much more than the scores that they might have gotten on their AP exams, for example. After being held with no other option but to do things a certain way because of the pandemic, colleges are just now thinking about how they want this to look for the future. 
Many students took the advantage of being given the option to submit scores, which helped strengthen their application. However, as a part of this application, students also had to take advantage of programs and opportunities that were offered before the pandemic had occurred. 
Senior Chiakalielah Duruaku expresses that although she did not know much of certain opportunities, what she was already doing as a student was impressive. 
She mentions, "I was pretty clueless about it [programs]. So I think a lot of it was like what the school would tell me, but also, some of my friends are just very on top of that stuff. So they would be like, oh, you have to be doing this. Something I ended up finding out was some of the things I was just doing without knowing makes me look good. Like being in different clubs. But I think people should just continue to take different opportunities. And then they'll realize that, hey, I'm doing a lot of things that actually impress the colleges." 
Many students like Duruaku find it relatable to be doing things that impress colleges without being fully aware that this does help them in the long run. 
With her taking into consideration the vigorous path she has built for herself, her mind becomes not only expanded, but many doors of success become open to her. 
The foundational grounds that Duruaku laid in high school not only helped her look impressive, but through these activities she found out what she truly enjoys, and how to set time for something like that.
Like Duruaku, Hussian gives thought to the future. She aligns this with the base of her academics and the skills it requires to be able to attract organizations. 
She continues to say, "I feel like you have to maintain a vigorous path because obviously the future is going to be hard. I feel like your academic standard and position in the academic world is kinda the base for your future. It's like where you start your positioning, it gives you a place like a high place or low place and in general determines your personality because I feel like people who are hardworking in their academics and really try hard for that, it reflects on how they're going to be in the future. So if you are hardworking for academics and you have a lot of strive for your grades, it shows how successful you will be in your future because you will be hardworking and put a lot of care into that… your achievements are your starting point for the future." 
To support Hussian's claim, Great Value Colleges, give a solid 16 tips on how to make your college application stand out. When reviewing this, the criteria that is set in place for students to work towards sometimes becomes too much for a student to withhold. In fact, ranked as the first 4 tips include: "Choose your high school classes with intention, strive for good grades, tell the story of who you are, and participate in extracurricular activities." 
As stated in the source, indicators that not only show your ability to succeed in school, but to be able to apply that to extracurriculars is also significant. It becomes an imperative factor throughout your high school journey to implement. This gives you the idea of things that bring skills of independence, and ultimately, it helps many participate in activities that are greater than initial expectations. 
Ms. Grande elaborates on this idea by further stating, "So your GPA, your extracurriculars, those are stronger indicators of your ability to succeed in college than an SAT score, an ACT score and colleges have finally woken up to this. Being able to show a track record of participation and commitment to your studies, which ultimately is what you are going to college to do, is to continue learning, that is important for colleges to know. And with that said, I think this cohort has a very unique set of historical circumstances where your GPA, it's almost typical that it may not tell the whole story. And so that's why it's really important to advocate for yourself, and also to show that you are self present, which is an amazing thing that extracurriculars can exemplify." 
In the midst of the current issues that have been going around the world, it has brought many students the chance to demonstrate their abilities and skills in a unique way that is dependent on how well they choose to do this for themselves. 
The decisions that they make through their adolescent years determine the outcomes of their successes and tracks. 
With the intention of satisfying high expectations, students reflect on how this personally affects them.
Gonzalez- Soriano relates to this as she asserts, "I mean, yeah, education is very competitive. You know, with your friends, if you all take the same test, and you get the lowest score, you know, that sort of like, stings. Because, like, it's like, oh, damn, I didn't do as well as my friends. And you know, they're not gonna think I'm as smart as them. And in terms of college, it's really hard. Because you know, you want to be your best, but sometimes, you know, there are going to be other people who are not better than you, but, you know, succeed in other places where you might not be succeeding as well. So it's really stressful. And it does impact your mental health, you know, and makes you look at things differently. It makes us hard on ourselves, to be the best. We can only do so much. Until at one point, we just shut down and believe everything our minds are telling ourselves that we are." 
The feeling that she expressed is something that students feel on a day to day basis, and with this, it is often dependent on who the student is and how they are willing to work up from that. It might overshadow their mental health in ways that should not have to happen. Learning that failure is a part of succeeding is very important because it helps us learn from our mistakes, but this can take a while for a student to truly realize. 
Hussian shares how not only focusing on her academics is stressful, but taking into account her busy schedule is just as important. She elaborates on the experience that she currently has. 
She says, "Personally, I joined two clubs in school, and in order to manage my schedule and stuff, I kinda fix everything so that I do certain assignments during the days that I don't have a club and since I have a long commute to school, I often get home late. They have been stressing me out about how to do assignments. And like, honestly, it has taken a bad toll on my mental health. I feel really stressed out and everything's jam packed in my schedule to the point [where] I can't do anything for myself. So I feel like it does have a negative impact on mental health for me, because sometimes it feels overwhelming to just have so many things going on at once." 
In regards to hectic schedules, this does not stop even when you are an adult. Life happens and will continue to bring forth many obstacles along the way. But, learning how to manage this as a student can become drainful. 
Duruaku emphasizes, "So in a way, when it's positively reinforced [performance in school and academics], I feel maybe a rush of dopamine or whatever. But in the same ways that pressure can be actually detrimental and harmful for my mental health. That's why I would just suggest that a lot of people don't just hunker down and only focus on academics, join different clubs that bring you joy, not because they look good… do things that build with other parts of your personality." 
The feeling of dopamine that she mentions is necessary because it is what sometimes helps students continue to achieve excellence. They should feel rewarded based on the scores that they do flourish in, while also understanding what is best for balancing their schedules- the connection that Hussian brought awareness to. 
This proves to say that it all depends on the perspective of the ways you are seeing things, what you value and what that truly means for yourself as a learner. 
Algebra 2/ Trigonometry teacher Jeff Reeder comments on behalf of the foundation that students are given in high school, and finds the deeper meaning of students who choose to be productive rather than those who don't. 
He demonstrates this by saying, "Is the student who's on their phone like 95% of the time? Are they getting a foundation for learning? Well, no. But is that high school's fault? I guess you could argue like some people would say you know, I should be like going up to that kid snatching their phone and some people would argue that they're a person, and they have the freedom to do that. So I feel like high school can be a good foundation for learning. But it can be what you make it. It is what you make it if you make it have foundation for your learning, by learning how to learn by taking it seriously, by engaging in the material by trying your best, then it's going to be a foundation for you, because you will have learned how to learn, which again, is the entire point of what we're doing here. On the other hand, if you don't do those things, if you don't engage with it, if you don't try to learn the material, then, of course, it's not a foundation, because you didn't build it to be that way. At some point, we have to draw a line between feelings and the responsibilities we have. I just feel if we want to make it a foundation, then we need to make sure that students are taking the appropriate action to make that happen. If they're not, then it's not going to be that foundation, unfortunately." 
Tying into what Duruaku explained, Mr. Reeder puts further emphasis on this idea. You need to make sure that you put in the effort to not only build this foundation, but to make sure that you continue to be efficient and productive. 
This foundation not only helps you in high school, but learning how to learn prepares you for a much more intensive future. Eventually, it's you versus you, which is why you should continue to take things from the school building that will benefit you as a learner and enhance your experience.
Making sure to differentiate yourself from others globally is something that students all over the world are experiencing. Making sure that your goals are set to be the best version of yourself that you truly are is crucial. The various systems that are put into place for young learners continue to reconsider the situations students have to undergo. 
Through this competition, you need to find who you are, and what you value. Through this competition, you have to ensure you are putting in your all like the ways you may see your friends do.          
WHAT DOES iSCHOOL DO TO ENSURE SUCCESS?
Conclusively, students have challenging lives. Whether that is the environment that they are surrounded with or the constant standards and expectations that are set in place for them, it can become truly exhausting.
To be able to get to your career goal should not feel pressuring. Although some students have figured out what they want to be, it can be challenging for others to understand what they truly want and if they will pursue it as a young adult. 
iSchool is one of the many schools that offer guidance and support in terms of the college process. In fact, iSchool is very unique when doing this, that they prepare students from junior year. 
Ms. Grande brings light onto how she assures that each student respectively follows their dreams, while being aware of who they are not just as a student but as a person. 
She says, "Well, we start in junior year, which is all about researching colleges, researching different majors, different career types, and that's where you're going to grow on that foundation that we just talked about having explored your interests, because you'll be able to speak to okay, maybe this job will be good for me, maybe this major, then we build in monthly scholarships, emails, monthly newsletters, and where each student should be. We do check-ins about once a week in advisories and make sure the students are feeling good. And we can find any students that are hitting a roadblock. And iSchool, I think, particularly, we set up a lot of benchmarks in each step of the process. So, if you are applying for early action, then we make sure you know, and it's very well publicized that you should get your applications in by this date and the next round, then when are they getting their financial aid in? Have they submitted for their CUNY students and privates? We do that in stages so that way you can break it down. So we've kind of created a system to help break it down for students, because it's a hectic time to be a junior and senior. And so we try to provide the structure for that with some check-ins. But ultimately, you make your own schedule, so it's going to be your own time management of like, okay, this is the day that I'm going to maybe focus on my applications." 
As mentioned, going back to the idea of time management plays a really heavy role in the time that you spend in high school. iSchool's unique model gives students a chance to figure out their interests and research colleges that they may be interested even before they start senior year. 
Junior Gonzalez-Soriano and Senior Duruaku found this very helpful when experiencing this. Soriano states, "The college office is amazing. .. Especially as a first generation student, my parents don't really know about the college process. So I don't really have the guidance for it besides my stepsister, but you know, college processes are different from person to person, so I can't really rely on others. But yeah, the college office is really helpful. And if you have any questions, they'll get back to you and they spend a lot of their time helping you." 
Correspondingly, Duruaku states, "I'd say the office is really, really helpful… But I'd say like, the school is really on top of college, and that next step, so having the college office,  it's like a centralized bubble with knowledge. And you can just step inside and expect that your concerns will be listened to, and that you can get help from all these people who have gone through the process themselves- and they're experts on it. So I think it's a really good thing that there's like a central place you can go to to actually improve upon certain things." 
As Gonzalez-Soriano and Duruaku are upperclassmen and have witnessed what the college office has to offer, both can agree on it being a safe environment. Underclassmen may not understand what this means, but being in a school of such brings students the opportunity to look into the future confidently. 
We are lucky to have such an amazing college office and staff who check in on their students and make sure that they are actively building futures for themselves that are filled with hope. 
So, what does the future really hold for these students? 
Mr. Reeder concludes by saying, "I think that right now in high school, the real point is just to learn how to learn. That's really what we're here for. Because like, are you going to use the stuff we're talking about?… But just becoming familiar with the concept is a reasonable thing… It's worth it… When you have a problem, when you don't understand something? What do you do? When you are confused about the wording of a question? What do you do, right? Like all these things, are things that you can apply in a setting later on to learn about something that you're truly interested in? So I think that the focus for students right now should just be learning how to be an effective student, period. That's really it. I think it's more of like, meta about school, it's not more it's not like any specific one topic. But it's more about being a good student, and like knowing how to learn and how to communicate with your teachers, if you need help. So I think that's probably the most important thing to know, when you leave high school is like, how do you effectively learn from another person?"