"Sleep No More" is everything theater should be
When I entered the dimly lit foyer of the warehouse known as the McKittrick Hotel in Chelsea, I had no idea what awaited me, which was a disturbing but deeply exciting feeling. I knew the basics: actors and actresses would be performing the story of Shakespeare's Macbeth, devoid of any dialogue, simultaneously in multiple rooms throughout the hotel, which had been abandoned and condemned in 1939. 
Upon entering and checking any coats, visitors receive a playing card as a ticket, and enter a dark maze, which many guests have likened to traveling back in time. The reason for this is at the end of the maze, you emerge into the Manderley Bar, the hotel's gaudy, elaborately decorated and fascinating 1930s jazz bar. After adjusting into the time period, guests are told to put on plastic masks designated for audience members, and are ushered into a freight elevator, where their journey begins. 
"Sleep No More" reopened February 14th, after a two-year hiatus due to the COVID-19 pandemic, with a new commitment to immersion and a hope to continue its legacy as a revolutionary concept in the theater world.
The most notable difference in the post-COVID, fictitious setting of Gallow Green, Scotland: the masks. Before the pandemic, audience members at "Sleep No More" donned avian-like masks, eerily similar to the ones worn by bubonic plague doctors in medieval times. The new mask is cut above the nose and is worn along with KN95 masks that are distributed at the door. As a result, anyone who sees "Sleep No More" will be experiencing the show in silence with anonymous, haunting masked audience members, most of whom are just as confused and curious as you are. 
Audience members are encouraged to pave their own "Sleep No More" journey. Considering that there are separate and simultaneous performances of separate plotlines of Shakespeare's Macbeth, no "Sleep No More" experience is the same, even if you stick together with whoever you're going with. 
Most of my experience consisted of exploring different rooms and running after where the audience was running, to try to see where the storyline was headed. All of the rooms are elaborately decorated that make each setting a real step into the past, reflective of the historical period, whether it's the taxidermied animals on The High Street of Gallow Green, or the beds of the fifth floor sanitarium. Most rooms are dimly lit, and most of the artifacts are illegible, but if you go looking, there are many hints scattered throughout the hotel that give a lot of context as to what life is really like in this unique fictional setting. The many subtle hints scattered throughout have led a lot of people to try to ' game' "Sleep No More"; the show has since adapted to this by continually adding easter eggs to reward repeat visitors. 
"There's definitely an element of trying to win 'Sleep No More,'" said Kathryn Yu, a virtual reality designer in an interview with the New York Times. "People want to collect all the one-on-ones or get as many as they can." 
Those "one-on-ones," are actually an integral and unique part of the "Sleep No More" immersive experience. One-on-ones are rare encounters during the show when an actor will pull you aside, remove your mask and act out a scene just for you. I saw an audience member receive a one-on-one with an actor who was playing a patient of the sanitarium, and during the encounter, she pulled the man into a dark room and slammed the door, and it remains a mystery what happened in that room. 
"Sleep No More," with its mysterious and puzzling allure, has attracted no shortage of celebrities, either. You never know who you're experiencing the show with; the plastic mask and now the KN95 mask has given celebrities a great place to anonymously let loose. Justin Timberlake, Bono, Margot Robbie, Johnny Depp, Beyonce and Jennifer Lawrence are among the celebrities who have partaken in the thrilling experience. Some celebrities are such fans of the show that they even have asked to participate in an unadvertised, one-night-only acting stand: that cast has included Neil Patrick Harris, Aaron Paul and Sara Bareilles. 
If you're still not convinced, just imagine yourself running through dark, mysterious and fascinating scenes trying to sleuth your way through a mystery without dialogue. Because of this, many people return to try to figure out new details and new storylines. With over a dozen storylines happening all at once, you will get your money's worth with every returning visit. Considering that most people are very bewildered and confused when initially visiting the hotel, every subsequent visit adds to your "Sleep No More" acumen, you're more likely to discover new and intriguing storylines and characters as you go back more. 
Ultimately, I couldn't recommend "Sleep No More" enough to any tourist or local who wants to immerse themselves in the heart of the New York City theater scene, though "Sleep No More" actually allows you to immerse yourself in what would usually be an isolated act being viewed by spectators. When you visit "Sleep No More," you get to live out a voyeur's dream and quite literally trail some of the city's best physical actors as they embark on a silent journey that Hitchcock and Shakespeare would be proud of.
About the Contributor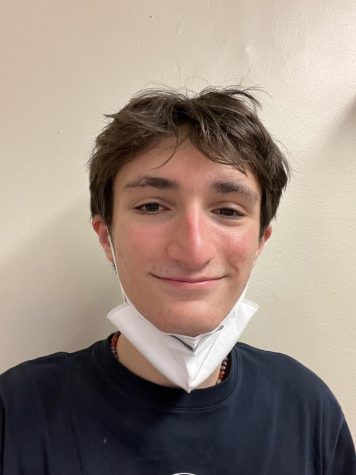 Zach Kaplan, Editor-in-Chief
Zach Kaplan is the editor-in-chief of iNews. Kaplan has been a contributor for three years, where he oversaw the sports section, wrote in the news and...