The iSchools favorite places to eat during lunch
October 26, 2022
"Hey, where do you wanna eat?"
"How about that pizza place that's around the corner?"
"Nah, I've heard it's way too expensive."
Now, where do you go?
You really want to get a pizza or any lunch at this point, but none of the places are either around the school or they are way more costly than you would like. Using your prior knowledge, you know that a lot of people always go out rather than staying inside, so you can either look up 'fast food places nearby' or you can ask your peers, "What place do you recommend?" 
"I would recommend going to CVS and buying a little snack if you're hungry," says Kio Sou, a freshman at the iSchool, "or you could get the one dollar pizza, which is really nice and you can walk with your friends." She also adds that boba would be an excellent choice of beverage, if you're willing to walk to a boba place, like MiTea. Although it's typically around nine to ten minutes away so watch the clock when you head out to one. She also mentions that she doesn't usually eat outside, usually bringing her own food, but she enjoys sitting on the benches located outside of the school and, "Watch[ing] the pigeons fight for food."
A free show and fresh air.
If you want to get your money's worth and still eat during your break, then consider what Ms. Bruce, a teacher at the iSchool suggests,
"My favorite place is probably Trader Joe's, honestly it's very economical. A lot of places around here can get pricey although tasty, Trader Joe's kinda has a plethora of different options," she says. She also says that she would typically get a salad from this nearby produce store. She recommends this place to the students as she says it's physically responsible and not pricey. She also recommends taco bell and chipotle but is persistent with her Trader Joe's recommendation.
Trader Joe's , which has a rating of 4.7/5 and 1, 538 reviews, is in fact quite popular among the students and staff with all of its organic products for a relatively low price.  It's across the street from the Dominik hotel and on the same block as CVS on Spring Street. It is certainly a fan favorite and it isn't very hard to see why with its .49 cent fruit bars and snacks and organic candies. Who wouldn't want a box of chocolate-covered sticks for a dollar for lunch? Or twelve mini-macarons for only five bucks! Or a chicken wrap, which freshman Amelie agrees is a perfect reason to go to Trader Joe's: "They have a lot of various options and I really like all the wraps there…there's also a lot of salads. Also, I like the candy."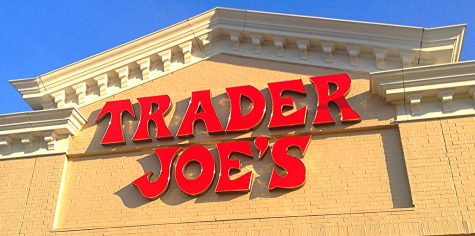 She also mentions a Chinese bakery which although she doesn't go to during lunch, it's located on the sixth avenue and it's named Fay Da bakery. A great place to have a sweet dessert although it's twelve minutes away so she recommends you go after school instead of during your limited lunch period. Though she says she typically eats lunch in the school cafeteria which she says isn't too bad or eats in Ms. Perez's room (501). 
When eating outside, however, she likes to hang out around the urban plaza which is by the Dominik hotel and isn't crowded during the break. With its natural environment and free seating area, it's the perfect place to hang out with people. If you want to have a dine-in or take-out cafe Amelie says, "Around the first day of school I went to this coffee shop called the Drip Drop Cafe, it's really nice, I got the Mocha latte there and it tasted pretty alright." The Drip Drop Cafe is only a six-minute walk from the school and you would be able to go and come back while still having time left to hang out by the school with friends! 
She also adds that if you want to save your money then you should go to the pizza place up North. And of course, most of the school agrees that the 99 Cent Fresh Pizza place on Canal street is always a go-to place to save your money and get a fresh hot pizza.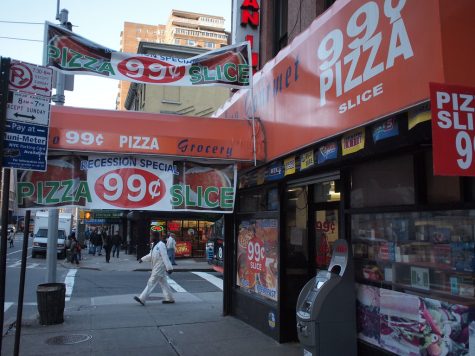 If you don't trust the opinions of your peers, then here's Google's opinion instead. Google Maps shows that Black Burger, located on Canal Street, has 4.3/5 stars with 697 reviews.
If you want something simple and on Canal Street, there is also another coffeehouse named Caffe Bene with 4.3/5 stars and 285 reviews, plus it's only a six-minute walk. Reviewer Jay Zheng says, "The first time I went to Caffe bene, it has a strong cafe atmosphere, their coffee is very good and the dessert is even more delicious. Good for spending leisure time there. Highly recommend everyone to go there with friends to enjoy the food, it was very tasty. Personally, I will come back again."
If you like Mediterranean food, then check out this cafe named Ba'al Cafe & Falafel with 4.6/5 stars and 334 reviews, and it's also a dine-in area (only a two-minute walk!). Although it is at the very least ten bucks a dish.
To add on, MiTea (as previously mentioned) is a perfect place to get boba for under nine bucks. It's 4.8/5 with 181 reviews though it is 9 minutes away from the school. There's also a Boba Guys though unfortunately, it is an eleven-minute walk. But if you're willing, it's a four-minute bike ride! " One reviewer, Britney Ng, writes, "Mi Tea is super cozy with cute decorations. The owner is very friendly and helped me narrow my choices down to fruit lust. [a drink option at the place]Exactly what I needed on a hot Tuesday afternoon. Would come here again to try other drinks!"
Dunkin Donuts, which is one of the more popular franchises, is located at 175 Varick St – it is a six-minute walk from the iSchool, with countless reviews and 3.9/5 stars. There is of course more than one located nearby, for example, there is one located on Canal St which is also six minutes away.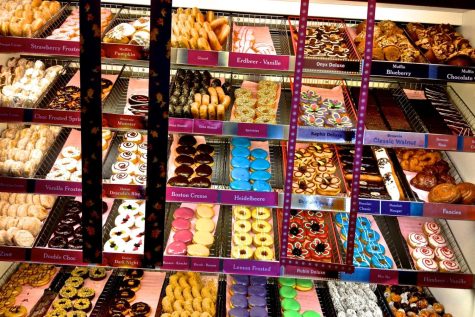 McDonald's is another popular franchise that you can find on 208 Varick St, which is about a six-minute walk away from the school with 3.3/5 stars and 493 reviews. Of course, it's very crowded so it's better to go with a friend or two to pass the time waiting in line.
After all of these recommendations, along with interesting places that you probably didn't know were nearby or even existed, you now have to choose between all of these options. Whether it be bringing your own lunch and sitting by the plaza with your friends or going to the pizza place and enjoying a non-costly delight, now you'll have a good idea of where and what you want to eat.