Midnights: Is it a good album?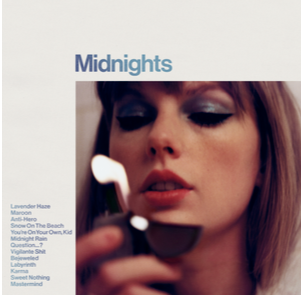 October 21st, 2022, the clock strikes midnight. A midnight like any other, except for one thing… 
Taylor Swift breaks records by releasing a brand new album in October. It had anticipation for about a month and has received an incredible amount of attention, being her 10th album after 9 hit albums. 
Her most recent albums were rerecordings of two older ones and two new ones in 2020 that received a lot of praise, including a grammy.
The most absurd thing about it is that Taylor Swift has broken two major records. In the charts, the entire top 10 are all new songs from the album, which has never happened before. This is also the first time ever that the top 10 songs on the chart have no male artists. 
Well, the album has gotten a lot of attention, has it all been good? 
What's good about this album? What is bad about this album? What kind of attention does it deserve? Does it even deserve attention? How does it compare to previous albums? And finally, what does it mean for Taylor Swift? 
Let's start with some pros about the album, and what a lot of people like about it.
Galia Cohen-Margolius, Esme Thorne, and Lola Hollander are big fans of the album and Taylor Swift fans in general. Here are some things they said!
Lola says, "I think that it does show her maturity, like all of her albums sheś matured more like them, and with this one it's kind of like her highest point. I think that some of the songs were a little not too good, but most of them were pretty good. I think some of them like I said, had like bad lyrics. I think a lot of them have the same beat. But some of them really stuck out, and were really good." 
Galia says, "I think she had fun with it because she was able to do what she wanted to write about." and, "I think she can just express anything with her music."
Esme says, "I think Blondie [nickname for Taylor Swift]  is a musical genius" and "She's an amazing storyteller"
Stella Kear, a student at the iSchool says, ¨I think that album itself has some really catchy songs, that I can definitely like sing along to them, the only downside is that it feels very contemporary, and Iḿ pretty into her old stuff. And while itś like good, itś nothing too crazy or groundbreaking, which is kinda sad to me. 
Stella also says when asked about her favorite song, "Probably the song Karma, mainly because I really like the beat, and that one is at least to be pretty different from her other songs" 
What are some highlights of the album that the public has noticed and paid attention to? One song that has caught people's attention is a song from the bonus tracks called "Would've, Could've, Should've."
This song seems to tell the gut-wrenching story of Taylor's experience dating John Meyer when she was nineteen. The song is very catchy and beautifully written, but one line, in particular, broke fans' hearts and also sent them running after Meyer. 
Living for the thrill of hitting you where it hurts, give me back my girlhood it was mine first.
It may seem pretty practical in writing, but the way she says it, it's almost like she channels her younger self. Her voice becomes weak and cracks. It's absolutely heartbreaking and beautiful. 
Something that Taylor Swift is known for is her track 5s. On all of her albums, track 5 is always the saddest song. It's usually a long beautiful song about a very awful heartbreak or experience, and it always brings out tears from everyone listening. For example, the album Speak Now's track 5 is "Dear John". Red's track 5 is "All too well". Folklore's track 5 is "my tears ricochet". These songs are all fan favorites and are full of sorrow.
Midnight's track 5 was no exception. It's a song called "You're on your own, kid." The title itself already brings melancholy to the mind. It has an ongoing chilling bridge.(Trigger Warning, mention of topics related to eating disorders and body image) From sprinkler splashes to fireplace ashes, I gave my blood, sweat, and tears for this. I hosted parties and starved my body like I'd be saved by the perfect kiss. This line could mean many many things, from growing up too fast to having trouble with body image at a young age. It only keeps going and ends with a lesson about how you're on your own, but you can do this, how you will be okay. It's absolutely inspiring and wonderful, and most listeners can certainly agree. 
Lola said, "I definitely love "You're on your own, Kid" because of the meaning, and it's just really good." 
Another song the majority of people enjoyed is the song "Maroon". This song can be argued to be about different things. Some could say it's about toxic relationships, some could say it's about intimacy and memories. But no matter what it means to you, it's a thrilling and impressive song to hear. 
Instead of Taylor writing, "I blushed" she wrote in her chorus, The burgundy on my T-shirt when you splashed your wine into me and how the blood rushed into my cheeks so scarlet it was, the mark you saw on my collarbone the rust that grew between telephones the lips I used to call home so scarlet it was, maroon. This short chorus truly tells a story and sets the scene very well with the music. 
Now for some songs fans were skeptical. 
Track 8 of Midnights is generally a hit or miss for people. Many people dislike it, and lots of people don't mind it, but it's hard to find someone who puts it in their top 3. This song is called "Vigilante Sh*t." Many people say that this song is cheap in terms of music and lyrics, or that it's "cringy." But fans have also theorized that it's about Scooter Braun or Kanye West, both people Swift has had feuds with in the past. But its audience has still given mixed reviews. I recommend giving it a listen and forming your own opinion. 
Now, have you heard of Lana Del Rey? She's a pretty well-known singer, praised for songs like "Summertime Sadness", "Video Games", "Love", "Born To Die", "Young and Beautiful", and many other songs in her eight studio albums. She's especially loved for her angelic and unique voice, which is mesmerizing no matter how much you like the lyrics or the music. 
So people were very excited when Swift announced that on Midnights, there was a song featuring Lana Del Rey. The song is called "Snow on the Beach". In my opinion, it has the best lyrics on the whole album, but it was hard for people to overlook the fact that Lana was hardly in it. People were expecting more, but she truly just gave background vocals. The song still sounded amazing of course, but some speculated that Taylor used Lana to get more attention in the song. 
Esme says, "I do wish Lana was in Snow on the Beach more rather than just background vocals, though her background vocals are lovely." 
Johnny Schlossberg, a sophomore at the iSchool, says, "I think that the production was going in a direction that wasn't quite her style, and I think she was exploring in a place where she didn't really thrive, which is similar to how I feel about reputation, being too heavy on track music, which her country style doesn't really fit. And, I think thereś is a line where I stop liking Taylor Swift when she goes too far into electro music. For example, I liked 1989, but I can't get behind when thereś is too much autotune, I think it loses its integrity in a way. And I think songs like anti-hero are a good example of that. When she lets go of all of her thoughts as a lyricist and says some random things.
Everyone has different opinions about the album and each song from it, but let's talk about Blondie herself. Swift has now released twelve studio albums and has been working and breaking records non-stop since 2006. Could Midnights be the end?
The album, if not the end of Taylor's music, is the end of an era. This is clear as Swift is literally going on what she calls "The Eras Tour" which is very hard to get into the concert she is doing this summer featuring songs and performances from all of her albums. 
However, I personally do not believe that Midnights is the end of her music career. Here's why: 
In 2021, Red (Taylor's version) and Fearless (Taylor's version) came out. These are simply just re-recordings of old albums, with some extra tracks that she names "From the Vault tracks". But why did Swift re-record these albums? What does Taylor's version even mean? Wasn't it already Taylor's Version? 
Well, remember earlier how I mentioned Scooter Braun? How Vigilante Sh*t could be about him? In 2006, Swift signed with Big Machine Records. This means that Big Machine Records does technically own the albums, and they stayed owned by them when Taylor switched records in 2018. However, Scooter Braun then bought the six albums from Big Machine Records (Debut, Fearless, Speak Now, Red, 1989, Reputation) and now owns it. Swift tried to buy it back, but Braun was offering a deal she did not want to take. 
So, she began to re-record the albums she didn't own so that she can own her own music. Red (Taylor's Version) and Fearless (Taylor's Version) have brought her more success than the original albums. The original album Red in 2014 received much fewer streams than Red (Taylor's Version). It may seem boring since they're just re-recordings, but it's an amazingly surreal experience to hear Taylor, now her voice more advanced and developed, sing old songs. She also added lots of new songs to these albums, and Red (Taylor's Version) came with All Too Well (10 Minute Version) And a short film. 
If anything, these re-recordings have only brought more creativity and fun to old masterpieces. And since there are four albums left to re-record, it's no doubt that she'll finish those. She's re-recorded a few songs from 1989 and has left many easter eggs for a Speak Now re-recording, possibly coming out in the next few months, so you can look forward to that!
Hopefully, we will still see some new albums, but we can also appreciate how Taylor has outdone herself with ten record-breaking albums and has certainly made her mark on the music industry.