Love-hate relationship with my pants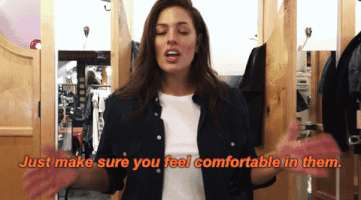 You're in the store trying on jeans. You've been in the store for an hour trying to find the perfect pair. Every one you've put on has – made your butt look flat, and some are too tight or too baggy. Then, once you find a pair that fits you flawlessly, fast forward to the next day, and you're wearing them for school. You're on the train, transferring to another and your pants keep falling down. You're getting upset because at this point you've pulled them up 200 times. The belt hooks have broken and all you want to do is go home.
Ahhhh, pants. Every girl's favorite item of clothing. – Yeah, right! Pants are so stressful. They fall down, they give you a wedgie, they're too short, they're too long, they're see-through, they're too hot. It's always something with them. Sometimes even our favorite pants seem to be a nightmare. Why can't it be as easy as it is with boys? Pick a pair, put it on, done. But no, everything has to be so complicated.
Marcela Lynch, -freshman to the iSchool, says she loves her pants when they "fit nice and are comfortable," especially leggings, those are her favorite. You know what's frustrating? When your pants "constantly fall down and are tight," it makes them so uncomfortable to wear. –
Times when pants truly feel like a nightmare is when someone other than yourself notices what happened to them. Marcela said, "I kicked my leg up and I didn't realize that they had ripped in between my thighs and then someone pointed it out." – How would you feel? Embarrased? Hysterical? Or would you just pay no mind to it?
Ms. Coughlin, 9th grade English teacher, says that her favorite pants are "jeans" because they bare very versatile: "good for both formal and casual events." What helps her decipher which pants to choose? "When they look good and are comfortable [..] and I don't have to constantly be pulling them up,"- she responds. Is it just me or are we seeing a pattern here?
Freshman Rossy Cabrera agrees as she says, "I love my pants when they fit me right, I don't have to keep pulling them up." That great feeling is what Rossy gets when she wears her favorite ripped jeans, "Cause they're cute and comfortable." We all know that dreaded feeling when your pants have reached their final day, when, as Rossy said, "they rip on your inner thighs or when the the belt hooks rip while you're pulling them up." Then, you have to do laundry, and the only pants you have left are sweatpants. They make you look bigger than usual and you just don't like it. At least some don't.
You know those favorite jeans you've had for a year and wear them all the time because they're so comfortable? Imagine if you went to put them on, you're pulling them up, and then,SNAP, the belt hook breaks. You say you can make it look invisible, and you go about your day, but then as the day goes on you notice you become more aware that your thighs are rubbing together. So you look down and there's a huge hole; there goes your favorite pair of jeans.
Pants are so difficult. There's so many to choose from, including sweatpants, legging, jeans. Not to mention all the subcategories within each type of pants. Jeans, skinny, short, regular, cropped, boyfriend, bootcut, etc. Leggings, cropped, spandex, cloth, long, etc. Sweatpants, baggy, fitted, joggers, capri, etc. So many to choose from, so little time to try them on.
Everyone just wants to find those pants that fit them well and are comfortable. Especially to prevent tearing of the belt hooks or the inner thighs. Those will only exist in-the corner of the store I spent 3 hours trying on jeans.
About the Writer
Anabelle Gonzalez, Reporter
Anabelle Gonzalez is a freshman to the iSchool. She is a Dominican and Haitian girl from the Bronx. In her free time, she loves to sleep, doodle, dance,...