Terror in New York City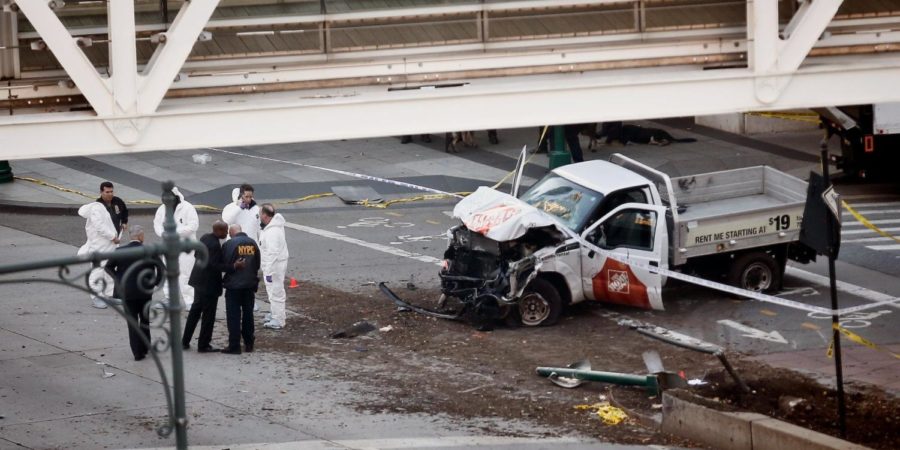 There has been a recent terrorist attack on New York City near Stuyvesant High School at 3:05 p.m. on Tuesday, October 31st, leaving 8 people killed and several injured.
A rented Home Depot truck plowed down bikers and pedestrians on a bike-only pathway along the West Side highway, in front of Stuyvesant High School. The driver was from Uzbekistan and sources have confirmed that the driver had connections to ISIS. Terrorist attacks have affected New York City many times before.
Moses Cohen-Soyer, an 11th grader here at the iSchool, said, "It pretty crazy that I have been on that bike path. It's kind of scary."
Moses is just one of many students here at the iSchool that have been shaken up following the recent events.
On that same day, the iSchool was dismissed at 3:00 p.m. due to the parade occurring on 6th avenue.
Henry Katchuba, a freshman at the iSchool, said, "It's a sad moment for the families who have lost people and family members."
According to CNN, 5 of the victims of this attack were tourists from Argentina on a trip to the US. This is a mourning moment for families who have lost loved ones in this tragic event and as said by fellow faculty and staff.
It is very hard to grasp that anyone could have been on that bike path and anyone could have died.  It is important to remember who died but to not let it scare us.  
About the Writers
Olivia Toussaint, Reporter
Olivia is a sophomore at the iSchool and currently a reporter for the Arts& Entertainment section of iNews. She likes to play sports and also lives...