A$AP Rocky: Harlem to Hollywood
Hang on for a minute...we're trying to find some more stories you might like.
A sex symbol, a fashion icon, an artist, and a rapper. Conceited and arrogant, yet  loyal, he is, in essence, New York Hip Hop. He and his friends have fought through all the pain and confusion of their teen years, and they have came out stronger as a whole.
Influenced by some of the greatest rappers of all time like Eric B and Rakim and Three 6 Mafia, he has gained an outstanding amount of clout and recognition over the past few years with musical hits like LPFJ2 and Purple Swag. Also, he has influenced the fashion world like making yellow laces in Vans a trend, or creating and selling out a line of clothes with GUESS.
This is Rakim Mayers, aka A$AP Rocky, a 29 year old artist living in Beverly Hills. He is influencing youth all across America without even realizing it through his music and choice of dress, but 10 years ago he was just a kid from Harlem, NYC hoping to live the good life
In a place like NYC, it's fair to say that fashion and appearance is something considered by most people, especially the youth. The biggest brands of today include Supreme, Jordan, Gucci, Prada, and Raf Simons. A big reason for the popularity of these brands goes to A$AP Mob, but more specifically A$AP Rocky.
Thomas Richards, a 17 year old student at the iSchool and fashion YouTuber, admits that "rappers are number one" when it comes to fashion influencers of the 21st century, and the youth really look up to "A$AP Rocky, Lil Uzi Vert, and Kurt Cobain."
As a whole, Thomas says that a prime example of A$AP Mob's influence over the youth is their Yamborghini High music video where the "camo [outfits worn by the mob in the music video] really moved a whole wave of multicolored camo, and pushed a very big brand Vlone."
Many young adults, especially in big cities like New York, do the most to follow the trends that A$AP Rocky makes again and again.  
25 year old Asim Samuel works at Open House Nursery School from morning to midday, but when he isn't found teaching, or attending college, he can be found hustling for the latest A$AP sponsored garments, which he waits hours for on long lines outside of clothing stores, or trying to buy Supreme on the app at exactly 11 a.m.
"A$AP inspires this generation. They're for 96' kids and up. As far as what brands to buy and how to put it together. They're like Dipset… fashion and music. They decide what people wear," says Asim.
Philip Borkowski, a sophomore who is more music savy has a lot to say about A$AP Rocky.  "He's a definitely a fashion icon. He set off a lot of rappers. He basically created cloud rap which is a subgenre of rap and is style, the A$AP Style, is a big influence on New York and New York rap in general. He's just a big influence on hip hop."
Whether you like A$AP Rocky or not, it is impossible not to know about him and his status as a celebrity. The 60s had Audrey Hepburn, the 70s had David Bowie, and the 80s had Madonna.. Who will be an icon in the 2010s and 20s is still up for choice, but A$AP Rocky has a good chance at being remembered for years to come.
About the Writer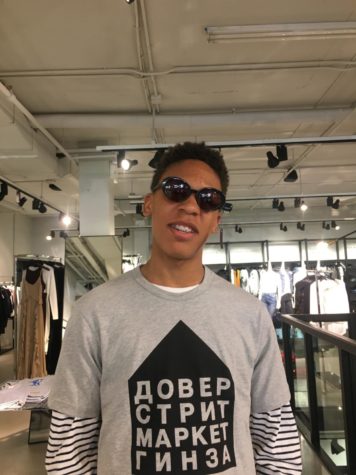 Zachary Taylor, Section Editor
Zachary Taylor is the section editor for the Arts and Entertainment section. He enjoys learning about his heritage, reading, and writing on his free time....