Now that the holidays have ended, here's what you should get with your holiday money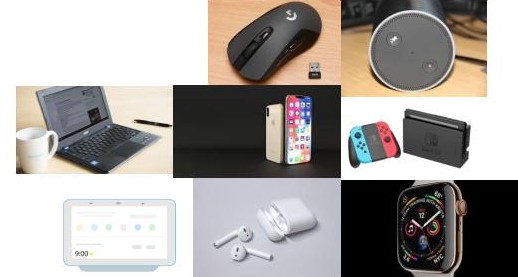 It is January, and you still have all your leftover holiday money. At the rate that technology is advancing, it would seem as though a new device would be the right gift for your family.

When choosing a tech gift, you can get anything ranging from a camera that attaches to a phone, allowing you which lets you zoom even further, to a miniature portable projector.

With the huge range of plausible things that you could get, you would have to look into what someone, including yourself, wants and needs. It would be close to impossible to dive headfirst into gift-giving without a clue of what someone, who might even be you, wants.

"Regardless of retailers promising gifts will make it to their final destinations, delays and unforeseen issues like weather can happen." says USA today, "So the earlier you place orders, the better. Plus, the earlier you order, the more money you can save too."

Victoria Vargas, a ninth grader, said that she would want a new phone, as hers is on the verge of breaking. "I have a Mac and an iPhone and they do benefit me every day since I use them mostly for school and also for social purposes."

A common theme that seems to resonate within society is that we tend to find solace in our phones, whether it is in music or within games. All around you, on the train or even on the sidewalk, phones are all around us, which shows that in one way or another that technology is something not to be overlooked.

Even Elly Tuffy, a ninth grader who doesn't use her phone a lot, said that she finds her phone to be a useful means of communication, and she wouldn't be able to imagine life without it. She said, "Something that I have wanted since my birthday, and this is going to sound nerdy, is a graphing calculator. Those things are incredibly interesting though super expensive. Another thing that I have been thinking of is getting a laptop so I could do homework in my room."

Ironically, it seems to be a trend that people who spend more time on their phones or other electronics had a less specific list than someone who only uses technology for practical reasons. While there is nothing wrong with that, it tells us that people's usage of technology impacts their desire to purchase more technology.

With the rush of new technology that is pumped out yearly, it would be surprising if nothing tech-related was on someone's "wish list." A perfect example of this is when Tuffy and Vargas were trying to come up of lists for Christmas or their birthday. Victoria said that there were so many tech-related things that she wanted to get, so she couldn't easily form a list. Elly, on the other hand, had an easier time. Her list consisted of a graphing calculator ranked number one, a new laptop as two, and a third would be a new camera. While the list was somewhat short, it gave us a little of insight on what a person who has little to no need for technology on a daily basis would want.

Some people underestimate the impact that technology has on our lives. Those who find themselves lost in the light from their phone seem to take it for granted and that one day, they might be stuck without the thing that is most important to them, their phones. While others who use their phones with more practicality, understand the value that it has in their lives but don't aren't as enthralled as those around them.

Those previously mentioned seem to have an easier time choosing what they would want from a tech-based Christmas or even their birthday. The others, however, take one look at the list, and they think that they either have everything or want everything. However, there isn't really a difference between those who are all for their phone, or computer, or even a console and those who simply use their phone and computer for school and communicative purposes.

There are so many ways that you could take shopping for or after holidays. You could go for tech, games, or even clothes. Christmas, Kwanzaa, or, Hanukkah, for example. They are such flexible holiday's that anyone can get anyone a gift. However, with the rush of technology, that is now taking over our world, that buying tech would seem to be the best option. Whether it be the homely Amazon Alexa or the Google home to benefit everyone in your house. Or it could be headphones so that your cousin can listen to music in peace, or it could be a new phone to get your now 11-year-old niece. It could even be a tech related game if you wanted to bring the family together over technology. A tech-related gift, based on who is giving and who is receiving has a good chance of being accepted with gratitude.
The top tech from 2018, ranked in a list of 10 based on survey results found online. 
1) Nintendo Switch™
The Nintendo Switch is a hybrid video game console allowing you to play on the go or play on your TV. A description of the Switch is "a home console that you can take with you on the go"
2) Roku Ultra®  (No Pictures Without Copyrights)
The Roku Ultra allows you to watch your favorite shows fast and has smooth responses that get you to channels that launch quickly.
3) Apple Watch Series 4®
From the Apple website, the Apple Watch Series 4 is resetting the standard for what a watch can be with a larger display and new electrical heartbeat sensors.
4)Google Home Hub™
With the ability to control all your smart devices on one home display or with your voice and be able to control most of everything else about your house with only your voice and a few taps of your finger, Google home hub is there for you.
5)Wireless Bluetooth AirPods®
The Apple Airpods will instantly turn on and connect to your phone when you take them out of the charging case. They start to play as soon as you put them in your ear and pause when you take them out. Overall, they will change the way you use headphones.
6) Jabra Elite 65T™  (No Pictures Without Copyrights)
Enjoy superior sound and voice quality with these Jabra Elite wireless headphones. Integrated controls let you answer calls, adjust the volume or pause music with the touch of a button.
7) Amazon Echo™
Ask Alexa to play music, answer questions, read the news, check the weather, set alarms, control compatible smart home devices, call almost anyone, and more. Set up your smart home without a separate hub. Ask Alexa to control compatible smart lights, switches, sensors, door locks, and more. Echo Plus also includes a built-in temperature sensor.
8) iPhone XS Max®
The iPhone XS Max display has rounded corners that follow a beautiful curved design and boasts an amazing camera as well as it has a new face id technology.
9) Logitech G Pro Wireless Gaming Mouse™
Over a 2 year period, Logitech G collaborated with more than 50 professional players to find the perfect shape, weight and feel combined with their LIGHTSPEED wireless and HERO 16k sensor technologies.
10) Acer® Chromebook 11 
With a battery life of up to 10-hours, your device is designed to stay at your side for the entirety of the day.
(Chromebook is a registered trademark of Google LLC.)
About the Contributor
Julian Lai, Copy Editor
Julian is a freshman copy editor of iNews. When he is not reviewing other articles or writing his own, he spends time running or playing baseball with...