Making new friendships: Sports at the iSchool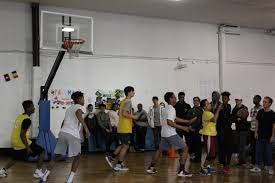 Hang on for a minute...we're trying to find some more stories you might like.
The school spirit at the iSchool is strong, including students' support for the sports teams. The sports teams at the iSchool, shared with Chelsea high school, include of the co-ed soccer team, boys basketball team, girls basketball team, bowling team, track and cross country teams, boys baseball team and others.
The iSchool offers plenty of sports to students who want to participate or even join colleges on a sports scholarship. However, the iSchool is a very small high school and therefore doesn't quality for sports such as football and swimming due to lack of equipment and space for practice.
Freshman participation is high this year with lots of 9th graders trying out for the teams. Some of the students that currently participate in the school's sports teams either love, hate, or have mixed feelings about their teams. Asked to give the advantages and disadvantages as well as the pros and cons of the teams, the students were able to draw an honest conclusion about the iSchool teams.
"Something I like about the team is how I got to make more friends at the iSchool," freshman Lutetia Desmoulins claimed.
Desmoulins said,"I play on the Chelsea/iSchool basketball team." She began to give descriptions of the way the team practices when she said, "Coach Juan and coach Jaques don't prepare us, although they try." She described the basketball team by saying, "Practice is lazy. We're trying to focus on the beginners." Desmoulins continues, "We're not running any plays and our defense is wack."
It's not necessarily the administrators at the iSchool's fault. Being a fairly new and small school means that we don't get priority when it comes to the DOE. New facilities are needed but it's hard when we share the building with another school.
In addition Desmoulins continued, "One thing I like about the team is I get to make new friends." So it can be confirmed that joining a sports team will allow you to socialize and build trust as well as practice teamwork. She continued, "One thing I don't like about the team is that it's not really a team. It's just me and Elasia (another member of the basketball team and Lutetia's friend) carrying the team."
Teamwork is the heart of building a team and from Desmoulins' aspect, the iSchool needs to work on letting everyone playing equal time or encouraging those who want to play but don't have the courage.  
Desmoulins has made it clear that she would change lots of things about the team. She confirmed this by saying, "One thing I would change is recruiting people with height." Although Desmoulins acknowledges that the team does try, she says "I would not recommend joining the girls basketball team to others. After this year, I'm quitting."
This strong opinion of the girls' basketball team provided by Lutecia Desmoulins allows us to draw a conclusion that says there is tons of room for improvement for the basketball team.
Another iSchool student, Sameer Makanjee, said, "I play on the soccer team with Mr. Lindo and Andre Eisenberg as our   coaches." He explains how his coaches prepare them for games and allow the students free time to play. "Yeah, the coaches prepare us."
He continued, "We don't have practices but we leave school one and half hour early and we practice before the game." Makanjee clarified that the team doesn't practice during after school practices but rather plays for fun.
"One thing I don't like is that the league we play in only allows 8 players on the field per team which can get annoying." Makanjee says. "If there was one thing I could change about the team it would be getting us into the PSAL league."
"I recommend playing on the team." To back up his claim he said, "Most people are experienced. There's a small amount of people who are beginners." If you're not an expert at soccer and want to get to know the sport, there are plenty of people that would be willing to help you get better. Though a note is that although girls are welcome to join the team (it being a co-ed team), as of now the team is one hundred percent male. Encouraging girls to join the sports teams is a goal that Mr. Lindo, physical education teacher at the iSchool, has. A majority of the sports teams are open to all students but they all have their flaws.
It is evident from both Makanjee and Desmoulins that whether or not the teams are good or productive, the team members are friends. The sports at the school are a big draw for freshman looking to find friends and socialize. It can also be looked at as a draw to the school because it less nerve-racking when you know someone.
Yet another student who is a member of the sports team at the iSchool is Nathan Buckley. "I play baseball. More specifically, I'm a pitcher," Buckley said. "The coach of the baseball team is Mr. Nilson," Buckley continued. "Coach Wilson is preparing us for the upcoming season."
When Buckley was asked to describe practice he responded, "Practices are very standard. Mondays, Tuesdays, Wednesdays or Fridays we have warm ups, then we do some stretches, play catch, then we do batting practice." As he described the routines of the baseball team, he claimed "I love how much of a family it is. We all have a connection."
However when Buckley was asked to describe the things he doesn't like and would change he confirmed, "I don't like how far the practices are. I would change the practice times and days because they don't work with my schedule and they're very far away."
As he described the few problems with the baseball team he confirmed that the positives outweigh the negatives. This was noted when he said, "I would recommend playing on the team to others because it's a great way to spend time with friends and playing sports is a healthy thing to do in general."
There were some students that asked not to have their names mentioned, but a freshman who's on the track team spoke about his experience so far. "I mean, I have friends in school, but doing track is something I basically do alone. The kids on the team are friendly enough, but I don't really talk to them. Its okay though because it means that track can have my full attention and I can focus on getting better and improving my skill. Sometimes it does get kind of lonely though."
This is a unique aspect of the sport because other kids mentioned that they play sports  to make friends or join the teams with friends. This student views the sports team more as a serious class rather than an extracurricular activity. It is evident that different students have different aspects and priorities when it comes to the teams which is fine because it's beneficial to apply undivided attention to something you take very seriously.
A junior talked about the bowling team: "This was my first year doing the bowling team- it was a great experience. I don't necessarily know if I'll do it again, but it was great while it lasted! I first joined with two of my friends as a joke at first, a big perk was the fact that we got to leave school early, but after going to the first game we kind of fell in love. Although bowling isn't a super serious sport it was so so fun and I definitely saw improvement from when I started to when I finished the season. She continued while laughing, "Now I can flex on my friends when we go bowling next time!" If you aren't the most athletic person, love bowling, and are looking for a stress free extracurricular activity, you should definitely join the bowling team.
A question that commonly pops up is, "Why isn't there a volleyball team?" When attending tours and orientation for the iSchool, lots of kids were asking about a volleyball team, and guidance counselor, Ms. Kolone, mentioned something about the fact that our school is too small and doesn't qualify for a PSAL volleyball team. Nevertheless, lots of iSchool students said that they would join if a volleyball team was created. Maybe that could be something to look forward to in the future.
Attending a small school in SoHo, Manhattan is very different from a traditional high school in the suburbs. Our school doesn't have football fields or swimming pools which makes it difficult for our school to qualify for sports such as swimming, football, or volleyball. Nevertheless, our small school still possesses a strong spirit and our school still offers very fun sports.
Receiving mostly positive feedback from the students that participate in sports at the NYC iSchool, it's evident that joining a sports team is a great way to spend your free time. Sports are also a great thing to put on your resume to diversify from academic things such as clubs and grades. This improves your college resume and shows that you are a participant and an active member of the school. Getting physical exercise is a big factor in staying healthy and happy because of released endorphins.
So why not do it with people you like and have a good time? Yes, there is room for improvement but the coaches really appreciate student's feedback, so don't be afraid to speak up if you want to see change. And if you want to join the sports but you aren't feeling sure about it, just go for it. Whether you like it or not at first, it will have other benefits in the long run.
About the Writer
Violet Lane, Reporter
Violet Lane is a freshman at the NYC iSchool from the Bronx. She likes to spend time with her friends outside of school when she's not playing soccer for...