Winner of La Liga 2018
The Campeonato Nacional De Liga de Primera División is commonly also known as La Liga. La Liga was established in the year of 1929. It was founded by a confederation UEFA (Union of European Football Association) . In this Football Association ''there are a total 21 clubs, including the world most famous Football Club Barcelona and Real Madrid.La Liga is the football league that was established in Spain, which has many clubs including the world most famous and richest club Real Madrid.''
A total of 62 teams have competed in La Liga since it was inception.
Freshman Elias Swift said, "Nine teams have been crowned Champions with Real Madrid winning title a record 33 times and Barcelona 25 times." The top scorer in La Liga till now is Lionel Messi, who has 408 goals. There are a total 20 teams in this Football Association:
Athletic Bilbao

Atletico Madrid

Celta vigo

Deportivo la Coruna

FC Barcelona u

Getafe

Granada

Levante

Malaga

Osasuna

Rayo Vallecano

Real Betis

Real Madrid

Real Mallorca

Real Sociedad

Real valladolid

Real Zaragoza

Sevilla

Sporting Gijon

Valencia CF 21. UL Almeria.
In April 1927, Jose Maria Acha, a director of Arenas club de Getxo, first proposed the idea of a National League of Spain. After much debate about the size of the League and who would take part, the Real Federación Española de Fútbol agreed on ten teams that would form the first primera division in 1929. Barcelona, Real Madrid, Athletic Bilbao, Real sociedad,Arena club were selected.
Junior sabiq said that La Liga also has participation in champions league from 2008-2018 so the player who plays La Liga can also play champions league. After the selection of those teams, the UEFA also choose other clubs from Spain and other European countries to make the La Liga Association more famous in other European Countries and in the whole world. Then on 1942, other football clubs joined like Sevilla, Real mallorca, Osasuna, Atletico Madrid, etc.
To make the Association more famous, La Liga also made many award to the players. The award is called golden Ball, which is also known as Ballon d'or. It is given to the best  player in a season. They also made a golden football or soccer boot for players who actually scored more goals in a season. La Liga also made a golden gloves for the goalkeeper who saves the best game.                                                                                                           
In the history of soccer Cristiano Ronaldo and Lionel Messi have earned the most awards in comparison to other players. Cristiano Ronaldo and Lionel Messi has won 5 Ballon d'ors each. Cristiano Ronaldo has a total of 4 Golden Boots in the football history, which is the record in football history. The possibilities of getting any award is very hard. In order to get the Golden Boot, you have to score as many goals as you can and should compete against the world's best players from different countries.
Ballon d'or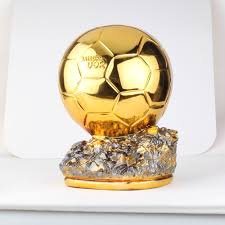 The Ballon d'Or is an annual football award presented by France Football. It has been awarded since 1956. Between 2010 and 2015, an agreement was made with FIFA, and the award was temporarily merged with the FIFA World Player of the Year and known as the FIFA Ballon d'Or. The most nominated in Ballon d'or is Cristiano Ronaldo (15 times). The first Ballon d'or award was given in 1956, And the current ballon d'or holder is Luka Modric. The most awards are with Cristiano Ronaldo and Lionel Messi. The award became a global prize in 2007 with all professional footballers from around the world being eligible.
Golden Boot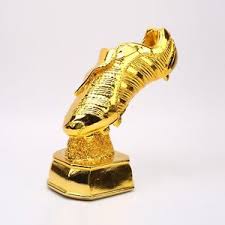 The European Golden Shoe or Golden Boot is an award that is presented each season to the leading goalscorer in league matches from the top division of every European national league. The trophy is a sculpture of a football boot. Between 1968 and 1991 the award was given to the highest goalscorer in La liga or European league. The Golden Shoe or Boot award was also won by Lionel Messi and Cristiano Ronaldo each 4 times. The award became a global prize in 2007 with all professional goalscorer from around the world being eligible.This was regardless of the strength of the league in which the top scorer played and the number of games in which the player had taken part.
According to Rahman, ''In the history of La Liga Real Madrid is only the club who has won the most titles and cups is Real Madrid.''Until now Real Madrid is only the club which has won more than 20 La Liga cups'' and in second place is FC Barcelona, which has only won 14 in comparison to Real Madrid. Real Madrid won The Best Club of the 20th century FIFA trophy. Real Madrid has won 13 European Cups. Not only have they won European Cups,Real Madrid has also won seven FIFA World Cups in the Champion's League. Real Madrid has also won 4 European Super Cups, and two UEFA Cups, including 10 Spanish Super Cups. Real Madrid has won almost 33 Ligas with  19 Copas Del Rey, One league cups is also won by Real Madrid, 2 small world cups , 2 latin cups,, 18 Regional championship and five Man-commandos Trophies. The La Liga Champions since 1928. The first club which was chosen as a champion of La Liga on 1928-1929 was Barcelona , 1929-1930 was Athletic Bilbao , 1930-1931 was Athletic de Bilbao, 1931-1932 Real Madrid, 1932-1933 real Madrid , 1933-1934 Athletic de Bilbao, 1934-1935 Real Betis, 1935-1936 Athletic de Bilbao, 1936-1939 there was a civil war,1939-1940 Atletico Aviation, 1940-1941 Atletico Aviacion,1941-1942 Valencia CF, 1942-1943 Athletic de Bilbao, 1943-1944 Valencia CF, 1944-1945 FC Barcelona, 1945-1946 Sevilla FC, 1946-1947 Valencia CF, 1947-1949 Barcelona FC, 1949-1951 Atletico Madrid, 1951-1953 Barcelona FC,1953-1955 Real Madrid, 1955-1956 Athletic de Bilbao, 1956-1958 Real Madrid, 1958-1960 Fc Barcelona, 1960-1965 Real Madrid, 1965-1966 Atlético de Madrid, 1966-1969 Real Madrid, 1969-1970 Atlético de Madrid, 1970-1971 Valencia CF, 1971-1972 Real Madrid, 1972-1973 Atlético de Madrid, 1973-1974 FC Barcelona, 1974-1976 Real Madrid,1976-1977 Atlético de Madrid, 1977-1980 Real Madrid, 1980-1982 Real Sociedad , 1982-1984 Athletic de Bilbao, 1984-1985 Fc Barcelona, 1985-1990 Real Madrid q, 1990-1994 FC Barcelona, 1994-1995 Real Madrid , 1995-1996 Atlético de Madrid, 1996-1997 Real Madrid, 1996-1999 Fc Barcelona, 2000-01 Real Madrid, 2001-02 Valencia CF, 2002-03 Real Madrid, 2003-2004 Valencia CF , 2004-2006 Real Madrid, 2006-2008 real Madrid, 2008-2011 Fc Barcelona, 2011-2012 Real Madrid , 2012-2013 Real Madrid , 2012-2013 FC Barcelona, 2013-2014 Atlético de Madrid, 2014-2016 FC Barcelona, 2016-2017 Real Madrid.
La Liga is one of the most popular professional sports leagues in the world, with an average attendance of 26,983 for League matches in the 2017–18 season. This is the sixth-highest of any Domestic professional sports league in the world and the third-highest of any professional association Football League in the World, behind the Bundesliga and the Premier League. So all the Football or Soccer fans should love La Liga League and supports different clubs there.
Source
History of La liga
1.https://en.wikipedia.org/wiki/La_Liga 2.http://www.sportslogos.net/teams/list_by_league/130/Spanish_La_Liga/Spanish_La_Liga/logos/
Players in La liga
3.https://www.goal.com/en-us/news/cristiano-ronaldo-juventus-goals-assists-results-fixtures/16joqwgcw6uux1ktglzk9ubyf8
4.https://www.fifa.com/the-best-fifa-football-awards/best-fifa-men's-player/
5.https://www.uefa.com/uefa champions league/news/newsid=2567658.html
Dates and all
6.http://www.espn.com/soccer/stats/_/league/esp.1
7.https://www.soccertimes.com/leagues/spanish-la-liga
8.https://www.skysports.com/la-liga-table
9.https://www.topendsports.com/sport/soccer/list-league-la-liga.htm
About the Writer
Aman Prasai, Copy Editor
Aman Prasai is a copy editor of iNews. He is a junior who loves to play soccer and basketball. Apart from a reporter, he is passionate about visiting new...