Lakeside Prospect Park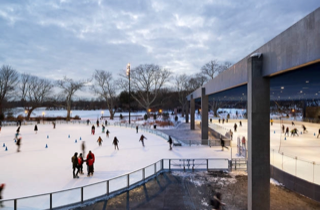 Imagine flying on the ice. Hitting speeds of 30mph but not in a car. The wind smashing your face, getting hard to see. The sound of the ice cracking underneath your skates. The thrill of copying someone's exact moves. The nerves of trying to jump over a bunch of cones. That is what it is like ice skating at Lakeside in Prospect Park. Everyone always has an amazing time.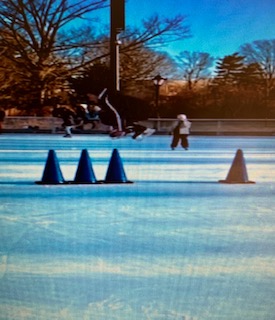 At Lakeside there are two different rinks: an indoor and outdoor rink. The outdoor rink is only used for public skating, freestyle skating, and private lessons. The indoor rink is used for public skating, hockey, private lessons, broom ball, and curling.
COVERED RINK:
MONDAY: 9:00am-5:00pm
TUESDAY: 9:00am-5:30pm
WEDNESDAY: 9:00am-5:30pm
THURSDAY: 9:00am-5:30pm
FRIDAY: 9:00am-5:30pm
SATURDAY: Noon-9:00pm
SUNDAY: Noon-5:00pm
UNCOVERED RINK – WEATHER PERMITTING:
MONDAY: 9:00am-5:00pm
TUESDAY: 9:00am-7:15pm
WEDNESDAY: 9:00am-7:15pm
THURSDAY: 9:00am-7:15pm
FRIDAY: 9:00am-9:00pm
SATURDAY: 10:00am-9:00pm
SUNDAY: 10:00am-5:00pm
WEEKDAYS: $7.25 for the whole day
WEEKENDS & Holidays: $10 for the whole day
Skate Rentals: $7
Even though the website says certain hours on certain days, the hours can change due to weather and/or several other factors. For example, when it starts to get hot outside around March when the rink is almost closed for the season, the ice on both rinks can start to melt, and there will be big areas of water.
There is not only ice activities at Lakeside. In April through October, the indoor rink turns into a roller skating rink with all sorts of different activities such as roller hockey, adult night, group skating, birthday parties and many more activities. The outdoor rink turns into a small water park mainly targeted for the younger kids.
Also at Lakeside is a place called Bluestone Cafe. There you can buy food, drinks or just take a break from all the activities. 
You can also throw birthday parties at Lakeside. There are special rooms that you can reserve for your party. Then you can skate or do whatever for a certain amount of time and then head on in for pizza and cake.
During the ice skating season, private lessons are held in the middle of both rinks. You can book private lessons by going to the guest services area of Lakeside. However, there are also group lessons that tend to be with a lot of people. When this is the case, about one quarter to half of the indoor rink is closed off for that big lesson.
Also for ice skating, since you skate on ice it gets chopped up. Therefore, a zamboni comes out and cuts the ice. When this happens everyone has to move to the opposite rink of where the zamboni is. However, when it gets late and there is a activity like hockey or curling happening in the indoor rink, the zamboni will wait until the rink is closed to clean it. After the ice gets cut it is super slippery and reflective.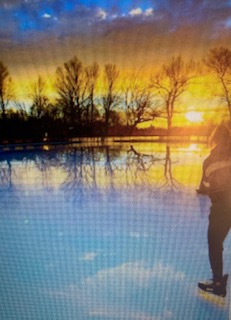 There are many different versions of hockey at Lakeside. These include youth hockey clinic, adult hockey clinic, youth hockey league, adult hockey league, family stick and puck, adult stick and puck, and adult open hockey.
Nick Kloor, a freshmen at the NYC iSchool, plays hockey at Lakeside. He plays on three different teams."I go almost six times a week," said Kloor. "I really feel like it brings people together. However, the management isn't the greatest."
At Lakeside there are many different types of jobs. There are skate guards, security guards, kitchen workers, and skate rental workers. Typically, you have to be 18 to work at an ice skating rink, but Lakeside broke that rule by hiring people under the age of 18. There are several skate guards who are under 18 and Lakeside is hiring more next season. One of those skate guards is Ester Fruchter. "I like working at Lakeside because I get to skate around, which I love, and I get paid for it," said Fruchter. "And right after that I can get back to skating for real."
A kid that goes to the rink is Lazer Fruchter. He is a hockey skater but doesn't play hockey. He also does a lot of cool tricks. "One of my favorite parts about skating at Lakeside are the trains [lots of people following, doing exactly what the person in front does]," said Lazer. "They are really fun because you don't know what is going to happen until it happens which causes a lot of people to wipe fall and slam into the boards."
"Another thing I like are all the tricks we do. I like jumping over cones and following people through the cones but i'm not as good as you (Luke)," said Lazer.
However, the ice skating season is currently closed until early November due to the weather getting warmer, so all of the activities that include ice are now gone.
Even though the ice skating rink is now closed, it is a great place to go for roller skating or to have some fun in a water park.