iMessage games: To cure our boredom or reduce our communication?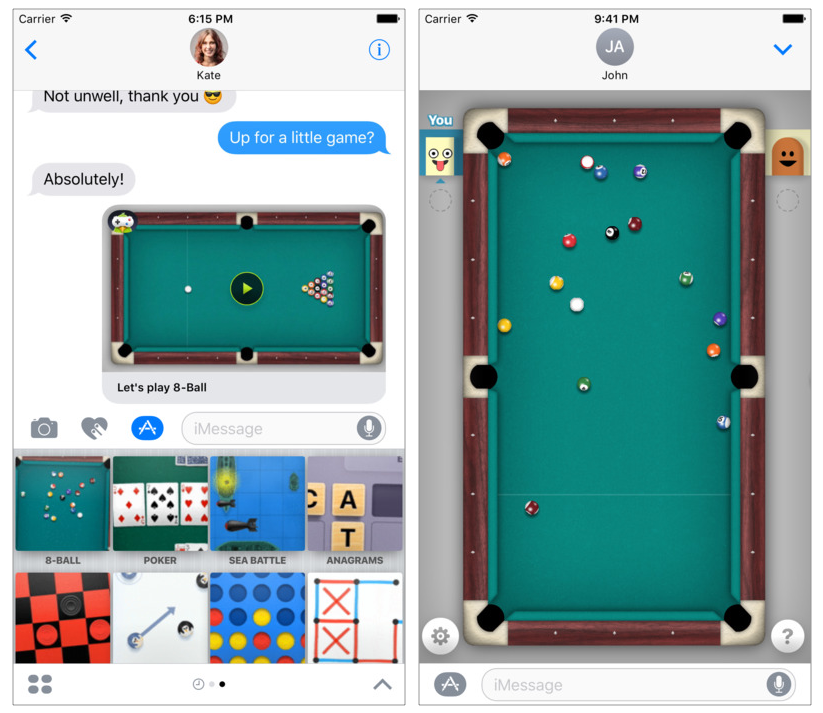 Download, open, send. Or, call them, look for an available day, and wait. Which might sound better to a teenager that is bored?
The phone's essential purpose was to communicate with people, but we have been using them as a quick distraction such as games, specifically iMessage games. iMessage games have recently been pretty popular, especially games from the app Game Pigeon. Many teenagers use these apps to have fun with their friends at school, home, or anywhere. But, what happened to making plans with your friends to go to an actual place?
"I'm really good at cup pong in person, I prefer phone because I always win and it's easier for me," says Piper DeMartino, freshman.
Piper DeMartino plays cup pong "everyday" and she says she usually plays cup pong when she's "On the train, at home, in school, at [her] friend's house, everywhere, whenever her friends text [her] back." Two things that might stand out to someone who believes that phones are making us anti-social is the fact that she plays, "at her friend's house and when she's in school.
Although, she says she plays iMessage games just for the fun of them, "I'm very competitive and it's fun to beat my friends." So, Piper says she plays because of the great pleasure of victory.
Eric Garcia, freshmen, also says that he would definitely prefer playing cup pong, pool, archery, etc. in person, "I would, but I would lose in all of the games." Once again, Eric would definitely play the games in person but decides to play on his phone because, it's a much easier digital version to win.
With this reasoning from two people who play iMessage games, they believe that iMessage games are just a fun way to kill some time, or have a distraction, or just feel good about winning an easy game.
On the other hand, Slava Haussler, freshmen, believes that iMessage games are fun, but she prefers playing the games in person.
"I DO like playing iMessage games, but like, I feel like it's better for us to play in person, so I'm not really sure." says Haussler. Many people might be on the "I don't know or I'm not sure side" and that's very justifiable.
Haussler says that it's a lot better to play "in person" but just like the other two students, she also feels " comfortable playing on phone because, it's like really easy to win, compared to real life pool, or cup, and the other games."
This is completely normal, according to ithrivegames.org, "Video game developers use a set of tools that reliably help players feel masterful." This would explain why Piper and Slava adore the sweet feeling of victory. This seems very reasonable, especially because everytime you win, you get a crown icon and a message saying, "You WON" and it tracks the amount of wins you have in a specific game (For example: 14 WINS in Cup pong).
Out of the three students at the iSchool, neither had a strong opinion about the cons/negative side of playing iMessage games instead of playing that game in person.
If you believe that iMessage games are somewhat making us anti-social, don't worry you might not be alone. There is evidence to prove your ideas. "The computer game did not stimulate the brain's frontal lobe, an area which plays an important role in the repression of anti-social impulses and is associated with memory, learning and emotion," states, Computer games make children antisocial. This shows that video games, like the game pigeon iMessage game, can cause antisocial behavior because it does not stimulate the brain's frontal lobe.
Although there are many different sides to this opinionated question one might also say that, you are playing with another person so "technically" you're being social in a way, whether your on a phone call or texting.
All these different types of modern technologies are changing our lives in a drastic way, is it for the better though? Some might not go to the library because they can read on their phones, which is pretty convenient if you can't find a library near you. Also people are visiting places using VR instead of actually going to the real places, pretty awesome but, others would prefer going to an actual place. But one thing all of these things people are doing is that they are having fun when they are doing this, They might not have a "better" experience of doing these things, but they might be having fun, and that's what counts.
With these some of these iSchool opinions and facts, how are you feeling about this topic? Would you continue playing iMessage games on weekends? Or go make plans with your friends? Whichever you choose, it doesn't matter as long as you are having fun!
About the Writer
Jackelin Vargas, Reporter





Jackelin Vargas is from the Class of 2022. She likes going outside, and she is copy editor of the Humor & Opinion sections. She LOVES her...