Full House to court house: The college admission's scam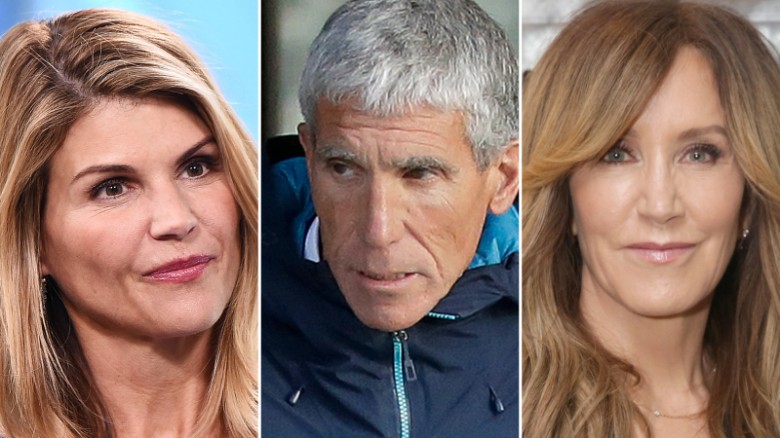 Ruby Germack
April 4, 2019
When you think of college what comes to mind? Hard work, independence, and MONEY. People not only work very hard to get into the college of their dreams, but also spend massive amounts of money, which can leave them swimming in student debt years after they graduate. People with money have a clear advantage, and it can be hard to get ahead when the people with money don't play fair.
The college admissions scam not only rocked the Hollywood world after many famous people were found to be involved, but it also showed the truths of the whole college admissions process, and how easy it can be to cheat your way in. People were found, cheating on tests, or even scamming their way in as a college athlete.
"I see how hard the people around me work to get in to their dream college, it's just really unfair that these people didn't work at all and got into the college of their choice," said Piper Demartino, a freshman at the NYC iSchool.
Actresses Felicity Huffman, who is most known for her role on "Desperate Housewives," and Lori Loughlin, who is best known for her role of aunt Becky on "Full House," were joined by around 31 other parents involved in the admissions scam, including CEOs and executives of large companies. This involved either cheating on standardized tests, or bribing college coaches to to accept students as athletes, even if they didn't play a sport.
"On TV (Lori Loughlin) looks like such a genuine and humble person, which does not seem to be true now," said Ezra Gold, a freshman at the NYC iSchool. "Wealthy people just have a clear advantage."  
The college admissions scam was "orchestrated by William Rick Singer, CEO of a college admissions prep company called The Key." Singer had stated that his goal was to "get the wealthiest families in the US get their kids into school."
Some parents supposedly paid around $15,000 to $75,000 per test to help their children get a better score.
Tobie Kiser, a sophomore at the NYC iSchool, said, "It's crazy how those people would pay for better test scores, when other students study for a really long time and work very hard on the tests."
In order to conceal these huge payments, Singer hid the payments as contributions to the Key Worldwide Foundation. This foundation was a "purported nonprofit," which was actually "a front Singer used to launder the money that parents paid him."
Loughlin and her husband, Mossimo Giannulli, "allegedly agreed to pay bribes totaling $500,000 dollars to have their two daughters designated as recruits to the University of Southern California crew team." Their two daughters have never competed in crew, so their parents sent in pictures of their two daughters on a rowing machine.

Both Huffman and Loughlin had court dates scheduled on March 29. Lori was "released on a $1 million bond, after appearing in federal court in Los Angeles."  She will have to give up her passport by December 1, 2019, unless she "obtains a court order to let her keep it for legitimate work related travel." Huffman was arrested, but then released on a $250,000 bond.
Lori Loughlin's daughter, Olivia Jade Giannulli, who is famous on social media, has expressed her feelings about school openly: "I want the experience of game days and partying, I don't really care about school, as you guys pretty much all know" she said in one of her YouTube videos. Olivia is now supposably furious with her parents, but not because her academic career seems to be over, but because the scandal has destroyed her influencer career. Olivia says she never wanted to go to college anyway.
Olivia has reportedly lost brand deals with Sephora, TRESemme, and an online store Lulus, so far. Olivia has no plans to return to the University of Southern California.
Schools involved in the scandal include, Yale, University of Southern California, UCLA, Stanford, University of San Diego, Georgetown University, The University of Texas, and Wake Forest University. `
"I was surprised when I heard that such well known and famous schools were involved, its crazy how unfair it is," said Roxy Boitel, an NYC iSchool student. "I'm surprised that they thought they could get away with it."
Parents across the country are furious that very wealthy people could cheat their way into schools. They are also very upset because they took spots away from less privileged very hard working kids. A group of parents and students who were rejected from the colleges are filing a lawsuit against the people involved in the scandal, saying "they would not have wasted their time and money" applying to these schools if they knew that the process was "warped and rigged by fraud."
Some universities involved are launching investigations into the scandal. UC Berkeley stated, " integrity in our admissions process is critically important, students who do not adhere to that value may have their admissions offer revoked, enrolled students may be dismissed, and diplomas conferred may be revoked."