NCAA March Madness 2019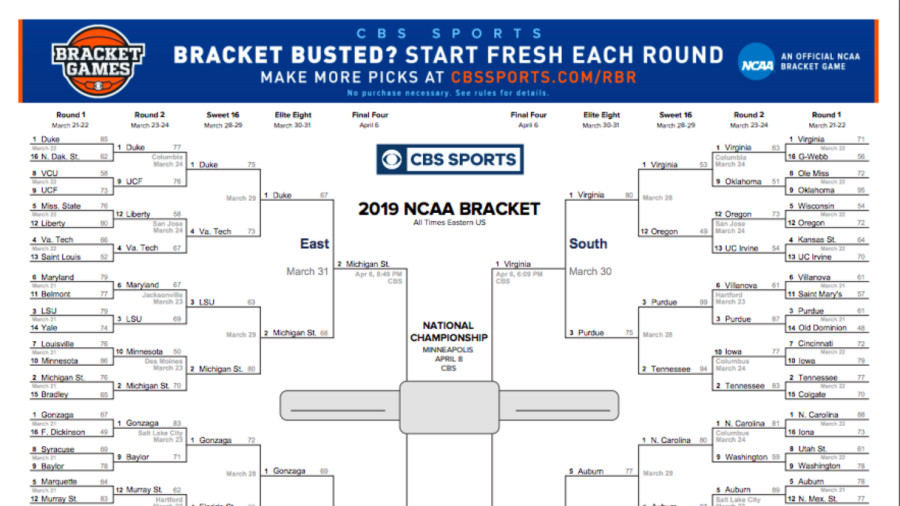 Zion Williamson dribbles down the court with 10 seconds left to tie the game and is going for the SLAM DUNK, and he hits an and one. Zion now heads to the line shooting his free throw, and drills the basket with Duke down by one and the buzzer goes off with Virginia state winning by one.
There are 60 different teams competing for the March madness trophy.
There are lots of teams that can win the tournament but a really good team that could of won is Duke University their team is called The Blue Devils. But they were sadly eliminated by Virginia  
The Blue Devils have very great players that will definitely be drafted into the NBA a great example is Zion Williamson.
Zion is a star player for Duke and is doing extremely well in the March Madness tournament. He averages 22.5 points a game, he averages 8.8 rebounds a game 2.1 assist, and he has a 68.4% field goal percentage. Source
Another amazing player that plays for Duke is RJ Barrett, a Canadian Basketball player that was born on June 14, 2000, in Toronto, Canada.
RJ Barrett's average is 22.8 points per game 7.7 rebounds per game, 4.1 assist per game and a field goal percentage of 45.7%. 
Yet again another amazing player from Duke University named Cam Reddish was born on September 1st 1999 in Norristown Pennsylvania is now a number 5 draft pick for the Knicks and is a amazing player. 
Cam Reddish's stats show the following 13.6% points per game 3.7% rebounds per game 2.0% assist per game and a 35.8 field goal percentage. 
Lastly Tre Jones, another player from Duke, is sitting at the 20th pick for the Houston Rockets. He was born on January 8th 2000 in Burnsville Minnesota he is a point guard.
Tre Jones averages a 9.2 points per game and 3.7% rebounds per game as well as a 5.3 assist per game and a field goal percentage of 40.7. 
The players above are just a few players in the NCAA that will make it to the NBA, but Duke was looking like the team to win March Madness note that all of these were predictions that these people have made even though Duke didn't make it to the final four
Gary Parrish, a writer from CBS Sports, states that Duke will win and how Duke and North Carolina never played in the NCAA tournament. He also talks about how The Blue Devils will close out the season just like how they started it and beat UNC. In his case sadly Duke did not win. 
Parrish than states the final score to be 76-73 Duke winning the game by three points and Zion being the Most outstanding player. But sadly Duke did lose and his prediction was incorrect.
Matt Norlander has something else to say he states that Virginia will win because they are higher than Duke in a lot of NCAA metrics sheets and his prediction was correct Virginia won.
Norlander follows up that statement by saying that Virginia's team is very healthy.
Tony Bennett's offence has never been this good he states. Multiple pros like De'Andre Hunter, Kyle Guy and Ty Jerome. In addition he adds that they are amazing players on both sides of the court.
Norlander follows up saying Virginia will make the biggest turnaround in NCAA tourney history.
PREDICTIONS STUDENTS MADE
Oliver Uchitelle, a freshman at Millennium Brooklyn High School, states the following about who he thinks is going to win: " I think Duke is going to win because they have 4 nba player 3 of which are top 10 picks in the mock draft."
He also states that "Zion Williamson is referred as the next Lebron James, Cam Reddish is the 8th pick in the mock draft but will probably go 6th."
In addition to what he said before he adds that "R.J Barrett is most likely going to go the third pick in the mock draft and Tre Jones is a lockdown defender."
iSchool freshman Grey Tratenberg states that "Michigan state will win because that is my favorite team and they have a balanced team that know how to play together and they have the best college point guard and they can shoot pretty well."
In addition he says that "Virginia Tech may have problems if Duke beats them." Duke didn't beat them so there shouldn't be problems
Ben Iglesias, a student from Iona Prep, said the following:"North Carolina will win because they have a lot of star power. Some of their power will be top 10 in the draft you can say the same for Duke as well." But North Carolina did lose.