Methods used for tackling crime
Imagine living in a time period where there are people on the streets who are drugged up, crime was at an all time high, and there was never a time to feel safe outside alone. That is exactly what the 1990s were like. New York City was skyrocketing at a high rate with there being around 2,262 murders per year. But when you look at today's crime rate, you can see that the crimes have dropped by a huge percentage. The crime rate each year was dropping by 2.7% for different types of crimes up until 2018 when it changed.There's still work that can be done to help reduce it even more.  
The use of the NYPD's technology and strategies has helped to reduce the crime rate by a lot in New York City. This investigation  raise awareness of the tools that are being used to help reduce the crime and help keep communities safe each day.
Back in the 1990s, New York City was a slumb that needed a lot of reform when Mayor David Norman Dinkins was in charge. The population in New York City around that time was 17,990,450 people and the amount of violent crimes was really high. There was approximately  212,458 violent crimes, 2,605 murders, 5,368 rapes,  112,380 robberies, 92,105 assaults, 208,813 burglaries, 536,012 larceny thefts and 187,591 vehicle thefts. The crime rate was so high that some people didn't even want to go outside their homes even though back then there were more cops than we have today. There was approximately around 40,000 cops on patrol throughout the city but today there's approximately on around 36,000 since officers are starting to retire but with that comes new people who want to become police officers as well.
When Mayor Giuliani came into place, the NYPD saw a huge reduction in crime especially under former police commissioner Bill Bratton. He served two terms with the New York City Police Department from 1994-2006 and 2014-2016. He also served as police chief with the Boston police department (1993-1994) and chief of the LAPD from 2002-2009), so you can say that his experience is pretty great when it comes to policing in America. Going further into this article you will find yourself able to understand what groups were created in new york city mainly to help battle crime.
Counter Terrorism
Not only has normal crime has been a top priority but ever since the 9/11 attack in 2001 the NYPD had to change the way it policed by a lot. The police has stepped up security and don't take anything as a joke, safety is a top priority.
"What keeps me going?" asked James Waters, who has been chief of the NYPD Counterterrorism Bureau since 2008."I never, ever want to see another 9/11 in this city, or anywhere else in this country, ever again." Prior to joining the bureau, Waters spent five years at the city's Joint Terrorism Task Force, an agency coordinating the counterterrorism efforts between federal and local law enforcement." No one wants to experience such a horrific event especially when you know that you can lose loved ones.
Even though that attack was handled on a Federal Level, the NYPD decided that it will not back down no matter what and they will take action into their own hands as well. Since then they've created the Joint Terrorism Task Force which consists of 17 to more than 100 detectives. The Joint Terroism task force is  multi law enforcement agency that includes NYPD Detectives, FBI Special agents. After 9/11 the nypd increased the amount of detectives that were originally part of the division, this allows them to access high level classified information around the nation.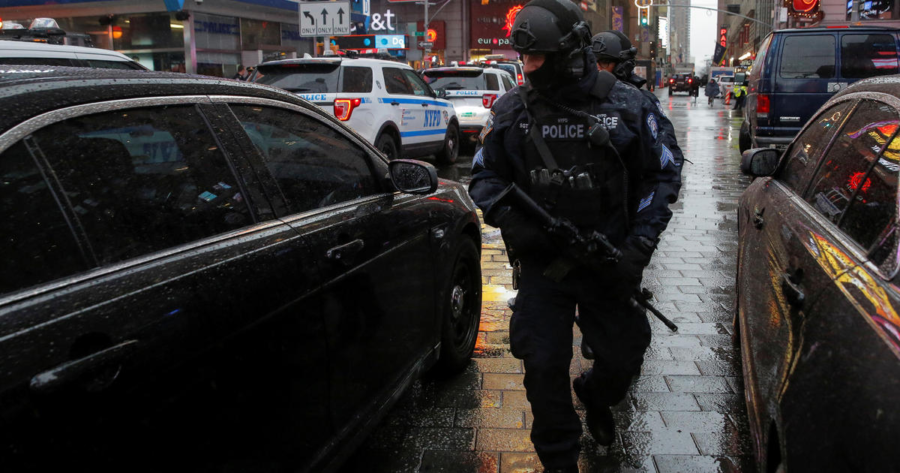 Neighborhood Policing
In 2016, Bill Bratton, who was the current police commissioner, was getting ready to step down, so he nominated James O'Neill to become the next police commissioner who is in charge of implementing neighborhood policing.
Neighborhood policing  "divides precincts into four or five fully-staffed sectors that correspond, as much as possible, to the boundaries of actual established neighborhoods…. Their off-radio time is used to engage with neighborhood residents, identify local problems, and work toward solutions."
In 2016 the violent crimes dropped to 83,966, property thefts dropped to 396,304, murder drop to 921, rape was down to 3,169, aggravated assault was down to 45,387, burglary decreased to 68,565 and Larceny Theft was down to 295,605, and vehicle theft was down to 32,132 compared to 1990's when the crime rate was skyrocketing.
So far you can say neighborhood policing has been working a lot, but there have been some cases where cops couldn't fully do their jobs, and in most cases neighborhood police officers  aren't allowed to talk back to the suspects in any way or form.
There was one incident that happened on August 8th, 2018, the neighborhood coordination officers responded to a call at about 10:30 am from a lady who reported a fight with a bunch of teenagers, so when the police arrived to break up the incident they started yelling  "Get the f–k out my building!" as the cops were walking down the stairs.
Police officer Martinez answered me when I asked him how do you feel about the situation ? and he responded back and said " it's a disgrace that our officers have to get treated like this. Getting yelled at and cursed at for doing your job ? I mean who wants to live in a world like that ? If anything they should be grateful that we are here when they call emergency services." He sounded very frustrated throughout the interview as well.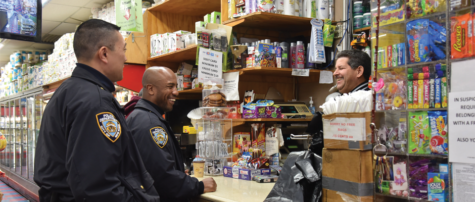 The huge impact being made
Neighborhood policing is making a huge impact on communities in the city, but the use of new technology is improving everything by a lot too. The city was first introduced to shot-spotter technology and the NYPD was the first department throughout the state to test it out.
The shot-spotter can detect shots being fired in the vicinity of the area, and as soon as the shots are detected they are transmitted back to the zones precinct and officers can be there in minutes and there might be a better chance of catching the suspects. " Officials hope that the technology would help curve an uptick in gun violence this year (2015)." And the rate of shootings have been decreasing throughout the courses of years. As mentioned on the NYPD's website "Shooting incidents decreased, with 72 incidents reported in June 2018, compared with 79 incidents in June 2017. This is a decrease of 7 crimes, or -8.9%. There were 192 crimes reported in the Transit Bureau in June 2018, compared with 201 in June 2017. This is a decrease of 9 crimes, or -4.5%. There were 414 crimes reported in the Housing Bureau in June 2018, compared with 387 in June 2017. This is an increase of 27 crimes, or +7.0%." Again the crime might fluctuate throughout the city and some things can't be determined.
Throughout this investigation, Rodriguez ,who works at the 34th Precinct,he had a lot to say about the technology. He mentioned how he was able to benefit from the technology. " Well in our field of work, when we are outside patrolling the neighborhood, some of our vehicles have ALPR ( automatic license  plate readers) and that allows us to run any plate we come across easier instead of having to have to input it into the computer all of the time. So yes it makes our job much easier."
Police officer Henry Lopez from the 24th Precinct felt the same way as well. "With the proper technology we are allowed to do everything we need to do and it makes our jobs much easier. Back in 2003 we couldn't really say the same thing, so yes the use of new technology does impact the way we police int hsi department a lot."
NYPD Coordination officers connecting with the deli owner
New Technological Advancements
The New York City Police Department is also working on a new pattern tool called the Spotting Partner  that would help reduce crime even more and identify suspects better. "Traditionally this is something that's been somewhat difficult for us at the department, because crime analysts are concentrated on the precinct to which they're assigned," says Evan Levine, the NYPD's assistant commissioner for data analytics and one of the authors of a paper on Patternizr recently published in the Informs Journal on Applied Analytics.
With safety comes trust and with trust comes safety. Some people believe that drones are an invasion of privacy,  but we have to remember that the use of these tools is to ensure the safety of New York City.
he NYPD Emergency Services Unit ( ESU) announced the use of drones back in 2018 on December 4th: "The Technical Assistance Response Unit (TARU) provides specialized investigative equipment and tactical support to all bureaus within the NYPD, from officers on patrol to the Emergency Service Unit (ESU). The unit's expertise in audio/visual technology helps: enhance investigations through the recovery of surveillance video footage; record police action at large-scale demonstrations and arrest situations; and provide crucial live video to incident commanders during ongoing emergency situations."
Sophomore Luca Swan expressed his feelings about technology: " I wouldn't want that to happen but I think it would decrease the crime rates by a lot. If they got drones people would get caught more often… I think it's an invasion of privacy though because if people can't fly drones in the city the NYPD shouldn't either."
The use of drones can be seen as unfair to the people of New York City because under the penal code law they can't fly drones, so allowing the police to do such a thing would show them as going above their authority.
Malcolm Chorao who is a sophomore had a similar stance on the issue as well: " Well, you know it would be great if it was used but only during certain situations If it's going to be used to spy on people then that wouldn't be something cool." Even though the technology is in use right now, it is still being tested and regulations are still being created to make sure that it is used for the proper reasons.
Hard working job
Unlike any other job, NYPD detectives and officers barely have day offs except on holidays or special occasions  because this is New York City of course, the city that never sleeps. NYPD Detectives can sometimes get cases back-to- back even on holidays, and police officers have to work at least eight plus hours a day. " In the NYPD, one day is divided into three 8-hour and 35-minute shifts: 11:15 PM to 7:50 AM (called a 12 to 8), 7:05 AM to 3:40 PM (called an 8 to 4) and 3:00 PM to 11:35 PM (called a 4 to 12). Officers work 5 of these shifts per week."
While reviewing the crime rates and statistics of New York City, what was mostly reviewed was street crimes, so I started looking into the MTA Transit Systems' crime rates.  Back in 2018 there were slight increases in different types of crimes occurring in the train stations, mostly sexual assault, rape and petty crimes as well.
"In 2018, there was an 60.4 percent increase in rapes reported from a previous year. Of the 1,795 rapes reported last year, 401 of them occurred during a previous year, according to the department. Of those, 154 occurred in 2017, and 129 occurred in 2013 or earlier."
Transit police officer Matthew Deconciliow was interviewed, and was asked what approach does the department take when they are trying to fight crime in the train stations ? He replied, " Well we have different division, like the anti crime task force, plainclothes officers and then the regular officers who are just standing there in plain view with the uniform. The plainclothes officers can blend in with crowds and their purpose is to act normal just like everyone else and if they see something they can move in without the perp knowing. The officers in uniform stand guard at their post making sure everyone is safe and they also ride the trains to assure safety amongst the train cars as well."
At the NYC iSchool, students use the MTA as their primary method of transportation.  
Freshman Sabrina Colon said, " when I take the trains alone I feel safe because I tune everyone out with my Air-pods… On 42nd street I feel that a huge police presence is good."
The NYPD is currently working on trying to add more police officers to  the transit Bureau so that they can fight more crime down there as well. The transit districts are basically underground police station that are broken up into different sectors. There are 12 transit districts and each one has officers working very closely to prevent crime from occurring in the subway systems.
Sophomore Rex Rubin mentioned, "I feel like a few police officers who are just patrolling makes me feel safe but a large presence makes me afraid because I believe that there has been an attack or a danger and it is not as safe." Sometimes as students when we see large groups of police officers or any activity that shows a huge presence of emergency services that can trigger us to believe that something is happening or that something but if you look at the bigger spectrum you'll understand the reasoning for a high police presence.
Coming back to 2019, now that summer time is right around the corner, the NYPD's initiative is to add the desk duty officers that normally sort out paperwork onto the streets into high crime neighborhoods to help deter crimes from happening. " A total of 287 police officers — about 70 more than last year — who normally do administrative jobs have been given quick refresher training on patrol tactics. Cops will be sent out beginning Thursday and work the streets through Sept. 6 — three weeks longer than previous All-Out programs," Monahan said.
With the NYPD's use of technology,we are able to stay safe as citizens of New York. If you see a police officer, you can always make their day by saying " thank you for your service" – it means more than you think.