Souk and Sandwich: The restaurant every iSchooler walks right by
Souk and Sandwich is one of the closest restaurants to the iSchool. I've walked by the place every time I go downtown, not stopping to think about what food they make here. I always blew it off as too expensive and never found a way out of my comfort zone–my instinct was to carry on by and go to the pizza places on Canal Street. I never gave the small hut the time of day. 
But recently, I decided to go there and try the food. The conclusion I drew is, while it's on the costlier side (probably a bit more than the frugal spenders in this school could be willing to pay), it is a diamond in the rough if you are willing to spend $10+ dollars. 
I bought the "Chicken Shawarma Sandwich," which contains high quality and very flavorful fire-roasted chicken breast, sour Lebanese pickles and french fries inside a foot-long grilled naan wrap. You also have the choice to order it with garlic toum, a salty and extremely garlicky spread, and I ordered that on the side. If you have a tolerance for garlic, then order it with the toum, but I don't, so I left that out. This mediterranean delicacy was around $10.50 with tax. 
I also noticed that their Chicken Shawarma Sandwich is in the same ballpark price-wise as Subway, which charges around $9 or even $10 for a footlong, and at Souk and Sandwich you get the same thing but you also get QUALITY.
Lebanese food, as I found out when I ate there, isn't much different from halal food. The menu is chock full of kebab sandwiches, and other foods like a kafta burger which is simply just a burger with onions, parsley, grilled tomatoes, herbs and tahini sauce. I didn't try this item, but it looked like a modern twist on an American favorite. In addition to their kafta burger, which, judging by the authenticity of the place, probably would be good, they also have bowls, such as the "Whole Wheat Bulgur Bowl," which is whole wheat bulgur (a fancier kind of oats), and it's cooked with diced tomato, a hint of pepper, Lebanese pickles on a bed of arugula dressed with olive oil and lemon juice, and your choice of meat. The total cost would be $14. 
This place one-ups street food. It takes the idea of buying food from a stand and adds something to it. 
Now, be warned: it is expensive; the kafta burger is $14, and baba ganoush, a Levantine favorite which is essentially just eggplant and tahini, is $8.50. But my main takeaway from this is that while it is expensive, it is very authentic. You get the full experience, you get all the authentic herbs, spices and high quality Lebanese food if you go to Souk and Sandwich, and I learned that by going. 
In my opinion, this place is somewhere that I would save up my money to go to, the great flavor the food has, the great spices, and the experience makes you feel like you're not in a ritzy SoHo neighborhood which surrounds the iSchool but feels like you're in the streets of Lebanon. 
About the Writer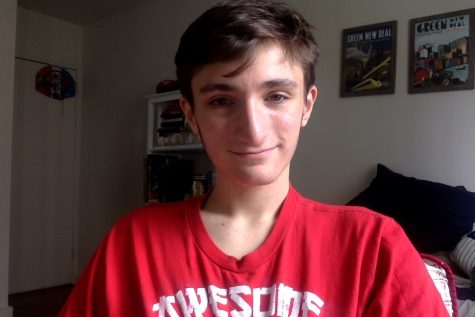 Zach Kaplan, Editor-in-Chief
Zach Kaplan is the editor-in-chief of iNews. Kaplan has been a contributor for three years, where he oversaw the sports section, wrote in the news and...