Why are comic book movies flourishing while comic books fail to grow?
The MCU has become a media giant, with the most profitable box office opening of all time under their belt the franchise has become too big to fail. "Avengers Endgame" made a total of 2,797,800,564 USD domestically which is eight times the budget for the film, and it is now among the highest grossing franchises in the world. Most of those franchises being ones owned by Marvel's parent company, Disney,
 With all the success of the movies, one would assume that the comics division would be receiving some cross pollination and would be growing rapidly because of that success, but surprisingly Marvel comics has failed to grow in recent years and has even decreased in profit a little bit.
Sophomore Harrison Reinisch says, "companies are dealing with hugely profitable characters in a dying industry." "Comic book characters are still very much there in pop culture… Batman Arkham City for instance. Is one of the top selling video games of all time." 
According to Comichron, a company which collects order information (and has yet to update their layout after 10 years) from the combined sales of Diamond Comics who sell comics and collectibles and the now defunct heroes world (the top distributors of comics during the years 1975-1997) in 1997 the sales of both companies combined was 4 million USD (adjusted to inflation.) After 1997 heroes world shut down and diamond comics' profit fluctuated but was still increasing most years and in 2013 the industry started to stagnate, diamond comics (because heroes world has been gone for 23 years now.) made 6.2 million USD and has slowly been declining in sales and now in 2020 diamond's yearly profits have now decreased to almost 1 million USD from 2013 to 2019's total sales of 5.3 million USD.
This proves a decline in the comics industry and not just a decline in the profits of diamond comics because diamond comics is the only distributor (excluding digital sales) for companies like marvel, dc, dark horse, idw and boom just to name a few. As of 2000 diamond has officially monopolised the comic book industry, but face no legal repercussions because they do not monopolize books as a whole. Since comic book publishers do not distribute their comics themselves, diamond's profit represents the demand of the physical industry as a whole, digital comics, according to all available resources, make about 9% of the profit of diamond meaning that the comic book store is still definitely the publishers main market.
 So why are comic book movies making mountains of money (endgame has made 2,797,800,564 USD and the franchise has made 18 billion USD in the box office globally) even though the comics industry proper has stagnated? The answer can not be pinned on just one thing, but it's primarily due to the fact that comics are inaccessible along with competitors to the medium that are not seen that way.
To clarify, single issue comic books from a retailer usually cost $3-$5 on average, physically and digitally and are on average about 25 pages which is not a worthwhile purchase in most cases and most comic companies founded more than 50 years ago like marvel and dc have doubled their prices (in proportion with inflation) since they were sold in newstands. While the quality of paper has improved, it's hard to imagine people buy comics because of the nice paper. 
With both the cost and the lack of content per issue it hard to justify the purchase as someone who is not  already invested in what they are looking to buy, this puts possible audience members in a situation where even if people did have interest in marvel or dc or hellboy or the like because of the movies, they would probably end up losing interest because there are a lot of other things that have a lot more bang for your buck like video games or streaming services. So in short my point is that nobody wants to spend $20 in total on five of marvel's spider man series that come out that week.
To expand on that "competing mediums" point not only do many other, more accessible time killers provide more bang for your buck and being able to get something like netflix or hulu or disney+ or crunchyroll, or a video game, or normal book, makes is so people might be interested but don't want to drop what they are already doing for something they aren't invested in. The average consumer, even people who are interested in reading comics who don't read comics are not looking into digital purchases and might not be aware that they exist at all. Someone might be interested but things like marvel unlimited or comixology which are not advertised at all stay relatively unknown resulting in people only knowing what these are if they are already in the loop about things like comixology. 
Another reason people see comics as inaccessible is because there is a common belief that its hard to understand whats going on;  a common belief spread that you have to have read a full backlog of issues in order to understand any single issue you can buy at a comic book store  
Kai Ferkel says that most viewers of the movies are not avid fans of the movies "they are people who just want to see [a] movie,"
Harry Donovan says, "people [get] bored."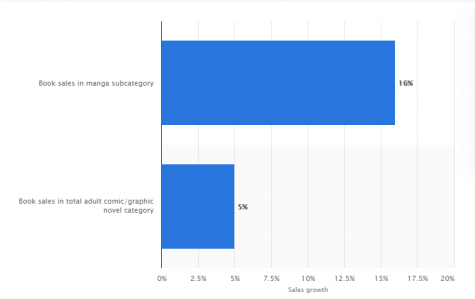 This graph shows that manga is growing much faster than comics. Even if both are not as easy to tell they are competing like opposing brands like Coke and Pepsi, you can tell that they are in the same ball part on the very surface level just by looking at how they are structured, this shift was most likely caused manga publisher leaning more heavily into localizing for other countries