Biden & Sanders: What do iSchoolers think?
We have a clearer picture of what the 2020 general election is going to look like now. 
When this article was first written, Vermont senator Bernie Sanders and former vice president Joe Biden were both vying for the presidential nomination. Since then, Sanders has dropped out of the race and endorsed Biden, which clears the path to the nomination for the former vice president. 
The last two Democrats left seemed to be the more controversial of the candidates. Sanders was the first major presidential candidate to publicly declare himself a socialist and was running on the idea of a revolution, offering extreme proposals on topics such as climate change and healthcare, which resonated with young voters. Biden, on the other hand, has continued to strike a chord with longtime voters, minorities and progressive Democrats. 
Students at the iSchool were sent a Google Form and many seemed to be supporting Bernie before he dropped out. Out of 56 responses, 73.2% of iSchoolers said they would've voted for Bernie, compared to just 28.6% who said the same about Biden. 58.9% of respondents said they preferred one of the initial candidates such as Pete Buttigieg, Elizabeth Warren, or Amy Klobuchar, over Bernie/Biden. 
One of his supporters is Yaseen Saleh, a junior who said he would've voted for Sanders mainly because Sanders resonated with him, similar to most young people. "When [Sanders] talks about the top 1% and the immense wealth gap in this country, it speaks true to me as I see homelessness and poverty right outside of skyscrapers and wealthy businesses," Yaseen said via email. Yaseen is also entering the college search process, and he says Sanders' hopes to change the financial problems surrounding higher education spoke to him. "When Bernie Sanders starts talking about reducing the wealth gap and free higher education, I see the need for these policies," Yaseen added. 
Another iSchooler who supported Sanders is Nikole Rajgor, a junior. She brought up Sanders' past as a reason for why she supported him. "He has been fighting for the rights of Americans since he got arrested for being a part of the civil rights movement in the 60s," Rajgor said. She added that Bernie strikes her as a selfless person. "In the pandemic that we are in right now, he is more focused on how to help citizens instead of his own campaign. He is a truly selfless person and fights for the idea of true justice," she said via email. 
However, some students preferred Biden over Sanders. Caroline Mulcahy, a freshman, is one of those students. She believes that if Sanders were to win the nomination, he would've divided voters to the point where some would've simply not voted at all. "People will have a similar feeling like in 2016 and think 'I don't like either candidate so I'm not gonna vote,'" Mulcahy says. She was originally a fan of South Bend, IN Mayor Pete Buttigieg, and appreciates the moderate ideology Biden brings to the table. "I think [a moderate Democrat] is what we need right now and our main goal should be getting Trump out of office. Once we do that we can get the Senate in our favor, we could then consider the more radical ideas like what Bernie is proposing," said Mulcahy. 
Another student who would prefer Biden over Sanders is Margareta Stern, a senior. Stern says the most important thing to her is, like many Americans, getting Trump out of office and that Bernie would not have been the nominee capable of doing so. "While I agree more with what Bernie has to say I think because he is considered a radical socialist it [would've] prevent[ed] people from voting for him," Stern said via email. Another reason why she says Bernie would not have been able to beat Trump is that Bernie hadn't fully delved into the details on how he'll pay for the majority of his initiatives. "I'm wondering where he's getting the finances to afford his ideas of free college tuition, Medicare, etc," Stern said. 
Since Bernie dropped out, both he and Massachusetts senator Elizabeth Warren endorsed Biden on the basis of being united as a party. "In this moment of crisis, it's more important than ever that the next president restores Americans' faith in good, effective government — and I've seen Joe Biden help our nation rebuild," Warren tweeted.
It's comforting to see that since Biden will be the nominee come July, Sanders supporters seem to be putting their differences in opinion behind and supporting Joe Biden for president.
About the Writer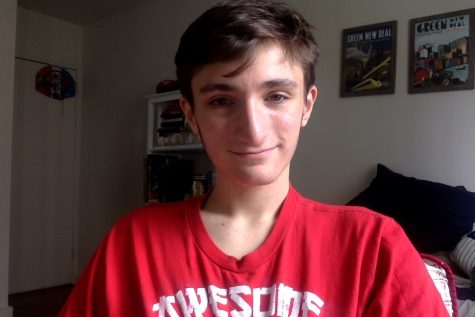 Zach Kaplan, Editor-in-Chief
Zach Kaplan is the editor-in-chief of iNews. Kaplan has been a contributor for three years, where he oversaw the sports section, wrote in the news and...