What's the buzz about Among Us?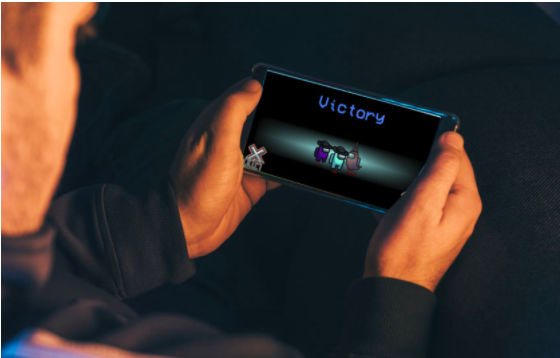 If you stopped by a Discord server in 2018 and asked your friends to play Among Us, they probably wouldn't know what you're talking about. Now, it seems like it's the only thing on everyone's mind. 
The game, released in 2018 by Innersloth, wasn't publicly recognized until this summer, when it took off. In September, the game hit its peak of active players in a month, with 438,524 players on the app in a day. For comparison, the game had 19 peak players in November 2018. 
So, what's the game about? If you've ever played Mafia with friends, you'll see the similarities. Four to 10 players log on to a game, which is either public or private, and before the start of the game, they are assigned a role. Either they are crewmates, or they are a secret impostor.
The job of a Crewmate is pretty straightforward: they are assigned a number of tasks that they have to complete, some "common" tasks that all players have, like card swipe on the original map, which is most similar to a spaceship.
However, all of the action in the game is controlled by the Impostor, or Impostors. There can be one to three impostors in one game. The impostors' main goal is to take out, or eliminate enough crewmates so that the amount of crewmates left equals the amount of impostors, at which point they win. 
They can sabotage, which means creating crisis around the ship to either distract the crewmates from a crime scene, or to set up an easier one. Impostors can close any door in any room, either to trap a crewmate in somewhere, or to stop them from discovering a body. They can turn off the lights, creating a dense fog that limits peoples' vision. When a person does find a body, a "report" button glows up on their screen, and they can report the body, bringing all players, crewmates and impostors together to discuss who they think is an impostor. 
The game is one of very few nowadays that is built around social interaction and deduction. You have to be able to solve a murder by piecing together alibis and by choosing who sounds trustworthy and who doesn't. It's a game of trust, of deception, and of trying to get to the bottom of things. You also have to be able to lie seamlessly as an imposter to win.
So, why is it so popular? Theo Jacobs, a junior at the iSchool, says they know why. 
"You can play with your friends remotely, so it's a good way to spend time with your friends while social distancing/in quarantine," Jacobs said. "Among Us as a game also combines a favorite party game (Mafia) with simple and common video game functions: completing small tasks and using teamwork in order to win." 
Many other students also think the mystery part of the game adds to its success. 
"I think that people like playing Among Us because it lets you have fun with friends and compete," said Veronika Kaminski, a freshman. "The sense of mystery and intrigue is really captivating." 
"It's very interactive- you can talk to real people, every game is guaranteed to be different so it's hard to get bored, the murder mystery (element of the game) is incredibly fun and you never know what will happen," added Shanee Krichely, a junior. 
Because there is no possible way to predict who will be chosen as the imposter(s), anyone can get it at any time, and when you do find out you are an imposter, it can be very exciting. 
"Being the imposter is the best part of the game in my opinion, but it is quite nerve-wracking," said Kadiza Aktar, a freshman. "You don't want to seem suspicious and get voted off and you have to be able to convince people that you're not the imposter." 
But when you aren't the imposter, the game is still interactive and fun. 
Arpita Sushil, a freshman, says the game thrusts you into the role of a detective, and attributes the game's success to its natural suspense. "I think it's because the suspense people feel when they try to figure out who's the imposter is just exciting.
It's gotten so popular that people are even playing the game in advisory. Many of the teachers I spoke with were mystified to why the game is so popular, but many said it's a great channel for socialization even during the pandemic. 
"I think it allows for people to connect from afar, I think it also allows people to plan strategic ways to win and helps people to become expert liars," said Ms. Colón. 
"It seems simple to play (for them- I don't understand how to play) and the commentary over zoom during play is so funny!" added Ms. Turso.
The one downside of the game is that there can only be two outcomes – either the crewmates win or the imposters win, and that issue is something that Innersloth, the game's developers, are working to correct. 
In a blog post, the admins previewed the new game, which they say will include a greater capacity of players (12-15 per game, up from 10), a specialized game mode for hide and seek, which has become a popular game mode where the Impostors say who they are and the crewmates have to speedrun their tasks, and more roles. The admin declined to say what exactly the new roles would be, but they said the sequel game would build on just the Crewmates and Impostors. 
The new game will come out in 2021, but for now, Among Us is retaining its popularity, with good reason.