First doses of lifesaving Covid-19 vaccine administered in the United Kingdom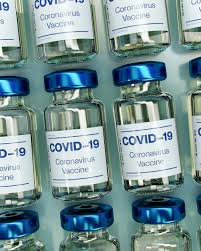 Tuesday marked a historic day in the pandemic. From across the world, news reports and photos came in of healthcare workers and senior citizens in the United Kingdom getting their first 'jabs' or vaccinations in the fight against Covid-19. On Thursday, the FDA approved the vaccine for emergency use, meaning the first shots could be in American arms within days. The news out of the U.K., and here at home, led to a feeling that not many people had experienced in this rough year: hope. 
Hope, that soon we will all be taking our first shots to protect ourselves from Covid-19, and that a return to normal life is a season away and feels within reach. 
For some iSchool teachers, who may be near the front of the line, genuinely good news in a time like this is a reason to be happy.
"It is a small breath of fresh air in a year that has been quite challenging," said Ms. Coleridge, who teaches math.
For students, some believe it's remarkable that a vaccine was able to be produced so quickly. 
"I know they didn't expect to see a vaccine so soon, which is really cool," said Ally Doree, a freshman at the iSchool. "I am a bit nervous about those who refuse to use it, but I hope it will be okay," she added.
While this news is exciting, many feel that it isn't a guarantee to have the cure-all effect that it was imagined to have.
"I feel relieved that people are starting to get the vaccine however I am also still concerned and nervous about it because I'm not sure if it is going to work as planned," said Caren Koo, a freshman at the iSchool.
"I feel interested, and I anticipate a lot of changes coming, but I can't help but be unsure of a vaccine that was created in less than a year," said Chiaka Leilah Duruaku, a junior at the iSchool. "At the same time, I hope that people being vaccinated against COVID-19 will put the pandemic to rest," she added.
Another thing that many people worry about is the misconception that the vaccine–which requires two doses taken three weeks apart, will be a magic pill that ends the pandemic immediately, which it isn't. The body can only have immunity to the virus ten days after the second dose, and in order for it to have the ripple effect that everyone hopes it does, at least 70% of the general population would have to be vaccinated, so the virus would effectively run out of places to spread.
"I just hope people still continue to be cautious after they get the vaccine," said Micah Gomez, a senior at the iSchool, adding that the politicization of the pandemic and of wearing masks may lead to a divide over left-versus-right, rather than an issue of human safety. 
Even with the news coming out of England, a large chunk of the general population may not be able to get it at their local doctor's office or pharmacy until early to late spring of next year, many health experts warn. Until then, this is an important first step that marks a new, hopeful stage, in the pandemic.