Insurrection, impeachment, inauguration: An iNews analysis of a historic time in politics
Our country is in a time of major flux. To try to get a grip over this week's transition in the White House, the iNews staff put together a packaged article and asked some of our faculty to weigh in on the issues facing our country.
President Trump is impeached in the House for the second time in his presidency
In a 232-197 vote last week, the House of Representatives voted in favor of a single article of impeachment against President Trump for his role in the violent attempt at an insurrection by supporters of his. On January 6th, his supporters stormed the U.S. Capitol Building, broke windows and stole property owned by members of Congress in an attempt to delay the certification of former vice president Joe Biden as the next president. One supporter was shot and killed by a security officer, and four others died. 
The divide of the votes was nearly a complete split by party lines, but 10 Republican members of Congress voted to condemn Trump and vote in favor of impeachment. Mitch McConnell, the Senate majority leader is currently mulling over whether to hold an impeachment vote in the Senate or not. 
"Mitch McConnell is a crafty politician," said Mr. de Picciotto, a teacher at the iSchool. "By delaying the Senate trial, he has forced the Democrats (who will hold the Senate majority as of next week) to decide whether to focus on Biden's agenda or hold a trial of a former president," he added, noting that the Democrats wouldn't be able to do both effectively. At the end of the day, he said, focusing on Biden's agenda should be the top priority. 
If Trump were to be convicted in the Senate additionally, he would be removed from office with just a few days left in his term. –Zach Kaplan
Trump's impeachment: What comes next?
Impeachment and removal is a two step process, with one of the steps being completed: the House of Representatives has voted to impeach Mr. Trump. In order to condemn him for the events on January 6th, two-thirds of the Senate would need to vote to impeach. In order to ban him from running for office again, the Senate would need to hold another trial, where a simple 51-49 majority could bar him from running again. An additional vote would have to be held by the Senate to decide whether he will be banned from the presidency altogether. 
It's hard to say whether or not Trump will actually be banned from running for federal office in the future, or even be convicted by the Senate in the first place. As of right now, control of the Senate is split down the middle by Democrats and Republicans. To impeach and remove the president, the Democrats would need to sway 17 Republican senators to reach across the aisle, because in order for Trump to be impeached at least two-thirds of the Senate needs to vote in favor of doing so.  
After the recent riots at the Capitol, many Republicans seem to have finally turned against Trump due to the violence that ensued, with a consensus being that Trump incited his supporters to storm the Capitol. Liz Cheney, representative of Wyoming and the third-highest-ranking Republican in the House of Representatives, was one of ten Republicans to vote in favor of impeaching Trump following the riots. Senate Majority Leader Mitch McConnell has not officially confirmed whether he will be voting to convict Trump, but his silence alone has caused speculation that he will, in fact, vote to convict him, which would be a big statement on behalf of the Republican Party and could possibly influence other people's votes. – Sydney Wargo
Mike Pence, and other Republicans' strange dilemmas
Republican senators like Josh Hawley of Missouri and Ted Cruz of Texas have made headlines for their votes against impeachment and voting against the certification of Biden as president even after the armed insurrection. Hawley and Cruz stood out as two of the few Republican senators to stand up for what they believed was a fraudulent election, even after the events that took place on the Capitol that day. But for other Republicans, the choice isn't that simple.
Some Republican members of Congress have stated in private that they're fearful for their own safety if they stand up for what they truly believe. Rep. Jason Crow (D) of Colorado, told New Day's John Berman that Republicans he spoke to last Tuesday, the day before Trump's impeachment, told him they "feared for their personal safety" if they voted in favor of the article. 
Trump's base has put traditional, moderate conservatives in an awkward position. The fervent supporters of Trump's, even when Trump leaves office, will still be a dominant voting bloc for the Republican party in the 2022 midterm elections and the 2024 presidential race, both of which will be very competitive. 
Trump's following is "almost like a cult that follows one person, rather than the ideas of the Republican party which he leads," Mr. Jay, a teacher at the iSchool, said. 
"This gives him the power to tell his base to support one candidate over another in Republican primaries," he said, adding that some Republicans still support him because of the large influence he wields over the party. "If they condemn him he could tell his followers to vote for another Republican in the next election cycle," he said.
"It's interesting to see what congressional Republicans are trying to save a shred of dignity and their political careers by voting for impeachment," Shoshana Hirschmann, a junior, said. "But even still, the vast majority of Republicans chose to stand with Trump," she added. 
Republicans have had to ask themselves: are they willing to put themselves on the line and condemn Trump for his role in the insurrection – which would likely lose them the support of Trump's large base – or join the majority and refuse real change? For the majority of Republicans, they chose the latter. – Zach Kaplan 
Ask the iSchool staff: Why was the insurrection at the Capitol finally the last straw for many Republicans on Trump?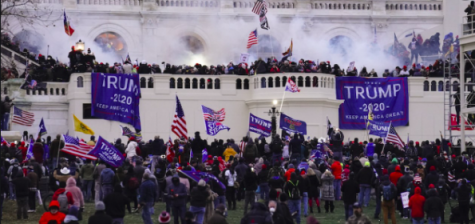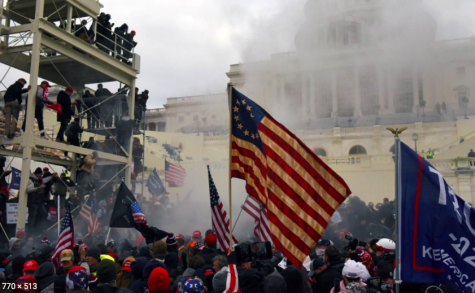 Mr. de Picciotto: "A cynical take would be because association with violence makes them look bad and politicians tend to react fastest and most effectively when their political futures are directly threatened. A more empathetic view would be to recognize that generally we don't fully register the reality of a situation until it affects us directly."
Ms. Strassler: "I think that for many of these patriotic "law and order" loving Americans seeing these Trump supporters break into the Capitol Building, use tear gas against police officers and beat and trample people was horrifying."
Mr Jay: "They saw with their own eyes, the danger Trump posed to American political institutions. Their lives and their institution were directly threatened."
Reactions at the iSchool to the riots at the Capitol
iSchool senior who preferred to remain anonymous: "What happened at the capitol wasn't even surprising. I saw it and had absolutely no reaction to it. White supremacy exists, this was a clear example of it. It was inevitable and it's going to happen again." 
Sophomore Hanna Kessler-Karp: "My first reaction to the insurrection at the capital was that if it were BIPOC leading this coup, they would all be killed, beaten, and thrown in jail for life. It just goes to show how much white privilege there is in America and how absolutely disgusting it is how police treat white people vs black people." 
Sophomore Samuel Espinobarros: "After the siege on the Capitol, it's more important than ever to send the message that no person in government can't outright order a hit on a separate branch of government. If we don't prosecute the President for his role in the Capitol attack, then [we'll] start to normalize the idea that people who aren't happy with the results of our elections can just do whatever they want in order to bend it to their favour. It's dangerous, it's wrong, and it's unamerican." 
Trump has made his presidency a reality show, until the very last moment
This has been an exhausting presidency, that's for sure. In the "lame duck" period, in a president's term who had lost their bid for reelection, usually the airwaves would be flooded with information about the incoming president's plans to get to work in the first 100 days.
In the span of time from when the media outlets declared Biden the president, to now, Biden and his plans have been pushed to the backburner by nonstop coverage of Trump's efforts to sow distrust in the election results, plus the armed insurrection in Washington, plus the second impeachment. 
Trump has still found a way to live in our heads rent-free. He announced he wouldn't attend Biden's inauguration, snapping a longtime tradition where outgoing presidents attend the incoming president's ceremony, regardless of political affiliation. There will be an investigation into Trump's taxes and possibly into his businesses from before his political career, by prosecutors once he leaves office and his protection from some criminal investigations expires. These will all be distractions from Biden's first actions as president, even as reality catches up to the reality show president.
All benchmarks of his presidency bore strange resemblances to his tenure with The Apprentice. His State of the Union addresses felt more like a series finale than a serious event focused on the state of the country. His battle with COVID-19 was Grey's Anatomy but sickening. Lost in the Trumpian news cycle was his joyride out from Walter Reed Medical Center, where he, infected with the virus and probably spreading it, rode in a car and waved to his supporters who were outside of the hospital. It wasn't long until he was back to sowing misinformation about the virus and downplaying it.
Espinobarros described the Trump presidency as a "roller-coaster with no end to it," and many other iSchool students concur. Hirschmann described it as "four years of lies and half-truths designed to bring us to this very point, with violence and massive polarization."
And, by all standards, Trump did what he wanted to do as president. He helmed the greatest reality-show-that-wasn't, and changed everyone's perception of what lengths an American president could go to. –Zach Kaplan
At the same time, while Trump's chaotic term comes to a close, there still is a new president waiting in the wings, and one who will have a lot to work on when he assumes the presidency.
Biden's plans for the economy and fiscal spending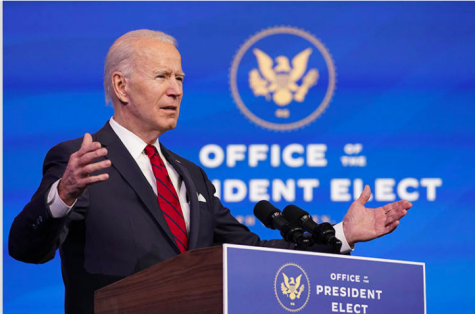 In order to combat the economic fallout from the pandemic, the U.S. government has been spending trillions of dollars on stimulus and aid for businesses, consumers, and other entities. While many say the spending's effectiveness has been questionable, Biden, the incoming president, is expected to unveil plans aimed at spurring the U.S. economy, per the New York Times. Biden's plans are expected to have an initial focus on getting the country vaccinated and testing a lot more for the virus. However, as time goes on the plan will broaden to include initiatives such as healthcare, education, climate change, and other top priorities that necessitate significant funding. (UPDATE: Biden has since proposed a $1.9 trillion stimulus plan that will include giving Americans $1,400 stimulus checks, and allocate $400 billion towards speeding up vaccinations, and $440 billion in aid for "local governments and businesses.")
Shanee Krichely, an iSchool junior, said that $1,400 was insufficient given the current economic conditions.
"I mean [$1,400] is enough for one month of rent… If someone is really struggling it could save them from drowning, but overall it won't help much unless they have a stable job."
Aside from this, Biden has already released plans showcasing his enthusiasm towards large scale government spending. This has been demonstrated in such plans as an infrastructure program that will total $1.3 trillion over 10 years, a program for child care and elderly care that will cost $775 billion, a climate plan that will total $1.7 trillion in federal investment, and a $300 billion "innovation fund" centered around racial equity and moving manufacturing back to the U.S. 
He has also stated he may increase the U.S. defense budget from an already substantial $738 billion per year. In order to help pay for his agenda, Biden plans to increase corporate tax rates, impose additional taxes on corporations based on practices considered unethical (such as companies offshoring existing American jobs, but still selling the products off that labor in America) and raise various rates on individuals making more than $400,000 a year in income.
While Krichely thought the stimulus checks were insufficient, she was much more content with Biden's taxation plan.
"I think that [Biden's tax plans are] a good idea… it's long overdue [given how] little the rich are actually taxed and how little they are held accountable."
Biden has faced criticism on many different fronts for his economic policies. Those further on the left wing, such as Elizabeth Warren say his policies are insufficient in bringing the economic reform needed by millions of people. Meanwhile, conservatives point to the already high national debt and concerns that overspending will cause inflation.
Those in favor of Biden's policies tend to say that because of the contradicting beliefs of Americans on where we need government spending, it's best to compromise so that everyone can get a little of what they want. What everyone can agree on is the impact that the government's economic decisions will have – not just on the millions of people in the U.S., but on the billions of people affected by its exports and imports.– Harrison Reinisch
Impeachment's effects on Biden's Administration
It's no secret that the first 100 days of any presidency is the most important within the entire four years, as it sets the tone for the rest. To fix the rift that Trump has created, both within and outside of America, Biden's first 100 days are of the utmost importance. 
Una Condon, an iSchool student, agrees. "There's so many important issues to tackle. Trump has attempted to undo everything Obama worked to create, and succeeded at a large chunk of it." There needs to be climate negotiations and fast decisions made around Covid-19, not to mention renovations needed around the Capitol. Impeachment is going to derail all of these steps. 
This wouldn't be much of an issue if it meant Biden's cabinet nominees could be vetted – something the Senate has yet to do, and something the impeachment would pull them away from. He is likely to begin his term without any confirmed secretaries: including Homeland Security, Secretary of State, Secretary of Defense, Secretary of the Treasury and intelligence chief. This is worrisome to Biden, who said "he hopes the Senate can 'bifurcate' during the trial and 'go a half-day with the impeachment and a half-day getting [his] people nominated and confirmed in the Senate," and moving on the [Covid-19 relief] package.'" Without these essential members of Biden's administration, his initial paces towards healing our divided nation will be derailed, even more so as some Republican  members of the House claim he did not receive "his due process," suggesting the impeachment process might take a while in the Senate. 
There is, however, a consensus at the iSchool on how important it is to set a precedent by impeaching Trump in the Senate. Nia Hurley, a sophomore, weighed in. "Donald Trump has given a bad name to this country. It blows my mind how he's not in jail yet, with all the sexual assault allegations and taxes he hasn't paid. He should not be allowed to run again." –Isabel Wilder  
What will be the biggest challenges facing Biden in his first days?
Biden will take over office in the midst of a pandemic which has taken 400,000 American lives and counting, and will face the operational challenge of distributing the life-saving Covid-19 vaccines available from manufacturers such as Moderna and Pfizer-BioNTech. Through this time of tremendous division–Biden has maintained a lofty goal of trying to unite the country. 
At this juncture, that's far easier said than done. "There is broad distrust and skepticism in our government's processes and institutions – across the political spectrum – that need to be addressed," said Mr. de Picciotto. "That will be one of the greatest challenges facing Biden as a leader, and in the longer term it will largely be up to young leaders to refresh and renew our country's systems."
It is true. Americans–on both sides of the aisle, and for different reasons, don't feel like our great democracy isn't working for them. Our democracy feels less like a great republic and more like something with too many loopholes for anyone to be truly free. 
At the same time, Biden has tried to juxtapose Trump's chaotic final days with a reliable and traditional assumption of power, quietly filling his cabinet positions and getting ready to assume an embattled union. 
"Biden has tried to remain reliable and responsible in contrast to Trump's pandering to his base," said Ms. Strassler. "While all this has been going on, Biden has been picking his cabinet officers and working on his proposed stimulus package and plans to deal with the pandemic.
"The media will keep asking Biden questions to get him to address Trump directly, but Biden seems smart enough to avoid going there," she added. – Zach Kaplan
Conclusions from the iNews staff
Starting 2021 with an unstable and unformed cabinet could have unforeseen consequences for this nation, and as inauguration approaches rapidly, pressure mounts on senate for confirmation- Isabel Wilder
With all the power the Democrats have, in the House and Senate, they need to decide what is more important: do they spend more time helping Biden work on his agenda and getting vital Covid-19 relief to Americans or do they investigate a former president who could be a player four years from now? The direction congressional Democrats choose to go will set the tone for the next four years under Biden. –Zach Kaplan