Today's Knicks find success in young talent and bench depth
On an otherwise meaningless day in July 2019, the Knicks went out and signed five players. The team was coming off of a ridiculously bad 2019 season where they went 17-65 and finished dead last in the league. The team wasn't clicking with head coach David Fizdale but had some young talent brewing. 
On this July day, however, the Knicks would sign three players who would soon become integral pieces in a team ready to compete. 
Wayne Ellington, Taj Gibson, Elfrid Payton, Bobby Portis, and Julius Randle all signed deals with the Knicks on that day, and while Portis and Ellington would spend 2020 and 2021 with different teams, Payton, Gibson, and especially Randle have shined during their time with the Knicks. 
Randle has undoubtedly been the Knicks' MVP, averaging 23 points per game and a career-high 42.3% three-point field goal percentage which earned him an All-Star nod. Combined with the hot hand of first-round draft pick RJ Barrett, rookie Immanuel Quickley, and veteran Derrick Rose, the Knicks seem to have caught lightning in a bottle this season.
However, the main reason that players and the press alike can agree on why the Knicks are suddenly a team to look out for, is the culture that the Knicks' experienced new hire, Tom Thibodeau, has brought to the locker room. Thibodeau had previously been assistant head coach for the Celtics (2007-2008), and his defensive style of coaching led Boston to the Finals, and the Daily News pointed out in 2008 that Thibodeau's style of coaching helped the Celtics' defense contain Kobe Bryant during the series. From 2010 to 2015, Thibodeau was head coach of the Bulls, and in his first year led Chicago to their first division title since the Michael Jordan era.
The pattern that Thibodeau's previous hires show makes it pretty obvious why the Knicks hired him, and it is paying off. With Barrett, Randle, Quickley, Gibson and Mitchell Robinson, Thibodeau saw a winning formula. 
And with the crosstown Nets winning by purchasing and by spending (Harden, Irving, Durant, LaMarcus Aldridge, Blake Griffin), the Knicks' newfound success feels that much more deserved, winning with a group of criminally underrated, mostly young players, without spending a quarter of as much as the Nets have.
"It's a bit of a Cinderella story in that sense because you watch teams like the Lakers and Nets, and it's expected because they have many star players, but on this Knicks team there are few household names," said Jayden Shalom, a junior at Westwood Regional High School in New Jersey.
Currently the Knicks are 4th in the Eastern Conference and are in the midst of an eight-game winning streak that saw them beat the Grizzlies, Knicks, Lakers, Mavericks, Hornets, Hawks and Pelicans twice all in a row. 
The Knicks have been very clutch late games, something that was recognized by Randle, who is the team's unofficial captain. "We've been challenged throughout the season and sometimes they haven't gone our way," Randle said. "But right now ,we're finding ways to close games and win games."
The Knicks do have a difficult schedule coming up, with the Suns, Nuggets and Clippers coming up on the horizon. 
There's many reasons for why the Knicks are only now doing well. "We have a super talented team and a competent coach for once," said Adriano Grassi, an iSchool junior. "I bet there are so many Knicks fans who were not paying attention to this team these past few years, but this team is now very exciting to watch."
As for whether the Knicks will continue to be successful after this year, Grassi feels like as long as we hang on to a couple players from our current roster, the Knicks should be a on a good path. "I have a bad feeling that the management is going to try to trade RJ and Quickley for more veterans/stars. What we need to do is keep those guys and get free agents, but don't trade the youngsters. If we can get the veterans to mentor these people that would be great," Grassi said. 
"If we make the playoffs, we won't have a good draft pick, but our main roster is very young and we're only getting better," said Shalom. Amen to that.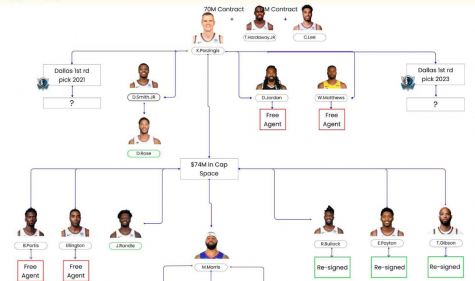 An interesting infographic showing how the cap space from the Kristaps Porzingis trade in 2019 actually helped the Knicks build the young and talented roster they have today.