The current contenders in the mayoral election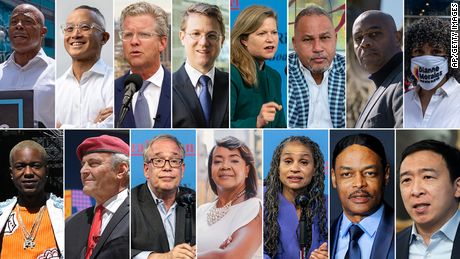 For the first time in what feels like decades, New York is having a mayoral election. A fair amount of contenders have thrown their hat in the ring to take over from Bill de Blasio, whose current approval ratings put him at around 28% (At one point in 2020, New Yorkers disliked de Blasio more than Trump). The current leaders in the polls are Eric Adams with around 18%, Andrew Yang in second with 16%, and Kathryn Garcia third at 14%.   
Adams, who is the Brooklyn borough president, has a unique approach to police reform as he is not only a former police captain but was also beaten by police as a teenager. He has promoted making individual changes to the NYPD, instead of overall restructuring and massive reform. 
Yang is a businessman and also the most well-known candidate due to his 2020 presidential run, which gained him support due to his ambitious proposed agenda. His main platform is to give $2,000 per year to the city's poorest residents as well as providing increased access to banking and financial institutions.
Kathryn Garcia, who rounds out the top 3, was the sanitation commissioner and is credited with modernizing the department and providing important assistance during Superstorm Sandy. Her experience in politics and her both moderate and progressive policies have helped her garner a lot of support and helped her surge from only 8% of the vote to where she is now.
Overall though, polling has been much less accurate than normal due to the new rank-choice voting system, so finding statistics on lower-ranked candidates are much harder to find, but here are the polls for the remaining candidates: Scott Stringer, who gained traction as a moderate progressive, dropped to 10% after sexual assault allegations arose against him. 
Maya Wiley, a former top counsel to Mayor de Blasio and political analyst for MSNBC is at 9%. Dianne Morales, who recently had staff members walkout in protest over the firings of several workers who were attempting to unionize, is also at 9%. 
Ray McGuire, who has been seen as similar to Bloomberg, and also the former vice-chair of Citigroup, is tied for 4% with Shaun Donovan, the former Housing and Urban Development director under President Obama. Despite the large amount of candidates and the fast-approaching primary day (June 22nd), an estimated 26% of the city is still undecided. 
iSchoolers are also pretty undecided, with students finding Yang and Morales to be the most favorable candidates with 26.7% apiece. Adams and Wiley are also tied with 13.3% among iSchoolers, and Stringer and Donovan got 6.7% of the vote in a Google Form. Many iSchoolers have expressed support for Morales's progressive ideals and Adams's "realistic" policies, and many preferred Yang thanks to his name recognition.  
As we are moving closer to the election, anything can change so by the time you are reading this, the race could be completely different. Overall, no matter who you support or who is leading, just make sure you get out and vote!