Review of 2021 best picture nominees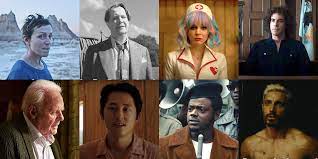 *this was written in April 2021, then discovered in the iNews archives, and published almost a year later
The Oscars were on April 25th, highlighting a large range of incredible films and rewarding very deserved media workers. Despite great individuals winning awards (Chloe Zhao for best director, Frances McDormand for best actress), my favorite category has always been best picture. This patchwork award of all the other award topics- though individually different movies might be great- is very telling about total production value. In this article I will be reviewing all the best picture nominees (sans The Father, as I haven't had time to see it). Everything ahead is just my opinion, and feel free to disregard all of this! As always, spoiler warning ahead. 
"Judas and the Black Messiah"
"Judas and the Black Messiah" is a work of true art. Every single actor delivers incredible performances- notably Daniel Kaluuya for winning Best Supporting Actor- to create a rich piece of cinematography, devastating and vulnerable, empowering, and so, so important. This could've so easily been sloppy- there is a lot of ground to cover, and real stories are often difficult to accurately portray, yet every piece of the movie is shot and scored with such care that one can't help feel like they're in the action along with them. Some criticisms I have, however: while the cast is stacked, they're older than the people they play, taking away some of the devastating nature of their untimely demise. In addition, it simplifies the strength of the Black Panther's politics, and though it doesn't pander to a white audience, I think it may have been a stronger film if nothing was held back. Despite these few details, I believe this and Nomadland should've split the best picture title (that should be a thing), and it's a must watch of 2021. I also feel obligated to say- for my fellow West Wing fans- that seeing Martin Sheen play Hoover destroyed me. President Bartlet would never. I give this 4 ½ out of 5 stars. 
"Mank"
This was not a good movie. The stilted plot, added to average cinematography, and a boring premise, combine to produce a disappointing film. Once a year for the Oscars, Hollywood comes together to nominate an anti Hollywood movie, just to prove it can criticize itself. Last year it was "Once Upon a Time in Hollywood", and this year it's "Mank". Each actor's motivation was extremely unclear- notably in the dramatic dinner scene when Amanda Seyfried looked on the verge of tears- why? Is she embarrassed? Upset? Every Hollywood executive has absolutely no character, and it was too long to feel neutral about it's faults. I concede that it tells the eventual devastating story of ownership well, and does an interesting job in highlighting Hollywood hierarchies, yet these aren't enough to make up for the otherwise mediocrity. I give this movie 2 / 5 stars.  
"Minari"
Usually, I dislike films that center around children. I think good child actors are very far and few between, and poor casting can really damage a brilliant movie. However, Alan Kim and Noel Cho blew me out of the water. The simplicity of their acting shone light on a gritty plot, allowing difficult topics to be covered, while keeping humor and smiles supplied. Youn Yuh-jung was incredible as the grandmother as well- with a brilliant Oscars speech for her best supporting actress win. The dreamy cinematography highlights the terrifying and tender hunt for the American dream-  andwhether it be the struggle of the parent's assimilation, the children's quest for fun, or the grandmother's search for love, it bursts with life and energy. In an era of terror and insurrection, "Minari" is a story about the America we've been missing.  I give this 4/ 5 stars.       
"Nomadland"
This was such a beautiful movie about grief and hope. Chloe Zhao deserved this best director award because every single shot was so well set up and paced- showcasing the beauty of the desert without diluting Fern's healing journey. Frances McDormand's intense vulnerability paves the way through the film, growing with the years around her. For prospective watchers: this doesn't have much of a plot (but most of my favorites don't). There's a slight drag at the end, but one would watch this for beautiful visuals, not an engrossing story. My only problem with this movie is that many, if not most people living a nomadic life don't have a choice, and are pushed into it because of extreme poverty. The romanization of van life had me catching myself thinking it would be fun to do, and though it was clear that she needed to be on the road to recover from the death of her husband, the privilege she had in having many people to turn to wasn't addressed. But… found family- check, sunsets- check, cacti- check, love- check. I give this 4 ½ / 5 stars.      
"Promising Young Woman"
I just personally didn't like this. I can see why it's viewed as jubilant and "finally men getting what they deserve " but this felt performative and counteractive to what they wanted us to take away from it. In what world do men stop doing something just because a woman scolded them lightly? They market it as a rape-revenge movie and instead of sexual assault victims getting to see retribution, it's just two hours of triggers, and reinforcement that you can't trust any men. I'll admit that the last fifteen minutes made me feel good in a "Gone Girl", Amy Dunne, unhinged type of way before I really thought about it. The whole reason that Cassie is avenging Nina's death herself is because every system they went to failed her, yet somehow the audience is supposed to feel catharsis and trust in the police to handle it themselves once she's gone. Otherwise, I appreciate the stylistic choices. Genre switching between scenes was a nice touch, and I thought the writing was decent. The greatest thing this movie does is the casting- taking classic comfort characters like Schmidt, Seth Cohen, McLovin- and making the actors play terrible people, forcing watchers out of their "nice guy" mentality. Unfortunately, this wasn't enough to make up for the plot, so I give it 2 ½ / 5 stars.  
"Sound of metal"
The sound design for this incredible movie blew me away. The beauty in its silence, the juxtaposition between hearing and non hearing, implants and without, filled me with wonder and appreciation for the incredible editor, Mikkel E. G. Nielsen. Like Nomadland, "Sound of Metal" tells a melancholic story of healing and adapting, just towards a different type of grief. This was paced wonderfully, acted phenomenally, and I think it deserved a lot more Oscars than it ended up getting. The visuals were incredible for this as well- such beautiful exteriors throughout. I'd recommend this to everyone who needs 2 hours and 10 minutes of a breath of fresh air. I think we'll also be seeing Olivia Cooke in a LOT more prominent movies, so keep an eye out for that. I give "Sound of Metal" 4 and ½ / 5 stars. 
"Trial of the Chicago Seven"
I haven't rewatched this as recently as I've done with the rest, but remember really enjoying this movie. I'm personally a huge fan of Aaron Sorkin, and really enjoy the flow of his dialogue, something that translated really well from script to screen. I also loved the discourse between the traditionally academic liberals and the hippie liberals- something that is incredibly prevalent in New York (especially during voting time). I did, however, feel like almost too much was attempted. Not only did this film explore liberal discourse but flashbacks to protests, prolonged court scenes, relationship dynamics, early scenes about the Black Panthers that were quickly thrown aside, and more. Though these elements all made for a compelling movie, it felt a little too packed- like watchers had to pick what to care about. However, this stacked cast acted fabulously, and I almost managed to see Sasha Baron Cohen as someone other than Borat. I give this movie 3 ½ / 5 stars.