The best of iSchool fashion
A hoodie with some sweatpants, baggy jeans with a flannel and a beanie, a tank top and a skirt with vintage boots. 
As you walk down the iSchool halls, you're going to see all different kinds of styles. As students get dressed in the morning and come to school, they dress for their classmates and friends to see. People dress as the person they want to be viewed as.
Fashion has always played a key role in self-expression, it's a means of "transmission of information about the wearer," says Vannessa Van Edwards in the Science of people blog. "A person's choice of clothing can heavily influence the impression they transmit and is therefore a powerful communication tool." 
According to Bel Jacobs in an article on BBC, "At an individual level, the ability to express yourself – or at a collective level the ability to enable connection and belonging – is enabled by fashion." 
The first thing most people notice about someone is what they're wearing. This might be a look up and down. It may look judgmental at first, but it's a look of silent approval. Humans are judgy people in general, and we're always looking at each other. Fashion is one of the best tools to represent ourselves so it plays a huge role in how people view us. Not only this, but what we wear can have a "major impact on our emotions and mood," Says Carolyn Mair at APA.
 As writers of this fashion article we obviously must include ourselves. You might be thinking "Hey, where are they coming from?" and to that I answer: "We're fashion icons." (This is Briana speaking, Domi needs to tone down his ego. We are just two people who care about fashion a lot, and we want to show you where we're coming from.)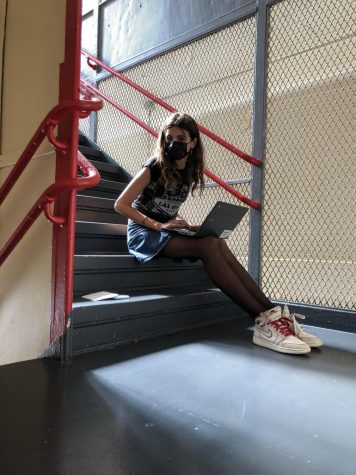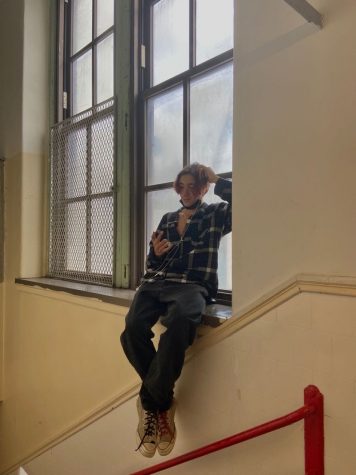 My name is Briana (left) and I'm a freshman here at the iSchool. I have spent almost all my money on clothes, and I plan on continuing to do so. I would consider fashion my number one favorite form of art, with photography and watercolor coming close for second and third place. I think that fashion is the best way to express yourself and it's in someway a person in a nutshell. I thrift most of my clothes or borrow them from my friends, which is pretty cheap for the amount of clothes I buy. I mostly thrift near my house in Brooklyn (the best borough), but the thrift stores just outside the city are just as good. When I'm in stores, I keep an eye out for 90s and 2000s style jeans, cool printed shirts and vintage jewelry. I have recently become obsessed with cool hats and everything corduroy.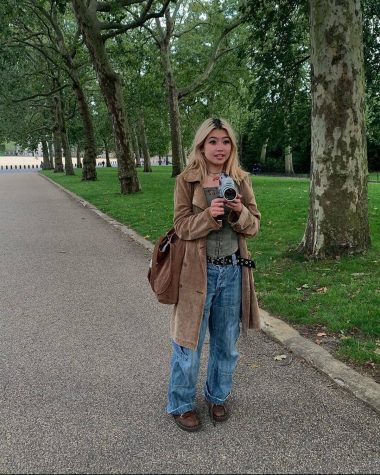 Someone who I (Briana speaking) look up to, fashion-wise, Is Beabadoobee. Bea is a Filipino-British singer-songwriter who I started listening to around a year ago. Her style is a combination of colorful and grunge which you might not think would go well together but she pulls it off. She also includes hints of 80s and 90s fashion into her outfits. I think her style is the perfect combination of all my interests, which is why I use her as my inspiration.
Hey, my name is Domi (right), and I'm a junior at the iSchool. Fashion is incredibly important to me for many reasons. You can dress however you want to dress and show off your creativity. Fashion is something we use and see in our everyday lives, so why not make it as best as you can? My style is your "average Brooklyn skater kid," says Briana but with my own kind of swing to it. I like to shop at mostly thrift stores or skate shops, and baggy jeans are always a must for me. I love fall because you can put layers on top of your jeans and shirt, and I love being able to add more to an outfit. I think Converse might have to be the best shoe on the planet because you can customize them, and you really can't deny that they are a classic. You can't go wrong with a pair of Converse. I think rings and jewelry are great accessories and make your outfit look way steezier. 
Whoever you are, you most likely have some kind of inspiration when it comes to your fashion. We like to look up to people and fashion is a great way to embrace that. Fashion shows are a key way to learn about new styles and ideas. The Met Gala was quite recently, and I think it's a great way to highlight incredible outfits and red carpet designs. Below are our favorite looks from 2021.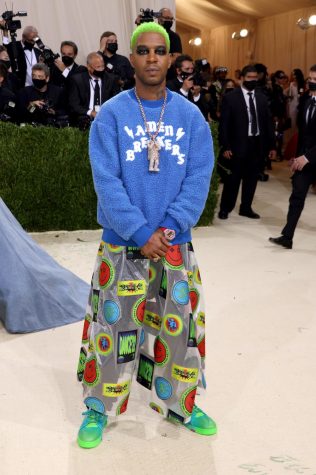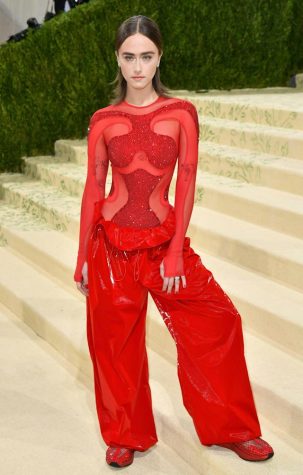 Photos from: Getty images
Fashion trends are in a constant cycle. They "[go] through a five-stage cycle that starts with introducing the trend and ends with obsolescence," according to Diane Von Furstenburg in an article from Master Class. 
However, as we have been noticing, styles from the 90s are starting to circle back. 
The current 90s throwback look being; baggy jeans, bomber jackets, old band shirts, old school shoes, and vintage jewelry, and a whole lotta denim.   
We saw this trend persist throughout a lot of the outfits students were wearing at the iSchool. 
We went around the school photographing and interviewing the people with the best outfits in school (in our opinion of course). Below you will find a collection of those outfits.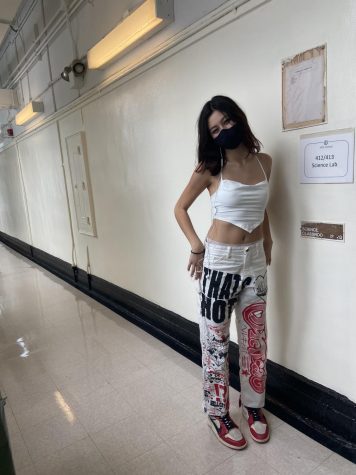 This is Violet Lane, senior at the iSchool. She always comes to school in the best outfits and there is always some sort of color coordination. She tells us that "Fashion has always been a way I've expressed myself. I've been running my own small business for two years and it includes shopping and curating my stock which translates into the way I dress- I've always worn whatever I feel like, and I don't like conforming to one aesthetic."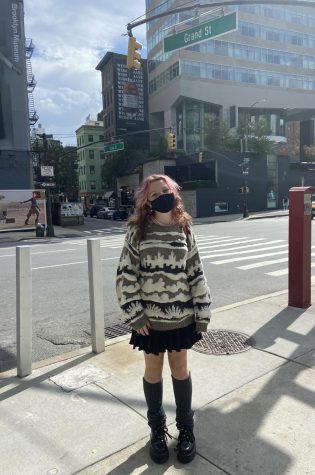 This is Castle Bloodgood, born in Manhattan but raised in Jackson Heights, Queens. She's a 9th grader at the iSchool, and if you see her walking around in the hallways, you'll most likely catch her in a "fall-themed outfit and dark colors." Now for a breakdown of her outfit: she tells us her sweater is from her brother's closet, her shoes are Doc Martens, and her skirt, leg warmers and necklaces are from Brandy Melville. Castle says she is "very obsessed with leg warmers, and they go with almost every outfit, dawg."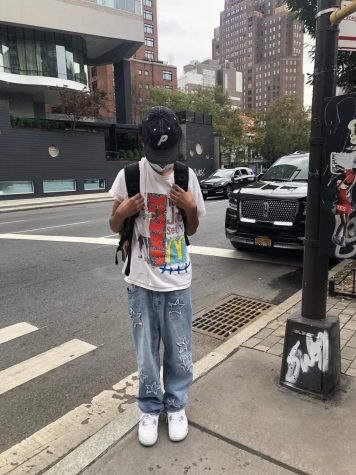 This is Luca Tejada, a junior at the iSchool. Luca is really into fashion, and you can see it in the effort he puts into his outfits everyday. He's someone who definitely likes to show up on the fashion side and keeps his shoes in tip-top form. The star jeans he has on are one of my favorite pairs of pants on this planet, and I have been trying to steal them from him for ages. Luca always has some form of hat whether it's a beanie or a baseball cap. I dont think I've ever seen him without one.
This is junior Theo Lisick. Theo definitely cares about his clothes, but more importantly his shoes. He's your friend, the sneaker head and you will not find him without some nice shoes. Theo likes to wear baggy-ish jeans or cargo pants with a nice printed shirt or hoodie on top. I asked him to give me a random quote about his fashion decisions and he said "whatever's on my floor."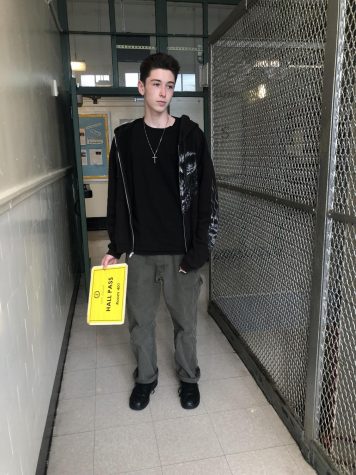 This is Ciaran Crowe, a senior at the iSchool. Ciaran is a skater and cares a lot about his outfits and how he structures them. He says "I see the pants as the foundation of my outfits." After that he likes to decide on a shirt and a sweater he hasn't worn in a while that works best with the outfit he's planning. Shoes, he says, "work[s] nicely with whatever else I've selected" and accessories come along with that. He takes pride in his fashion and was super happy to be included in this article.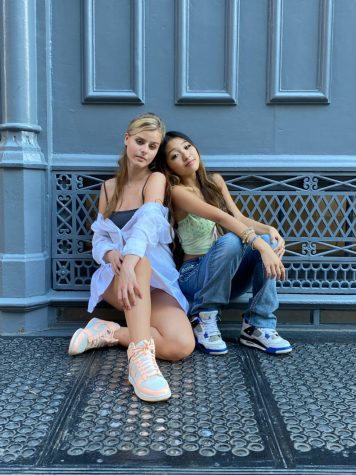 This is Nealy (left) a senior at the iSchool, and Suzy (right), a junior at the iSchool. These two girls are both people who care a lot about how they present themselves to other people. They like to dress nicely and in a way that looks good and makes them feel good. 
Suzy is not as vintage when it comes to her fashion; she buys mostly newer clothes that stores are putting out. She loves a good pair of shoes and makes sure they are always clean. Suzy also enjoys organizing her outfits. She says, "I spend three hours the night before school to pick it." 
Next up we have Nealy. Nealy says her fashion is "all over the place." She likes to wear what she thinks she looks best in, which is something I admire. She gets her inspiration from social media influencers and people like Devon Lee Carlson. She says that most of quarantine she started to further develop her style and put together new outfits and ideas. 
Overall, they both like to stay with the trends with their style and put together great ideas.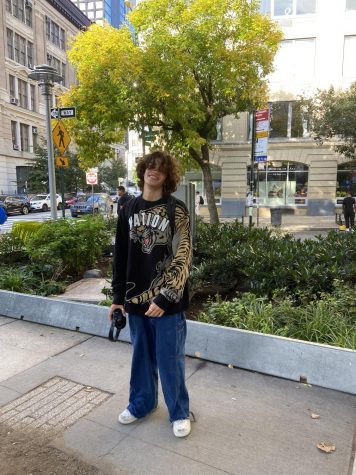 This is Leon Villagran, freshman at the iSchool, who was born in Argentina and raised there for the first 10 years of his life. He likes to skate and his style reflects that. He tells us that "proportion is all that matters" to him when building an outfit. He usually shows up to school in baggy corduroy pants or jeans and a t-shirt, once again showing our point that the 90s styles are coming back.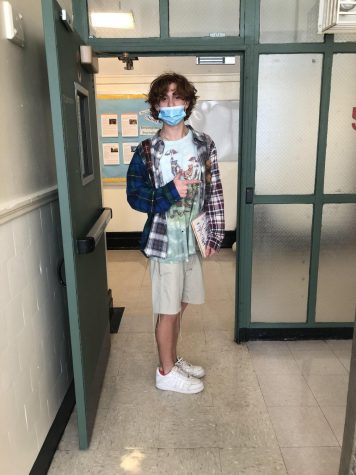 This is Lucien Haythe, a senior at the iSchool. He is really into fashion and likes to dress exactly how he wants to dress. He says, "I put my two middle fingers up to people who judge." He's also an incredible artist, and you can really see his creativity in the way he dresses. His clothes might look a bit run down, but don't be fooled because he likes to wear clothes more on the expensive side: "I like expensive things, I like to feel expensive and high quality." He describes his fashion as something that makes him feel "he can actually wear it through."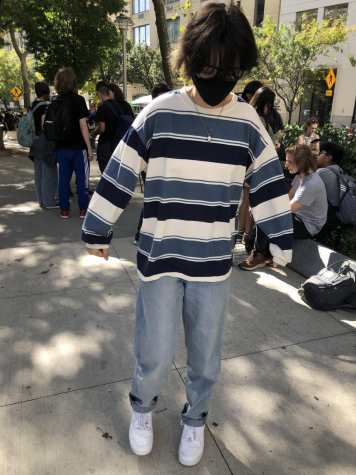 This is Lola Hernandez, a junior here at the iSchool. Lola has a natural talent with fashion. It looks like she never tries, but her outfits are always perfectly color coordinated and look classy at the same time. She dresses in a comfortable way,but her clothes still always look good. She yelled at me and got all excited by asking to put her in the magazine because she said her fashion is terrible and she's not photogenic. As you can see, I proved her wrong and she's now delighted to be a part of this expo.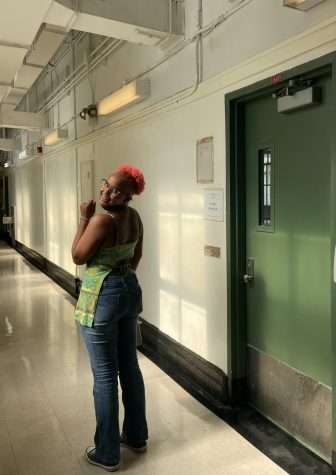 Nalunga, a freshman, tells us that "there's only two things you need in life; money and style." You'll always recognize her in the halls by her pink hair and signature blue converse. She usually pairs "baggy jeans with a crop top" or "low waisted flare jeans with a sweater." Nalunga likes to keep her outfits pretty simple, but makes sure to color coordinate.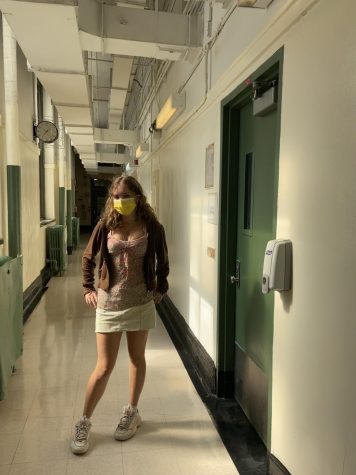 This is Claire Syrett, a junior at the iSchool. When building an outfit, she "likes to pick a patterned piece and base the outfit around that." From this picture alone, you can tell she likes to color coordinate. From her shoes to her mask, everything in her outfit fits together perfectly.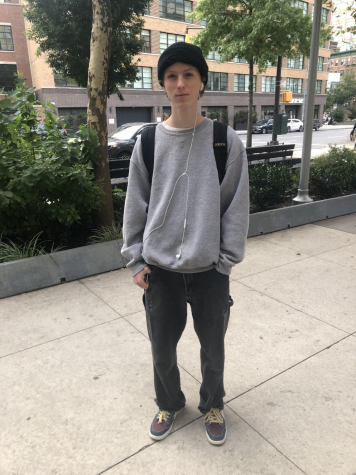 This is Oliver Ogulnick, a fellow junior at the iSchool. Oliver's someone who dresses well and likes to look good for people. He thrifts almost all of his clothes and loves his dunks. His recent thing that has been wearing a lot is his ski mask. He usually just wears it as a beanie, but nonetheless, it looks fire and improves his fit overall. He's a skater like me and likes to dress like one. His outfits are clean and never too much, which is exactly how he likes it.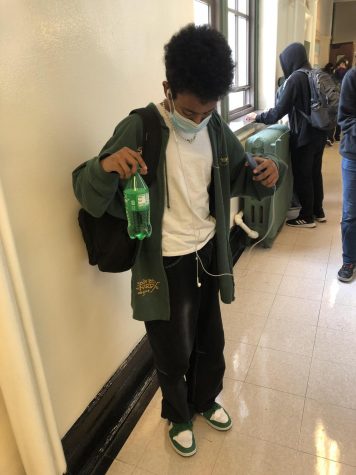 This is Salvador Hagan, a junior at the iSchool. Salvador's fits are always color-coded to perfection. He always makes sure they look good and exactly how he wants them. You can see the time put into them and the thinking behind them.
As writers of this article, we believe that fashion is one of, if not the best way to understand a person. At the NYC iSchool, fashion is one of the pillars of the community. It gives an opportunity for people of all ages to connect.
P.S. There were so many more people we wanted to put in this article, but we only had 2 weeks to write this so we couldn't fit everyone in.