Introducing our new recruits!
As soon as you walk into the iSchool as a freshman, you're blown away by its uniqueness. From its unique education system and astoundingly strong community, there's almost nothing not to like. One of the strongest, most concrete aspects of the iSchool is our lovely cast of teachers. 
They're all incredibly kind, and considerate to their students the moment they walk in the classroom. This year, we have 8 new teachers that came to our lovely school! Let's introduce them.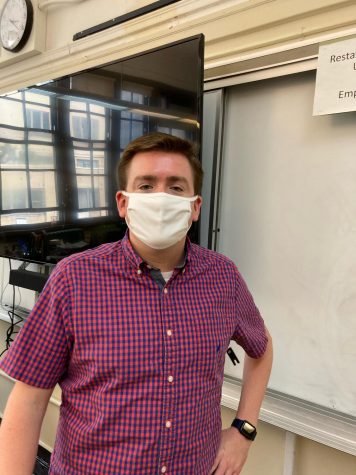 Mr. Justus, pronounced as justice, is the newest Science teacher here at the iSchool, and so far he's loving his experience here! Particularly, he likes the smaller, but stronger community the iSchool's built.
 "I'm loving it! I love how it's a smaller community. I'm already teaching a lot of the students here, so I'm really getting to know people quickly." 
Justus was born in Evergreen Park, IL, and spent his childhood in Tinley park, which is a little village nearby the southern suburbs of Chicago. He moved to Chicago for college, and instantly fell in love with the city life.
Now, Justus has lived in Queens since 2009.
Justus found out about the iSchool and "I heard about the modules and just the different way they run courses at iSchool, and I thought it was a very cool idea. I thought it could be a fun outlet for teaching.
When Justus gets home, he likes to relax, turn on the TV, and watch a good TV show. He's also a big Broadway fan.
"In moving to New York, at first I liked Broadway but I didn't love it, and my partner overtime got me into it. He's a really big fan and we got student tickets at first when we were moving here. Overtime we started seeing all the shows."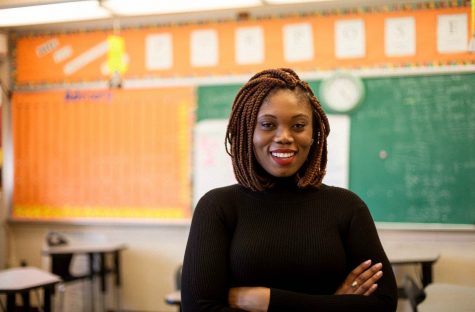 Ms. Coward is one of the newest Math teachers here at the iSchool. Before she came to the iSchool, she taught for 8 years in Brooklyn, and then taught for 2 years in Curacao. 
During the pandemic, she was teaching on Curacao, a small island that is a part of the Dutch Caribbean. She had a very different experience there than we did here. The schools there didn't quarantine like ours did, lucky her!
Ms. Coward was born in Brooklyn, "The best borough!" She was born and raised there, staying all the way into her adulthood, when she began teaching where she went to high school. 
After hearing about the iSchool, she wanted to go because; "I was looking for a school that was mostly project based. A lot of my teaching before I did a lot of projects, so I was most looking forward to doing that with my students, especially around math."
If Ms. Coward could have a profession other than the one she has now, she would want to be an art teacher. 
"I love art. I just love the excitement and the joy that it brings people, and I love how it soothes and relaxes me when I do it, so I would like to share that experience." She minored in studio art in college too. "The intention was to double major, but, doing math it was a lot, so."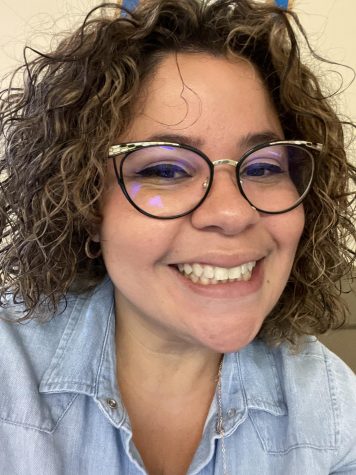 The newest History teacher arriving this year is Ms. Resto! So far, she's been loving her time at the iSchool. "It's a real adjustment, but it has been great."
When asked what brought Ms.Resto to the school, her response was, "I had been applying to numerous schools, and I think that just the conversation that I had with Ms. Bailey, and the values of the school, made it seem like this was a place to give a try, and so far I really really like it."
When Ms. Resto was younger, she wanted to be an archeologist. "I thought it was like 'Indiana Jones,' but then I realized it's not. It's a lot of reading, and there's math involved. Math and I are not friends." 
If Ms. Resto could have a job other than teaching today, she said she would want to work at the United Nations. "Working maybe with the children, something along those lines. I think it's because I want to impact the world, and what better place than where the world meets, and where you're able to communicate with everybody there."
Relating to what she teaches at the iSchool, Current Events, Ms. Resto likes to watch the news when she gets home; "I try to stay current. I also like to keep myself informed just of what's going on." 
She likes mostly to put on the news as background noise. "I like to have background noise as I am trying to decompress from the day, and whatever catches my fancy I pay attention too."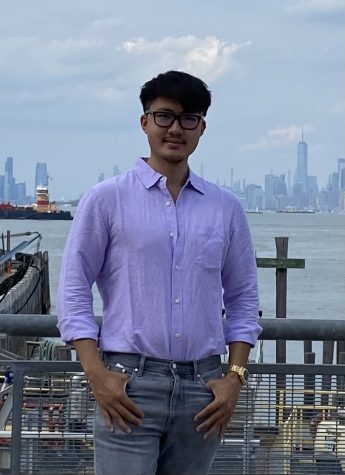 Mr. Mei is one of the newest English teachers at the iSchool this year. So far, he really likes the school. It's his first year teaching in general too, so extra brownie points to him for being so great! "It's going pretty well. I feel like iSchool is a very friendly, very supportive school."
Mr. Mei has lived in Manhattan all his life, and now he lives in the Lower East Side. Lucky for him, this means his commute to the school isn't long at all. 
Mr. Mei has been a fan of anime since high school. "Growing up I liked to watch "Dragon Ball," "Naruto," and some other ones. Now I don't know too much about some other anime, but I do watch the really popular ones like "My Hero Academia," "Bleach," and some others. I like shonen anime specifically."
Mr. Mei is also a big fan of movies. "I really like movies that make you think. Thrillers, sci-fi, action. I really like Marvel Movies too. Back in the day, I liked the original Spider-Man movies with Toby Maguire. They came out back when I was in high school."
Before ending up majoring in teaching, Mr. Mei pursued a few different majors. "I went through several different majors in college before I ended up doing teaching. I did computer science, I did math, I did English. I learnt as I was in college what I wanted to do."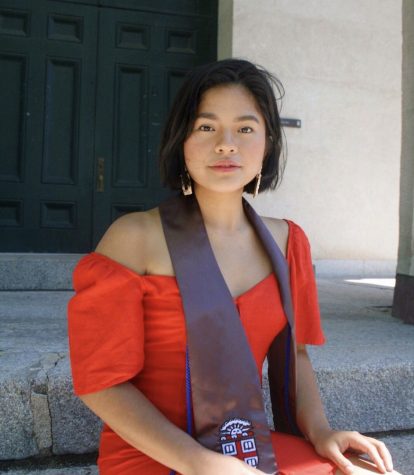 Ms. Ly is one of the newest History teachers at the iSchool this year. She's loving her time here so far. "I wanted to experience a school environment that to me really felt welcoming and full of community and it seemed as if when I first set foot in the school that the school was really successful at mastering those feelings."
Ms. Ly was born in Vietnam, and spent a large majority of her life there. "We immigrated to the United States when I was 15. We immigrated to Hartford, Connecticut, so I finished my high school experience in Connecticut."
After high school, Ms. Ly went to Rhode Island for college, and moved to the city, where she got her masters degree. Now she lives in Brooklyn. 
Ms. Ly has a dream of owning a flower shop because she loves flowers. "I get a fresh bouquet of flowers every week." 
She also loves the feeling of having flowers, and says she would love to surround herself in that environment as a job. "Flowers are the one thing that makes me happy. I love teaching, but flower shop owning comes close second." 
Ms. Ly also loves to cook. "I grew up cooking a lot of family recipes. Being from Vietnam I also ended up cooking a lot of Vietnamese recipes. I really enjoy a lot of different cuisines."
One aspect that she loves in New York City is actually the vast selection of food that's here. "New York City just has a lot of great food." During the pandemic specifically though, she's really been enjoying making Italian.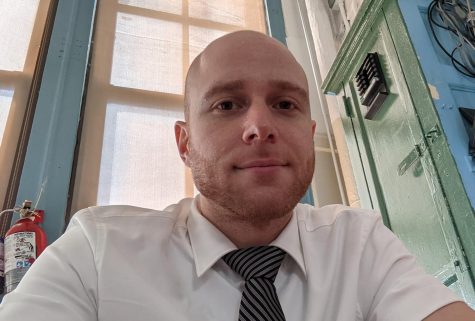 This is Mr. Yassin, our newest Physics teacher here at the iSchool! "I'm really excited to be here. I love the environment here at iSchool, the culture and the students are great."
This is Mr. Yassin's fifth year teaching, "I've taught in Brooklyn, Manhattan, and Syracuse." When asked why he came to the iSchool, he said he loved the whole philosophy behind iSchool. "I think the iSchools approach and philosophy towards learning and schooling has been transformative. I like the freedom that students get, and all the opportunities that students get. It's a really authentic place for students to tailor their own learning."
Mr. Yassin loves listening to music. "I take from really any genre. Depends on the mood." He named some of his favorite genres, some were ambient music, electronic music, indie and alternative rock, and some jazz.
 Mr. Yassin also makes his own electronic music! "I make a little electronic music as a hobby. Mostly electronic ambient stuff." He's not comfortable sharing where to find it yet, but let's keep our fingers crossed. 
Mr. Yassin is a big fan of PC building. "When I was 5 or 6 we had a computer at home and eventually my parents got a nice pre-built for me when I was younger." More recently, after years of using pre-built laptops and PC's, he began to build his own. "I ended up building my own gaming PC, just putting the parts together. It became another hobby, just understanding how all the parts work together."
Mr. Yassin has been gaming all of his life, which also got him into PC building. "PC gaming goes a long way with a good PC." Some of his favorite games consist of a lot of RPG's. He likes games like "Final Fantasy," "World of Warcraft," "Valorant," and some others. He also likes Nintendo games, and is a big fan of Playstation too. "I've gotten all the upcoming Playstations, except the PS5, can't get your hands on those still"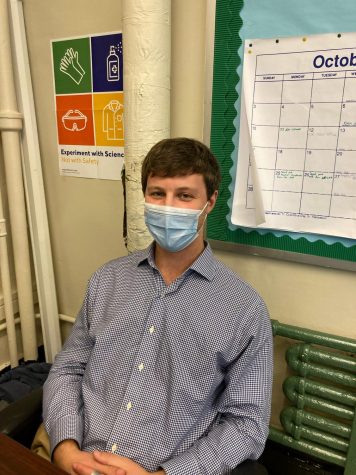 Mr. Nagel is one of our newest Chemistry and Physics teachers here at the NYC iSchool, and he's been loving his time here so far.
Mr. Nagel was born in Rochester, but he's been living in Vermont for the past 7 years. After finishing grad school, he came to the city because he "wanted a substantial change in the type of place I was living. I also have family who live kind of close to NYC, who I can visit. I just thought that the city would be a fun, exciting, and challenging place to move too."
Mr. Nagel loves playing the drums, and has been playing since the third grade. He also said that if he could have any profession other than teaching, he would want to pursue a career in music. "It seems like hard work that I would really enjoy doing." 
 He's also a fan of playing and watching sports, "I like to play hockey and soccer, and I like to ski and hike." He's also a big fan of watching football. 
Mr. Nagel also said that he was a huge fan of riding his bike. "It's a good way to get exercise, and a good way to get around and see the city without having to take the subway or a cab or something." 
Mr. Nagel likes listening to music, particularly on the subway ride to school, and back. "I have a rotation of what I play on the subway." He likes a lot of varying artists, ranging from Paul Simon to Baby Keem.
He's also a big fan of watching TV, "I'm super late to the boat but I just started 'Seinfeld.' I also just finished 'Cowboy Bebop.'"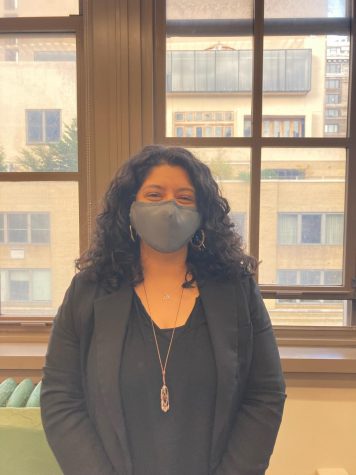 Ms. Bravo is one of the newest Science teachers at the iSchool this year.
She was born and raised in Queens, and still lives there now. Her commute isn't so bad either. "Commuting isn't so bad. I'm on the A train line so I take the A straight over."
Ms. Bravo taught about 12 years ago, and started her teaching career in 2009. "I did love it, but I left to pursue more of my community development background." After leaving teaching, she went into work that utilized her talents in leadership and community development. "I wanted to see if I wanted to work that angle a little more. I did that for a long time, and I love it very much. It was hard to leave it, but I wanted to come back to teaching."
Ms. Bravo has a big interest in Latinx history. " My bachelor's is in African, Puerto Rican, and Latino studies, and it happened to be something I'm super interested in. Now I do my own research, and read and listen to a lot of books and podcasts." 
Ms. Bravo is a huge fan of all kinds of podcasts. Some of her favorites consist of, "This American Life", "Going West", "Rocio and Mercedes", "Let's Not Meet", "My Favorite Murder", "Latino's Who Lunch", and "Two Dope Queens." 
Ms. Bravo has two daughters, and she loves spending time with them after school. "One will be 3 next month, and the other one is 6. They're a lot of fun, and they take up a lot of my time. I'm very lucky to have them." 
That wraps up our cast of new teachers! We hope that they continue to enjoy the rest of their time here.