All about thrifting: Featuring iSchoolers' favorite thrift finds!
November 15, 2021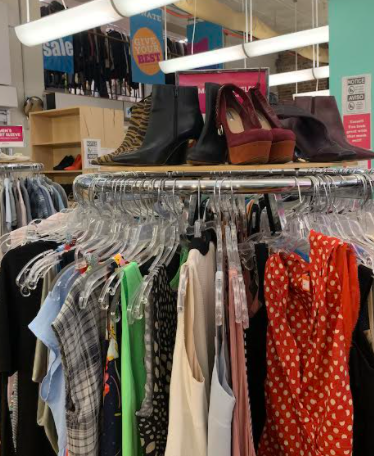 Scrolling for hours on end through name brand clothing, all of which are priced at values which just don't make sense. $53.00 for a pair of jeans? Sounds unrealistic, right? Unfortunately, not only are fast fashion brands like Forever 21 or SHEIN and chain branding such as H&M, Urban Outfitters, Pacsun, and so many more of the places we shop at every day negatively impacting the economy- but more importantly, they're hurting our bank accounts!
When you're on a budget and looking to splurge on some new outfits, thrifting is definitely an option for you! Now I know what you may be thinking, it takes way too long! Well although patience is key in terms of thrifting, there's so many more ways to thrift without going to the store itself. 
Thrifting has evolved to the point of being exactly like online shopping, but better! Sites such as ThredUp and Poshmark are all easy and affordable ways to thrift in the comfort of your own home. It's far less time consuming, and more specific to what you want. You can specify size, color, style, and so much more. Especially with the current events of the pandemic and COVID-19, in-store shopping was prohibited and just not safe. Online thrifting was such a great alternative and so accessible!
Now we know thrifting can be done in so many ways and take so many different forms, so there's really no excuse to not be doing it. There's been countless amazing finds, all of which we found from students at the iSchool! The numbers are endless, thrifting is making its breakthrough one step at a time and we're loving the impact!
Fast Fashion
There's always a motive to preach thrifting culture so much, and one of the main roots for diverting our attention to second hand shops and clothing is something called fast fashion. 
Fast fashion is a tactic used everywhere, but do we really know what it means? Known as one of the most common marketing strategies, fast fashion compiles clothing trends for cheap prices as a bait for your money. The more you spend, the more they profit, and once the trend dies down you're left with little to no use for your old purchases. 
An article on the history and impact of fast fashion states that fast fashion "forms a key part of the toxic system of overproduction and consumption that has made fashion one of the world's largest polluters." 
Social media formulates an unrealistic stigma that you must have the latest clothing trends in order to stay relevant. Teens often fall victim to this because of popular social media platforms such as TikTok, Instagram, and Pinterest. 
Fast fashion allows for a huge negative impact on the environment, and due to how widely used social media is amongst pretty much everybody, this impact of fast fashion is fueled to its maximum capacity. Circling back to the article from before, "The pressure to reduce costs and speed up production time means that environmental corners are more likely to be cut. Fast fashion's negative impact includes its use of cheap, toxic textile dyes—making the fashion industry the second largest polluter of clean water globally after agriculture."
However, it doesn't just stop there. The effects of fast fashion make an appearance in the lives of factory workers, and even us, the buyers. "Fast fashion impacts garment workers who work in dangerous environments, for low wages, and without fundamental human rights." 
When discussing fast fashion and its impact on we, the consumers, it is stated that fast fashion encourages "a 'throw-away' culture because of both the built-in obsolescence of the products and the speed at which trends emerge.. [it] makes us believe we need to shop more and more to stay on top of trends, creating a constant sense of need and ultimate dissatisfaction."
So, now that you know the ways fast fashion negatively impacts both us and the environment around us, you're probably thinking: What do we do now?
Lucky for you, there's an easier, efficient, effective, and cheaper way to shop for your favorite items: thrifting.
Thrifting: What is it and why is it so popular?
Over the past few years, thrifting has become one of the most common alternatives for affordable shopping amongst teens. Commonly known through stores such as Goodwill, L Train Vintage, Salvation Army, and several more: thrifting is an easily accessible and sustainable way for anybody to shop. 
The use of social media has allowed for an increased amount of publicity for thrift stores. The promotion of thrift stores online have allowed for a growing popularity to spark amongst this demographic.
"Not surprisingly, social media is driving the obsession. Influencers post massive thrift hauls on Instagram, TikTok and YouTube. That's where trends emerge, like bejeweled Harley Davidson crop tops, lace trim camisoles and the beloved low-rise jeans of the mid-2000s," states NPR.
As social media influencers have begun posting and creating content involving thrifting and second hand shopping, it's popularity continues to increase. By watching YouTube videos or TikToks in which teens see their favorite creators sustainably shopping at thrift stores, many are developing a newfound interest. 
Thrifting has some sort of allure to it, where many share the possibility of finding something different makes the experience worthwhile. "Thrifting has been normalized," Perez said, 21. "Since so many people are doing it, it's now seen as cooler. It's seen as better than going to the mall. Younger people find it fun, like a game. A hunt for something unique," according to NPR. 
The trends in 2020 and 2021 heavily rely on what can be seen as "vintage" or "90s" style and with the incorporation of thrifting, this style has become more widespread than ever. As these styles continue to be promoted and a big part of fashion today, thrifting provides a good alternative to having to go out and spend large amounts of money on clothes. Being able to both conform to what the recent trends may be while staying sustainable and saving money are no longer an unattainable desire. 
Thrifting allows them to not only be sustainable shoppers as they may buy things people find no use for, it also allows them to save their money, which essentially is a great thing. Moreover, the benefits of thrifting seem to make the experience one people keep coming back to, as the popularity of thrifting hasn't really died down yet since it's rise in popularity. 
While many may feel obliged to disagree with the term "trend" when referring to thrifting, it is important to acknowledge that it's growing popularity is a big reason for how thrifting has become such a popular way to shop. And so, in technical terms, many may feel more comfortable purchasing second hand clothing now that it is viewed as a popular thing to do. 
iSchoolers share their own thrifting stories, in which they not only enjoyed the thrill of searching for clothing, but also the intense feelings of joy that came with finding something that caught their eye:
Castle Bloodgood, a freshman at the iSchool, shared some of her favorite thrift finds by far! All from the Goodwill bins in Queens, she found a pair of Lucky Brand Sofia Bootcut Jeans, Prada low rise jeans from the '99 collection, and black Prada pumps for a total of just $6.00!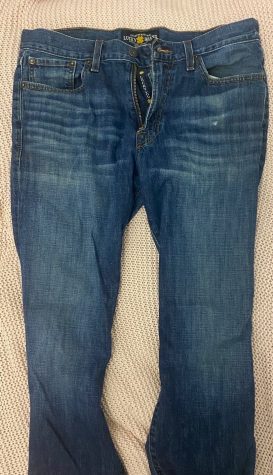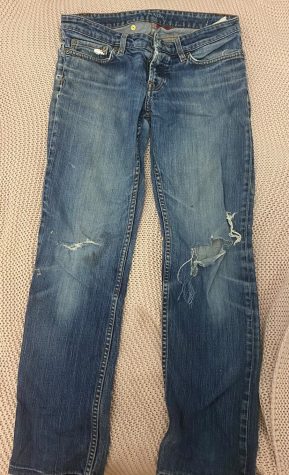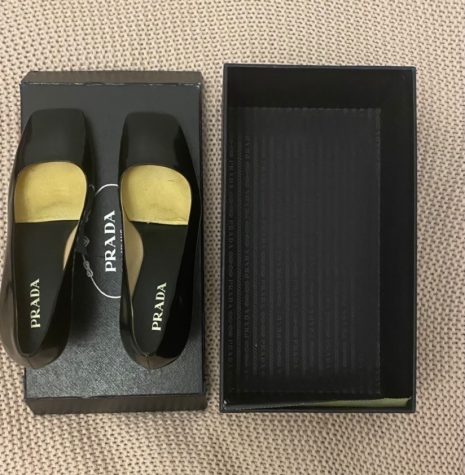 "1000% recommend, but people are absolutely vicious!" she adds.
Sophomore at the iSchool, Izzy Aptekar, had quite the interesting thrifting adventure when they found an iSchool sweatshirt at Goodwill. They share being quite surprised, not only at the great quality that it seemed to be in, but also how hilarious the chances of them finding their school merchandise was.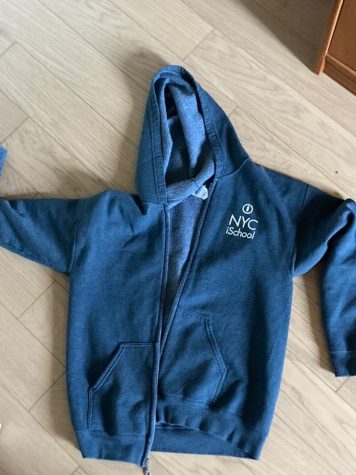 For all you cat lovers out there, this one's for you! Sophomore Nina Cossin shared one of her best finds at Beacon's Closet: a cropped denim shirt with embroidered cats!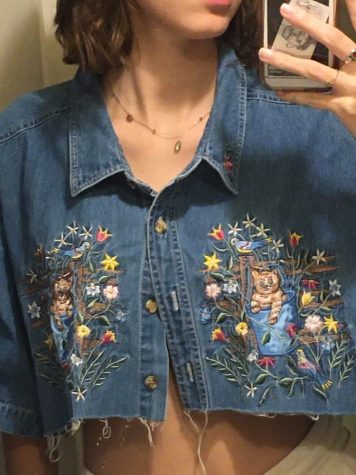 It seems like with thrifting, plaid is also booming with popularity! Parker Poma, a sophomore at the iSchool, discovered this adorable flannel at goodwill. Perfect for the fall, and it's pink! That makesit ten times better than any other flannel we've ever seen.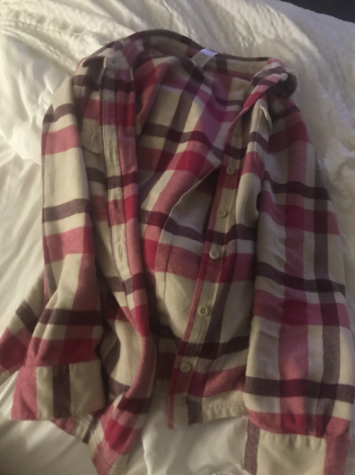 Freshman at the iSchool, Elyse Venturim, sent us a pair of Ed Hardy shoes that she found in the Goodwill bins. We are loving the colors! We are also mesmerized by the tiny drawings around the shoe, amazing! A staple in any closet for sure!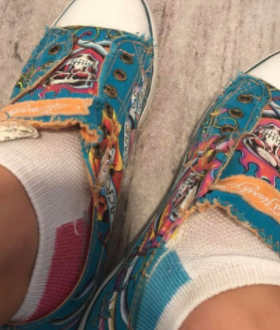 Mamadou Dia, sophomore at the iSchool, enjoys thrifting for the same reasons as everyone else. He shared this hoodie he found while at Goodwill. The design on the hoodie is so fun and a subtle eye catcher.. maybe even a good conversation starter!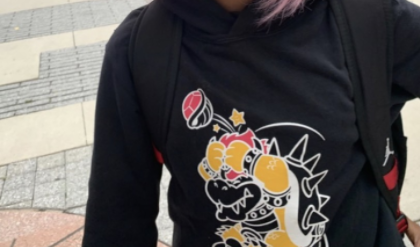 Freshman Briana Melguizo-Szarf (top) thrifted her crewneck and jeans! Very comfy and casual but a cute outfit nonetheless. Next, we have Junior Domi Fabbri (bottom) who thrifted his entire outfit- rings and all! This outfit is quite literally such a great combination and there's no better feeling than being able to say you thrifted your entire outfit. Imagine having a sustainable, affordable, and cute outfit all at the same time. Domi can relate!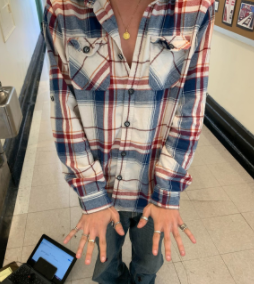 Sophomores Olivia Benn (top) and Natasha Trinidad (bottom) both thrifted their crewnecks! Perfect for the fall season and the colder upcoming winter days. Plus, the colors are such pretty dark shades, we are totally in love!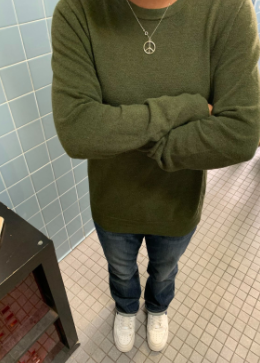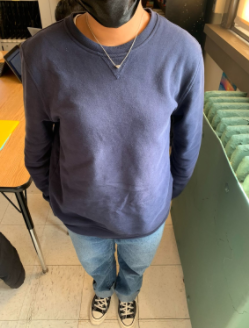 Isabel Wilder, a Junior here at the iSchool, thrifted these dark blue cargo pants! They're simple yet still super cute. And, a bonus is that they work with almost any outfit you could wear!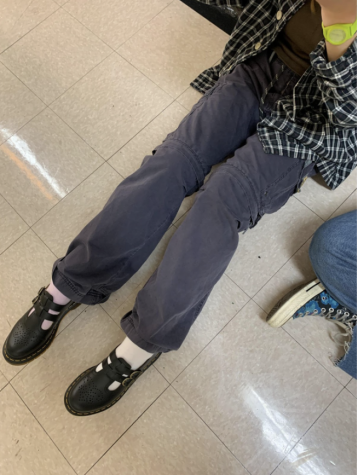 Crewnecks seem to be quite the popular thrift find now! Sophomore Carolina Johnson found this one while thrifting. We love the color coordination with the shoes- so cute! Another cute piece to get ready for colder days that are in our future!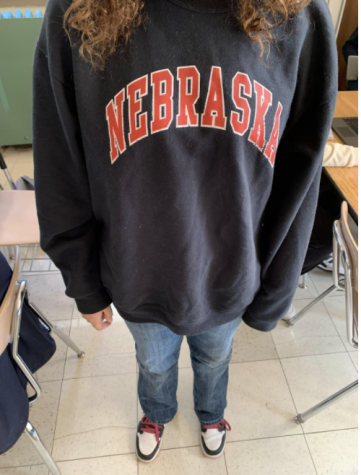 Junior Madi Ortiz found such a cool embroidered jacket at Beacon's Closet! It's enough to make any outfit ten times better and such a good find! Perfect to throw on top of any outfit and definitely a statement piece.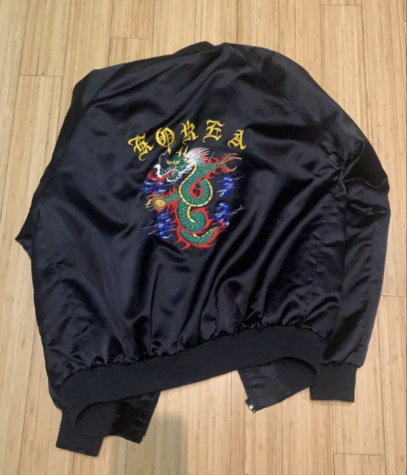 Takeaways:
The times have changed, that's for sure! And it's a good change on top of that. Arise in thrifting also affects our planet in great ways. While following trends and saving money, you're also being sustainable, and looking good while doing so! Seems like a win-win situation, that's for sure. 
"Thrifting has been normalized. Since so many people are doing it, it's now seen as cooler. It's seen as better than going to the mall. Younger people find it fun, like a game. A hunt for something unique," Eve Perez, 21, told NPR during an interview on secondhand shopping.
Admittedly, thrifting wasn't always as normalized as it is now, and the recent uprising of thrifting across the globe is quite remarkable to non-Gen Z-ers. In the past, many did not look to thrifting at places like Beacons Closet or Goodwill as something they'd do for fun. Well, times have changed! 
Thrifting is not only a fun little adventure of its own, but the happiness a person feels when they find a piece that grabs their attention makes it so much better. Maybe that's why Gen Z has grown such a fondness towards it! Whatever the circumstances may be, we're happy to see this new change, especially as members of Generation Z. 
The shift in negative stigma in regards to thrifting is great to see, it's more inclusive of all communities and allows everyone to feel confident in what they wear. As we grow up and change and get to know ourselves better, our self expression relies heavily on the types of things we like to wear. For many people, including those of the iSchool community, thrifting allows them to experiment with new styles to discover what they feel good in, and there are so many other benefits that come alongside this newfound obsession of sorts. 
"Wearing 'one-of-a-kind' clothing makes me feel special; it makes me feel unique; it makes me feel happy — and if that outfit costs you $30, all the better," Tori Lopez tells Refinery 29.