Thanksgiving : The forgotten holiday
You sit at the dinner table, surrounded by loved ones and the smell of delicious food. Every inch of the table is covered with a traditional Thanksgiving dish. You make your way around the table until you finally reach the golden, perfectly cooked turkey. You feast away, laughter fills the air, and you could not be more happy to be where you are right now. 
Thanksgiving is a national holiday in the United States that takes place at the end of November every year. The origin of this holiday came from an autumn harvest feast shared by the Plymouth colonists and the Wampanoag that is known as one of the first Thanksgiving celebrations in the colonies. It was celebrated by individual colonies and states until President Abraham Lincoln announced it to be a national holiday, in 1863.
While this holiday may have been thoroughly valued in the past, this perspective has changed over the last few years. Here is a diagram showing the least favored holidays of several people: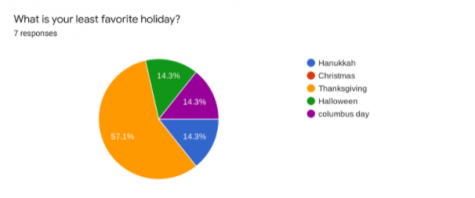 According to a recent survey conducted at the iSchool, the majority of the responses chose Thanksgiving as their least favorite holiday. So why is that? Let's look at some of the perspectives of these responses. 
When asked if she enjoyed thanksgiving as a holiday, Stella Beranbom, one of the responders, stated: "I don't really dislike it but I find it the least interesting holiday because you don't get gifts or candy and you aren't dressing up."
According to Beranbom, there doesn't seem to be a fun aspect to Thanksgiving, like there is to some of the other holidays. However, this isn't completely true. While you may not be receiving physical items, you are getting to spend time with family over a great feast. This is still something to be grateful for, because not everyone gets this opportunity. Sometimes it's not about what you are getting, but the little things that are the most memorable. 
A different responder, Cerys Webb, mentioned a very different opinion to Beranbom's perspective. She said:  "Honestly I think Thanksgiving is under-appreciated because you feel like you're not getting much out of it just because you're not getting any physical items. But I think you really do get a lot out of thanksgiving because you learn to appreciate all that you have."
Webb's response represents what Thanksgiving is all about; many don't acknowledge that this holiday is used to reflect on the things we are grateful for. 
You may not be getting gifts and candy, or dressing up, however, Thanksgiving still has its own celebratory aspects. 
Thanksgiving has upheld its traditions over the years, most use this holiday to spend time with family and eat traditional foods. When asked how she celebrates thanksgiving, Marlee Beranbom said: "My extended family comes to my house and we make traditional Thanksgiving day food like turkey and dishes." 
While the majority of people interviewed eat a feast with their families, dinner with family is not the only way of celebrating. Cerys Webb explains what she does in addition to eating with loved ones: 
"Every year my family and I participate in the Turkey Trot, which is basically a 5k race that I go to in East Greenwich. It's the morning of the day after Thanksgiving. I really enjoy it because it's a really scenic route and I do it with my aunt and cousin, which is really fun."
If you enjoy running, or even just scenery, this is a popular Thanksgiving event that is great to do with family and friends. This event is not a competition, it's created to give you an enjoyable experience. 
This is not the only popular Thanksgiving day event – another huge celebration that takes place every year is the Thanksgiving Day Parade. 
If you haven't heard of this parade, it is hosted by Macy's, the department store chain, and takes place annually in New York City. At this parade, you get to see unique and colorful floats, with people dressed up in costumes dedicated to the float they are on. Professional bands play, and even animals are borrowed from the zoo, to participate in this event. Aster Johnson, a viewer of this parade a couple of years ago shares her experience going to this event:
"I had watched it on TV until I got to see it in person, and I have to say it was amazing to see. Of course on screen you still get to see the beautiful floats, but it is incredible getting to see it all in action. I specifically remember this one float, it was my favorite one, and it was dedicated to the cartoon 'Spongebob Squarepants', which was basically a huge balloon of the main character Spongebob. I was stunned by how massive it was, and it made me think back to when I was younger and was obsessed with this TV series."
As Johnson said, the enormous balloons are the main attraction, and they are so fascinating to look at. If you live in New York, or are able to make it to this parade, I would definitely recommend seeing it in person. It's once a year, and hearing the live music, and seeing the floats with dancers in person, is unforgettable. If you are unable to go, or parades aren't your scene, you can still get to see these floats on television. Overall, this parade is a great way to celebrate Thanksgiving.
As you can see, there are many different ways to have fun during this holiday. If you aren't the biggest fan of Thanksgiving as a holiday, at least you are now familiarized with the multiple ways you can celebrate. Thanksgiving festivities can be just as fun as the other holidays if given a chance.