COVID-19 vaccinations become eligible for all teens aged 16+ in New York as Johnson & Johnson vaccine is paused: Updates
On Tuesday, vaccination appointments in New York became available for all adults aged 16 and above. This was a crucial step taken by New York to battle back against the virus, especially amid fears that variants of COVID-19 will lead to increased cases and another surge. The move, announced by Governor Cuomo last week, sped up the vaccine eligibility process incredibly quickly, from just ages 30+ a week ago to 16+ as of Tuesday. With so much information to unpack and reason to be overwhelmed, the iNews staff put together a packaged article to explain what there is to know about the process.
Progress in the US on vaccination
Despite a questionable initial response, the U.S. is rapidly vaccinating its population – a sign of relief in times where it's needed. As of this writing, 78.5 million Americans have been fully vaccinated, making up 19.9% of the population. But these numbers don't tell the whole story – 125.8 million people, or 38% of the U.S. population, have gotten at least one shot of the vaccine as of April 8th.
Compared to other countries, this is very respectable. As of April 15th, the U.S. ranked fourth globally among countries with 1 million or more people in its percentage of the population with at least one dose, behind Israel, the United Kingdom, and Chile. Amongst all nations, the U.S. ranks ninth.
Within the U.S., states have been able to vaccinate their populations with varying rates of effectiveness. Alaska, for instance, has the highest percentage of its population fully vaccinated, with 30.8% at the time of writing, while Georgia has the lowest in the country with 16.8%.
– Harrison Reinisch
Despite the progress, racial disparities remain
In New York City, there has been a divide in the demographics of people getting the vaccine. It is shown that about 74.9% of those in NY State with one dose were white, 10.4% were African-American, 13.3% were Asian, and 14.1% were Hispanic.

As you can see, there is a huge numerical difference between racial groups getting the vaccine. Looking at the data, it seems that vaccine accessibility for racial groups other than white is comparably low. With the percentage of non-white people with the vaccine being as low as it is, one might suspect that there are many of reasons for this. One of the reasons why could be that people could be hesitant to get the vaccine; it is also possible that there's a lack of access preventing some people from getting the vaccine.

– Kiandra Rosario
Johnson & Johnson vaccine 'paused' after cases of blood clots emerge
A lot of progress has been made in terms of accessibility to Covid vaccines, and even with the number of vaccines being used worldwide, many different companies are still working on their own vaccine. One of the companies to produce one was Johnson & Johnson, and around 7 million people have received the vaccine from them. After all the forward steps taken in the past couple of months, we've had to take one step back, after reports of six people developing a rare blood clotting disorder after taking the Johnson & Johson vaccine. Since six out of 7 million people got blood clots, it was described as 'extremely rare,' by Dr. Peter Marks, the director of the Food and Drug Administration's Center for Biologics Evaluation and Research, and Dr. Anne Schuchat, the principal deputy director of the C.D.C., in a joint statement. Johnson & Johnson will likely investigate the causes of the blood clots while on pause. Due to this pause, the US has now lost a major source of vaccine supply and this will obviously mean fewer vaccines that could go into arms. For the J&J vaccine, which is the only vaccine available in the US which offers full immunity with just one dose, that's a major blow to a vaccine that would protect a lot more people quicker. – Elias Swift
The status on COVID on booster shots and annual shots
COVID vaccines have caused many of us to miss our usual daily slog. For those who're *super* sad about missing school or work to stay home and watch Netflix, they might have some good news – but for everyone else, it likely won't be considered so fortunate.
On April 1 (released April 15), Pfizer CEO Albert Bourla conducted an interview with CNBC, opening up on the possibility of future shots being required.
"A likely scenario is that there will be likely a need for a third dose, somewhere between six and 12 months [after the initial shots are completed]… from there, there will be annual revaccination, but all of that needs to be confirmed. And again, the variants will play a key role," Bourla said.
His sentiments seem to be universally echoed. Johnson & Johnson CEO Alex Gorsky has expressed the opinion that people may need to get vaccinated annually, while Moderna CEO Stephane Bancel has stated his company hopes to have a booster shot ready for its vaccine by the fall.
Other individuals at the forefront of the vaccination effort also anticipate that booster shots could be necessary, but might not go as far as to say they're "likely." Dr. David Kesseler, the Biden administration's Chief Science Officer of the White House COVID-19 Response Team, said today that the government is "studying the durability of the antibody response [to the vaccines]… the response seems strong, but the variants that have emerged pose a significant challenge." On the subject of how ordinary Americans should prepare for the possibility of another, shot the following: "I think for planning purposes, planning purposes only… we should expect that we may have to boost."

Dr. Anthony Fauci, Chief Medical Advisor to the President and one of the most prominent figures of the federal COVID response, is unsure of how long it may take for the vaccines to lose their effectiveness.
"So the good news is that [the vaccine's efficacy should last] at least six months," Fauci said in an interview with MSNBC's Mehdi Hasan. "[But] we need to be careful about that six-month number. We know for sure it's effective for six months and [it's] highly likely that it will be effective for [a] considerably longer period of time… [but] if it turns out [to be effective for] a year or a year and a half, we very well may need to get booster shots to keep up the level of protection."
– Harrison Reinisch
The experience of getting a vaccine on the NY State website
If you've spent time on the NYS website, you'll notice that appointments online are available but fairly hard to get, and I tried for weeks to get appointments sooner. Initially, I got an appointment for my first dose on May 18th, which at the time was a pretty long way away. Eventually, with a lot of time spent on the website, I got three new appointments (May 4th, May 1st and April 22nd). For appointments at NYS sites, the cancellation process is very easy, so long as you have your appointment ID number as well as the other information about your appointment. 
My family and I had settled on April 22nd, which in my mind wasn't so far away, but on April 10th (12 days before my appointment), Twitter users started saying that the NY State website was being flooded with new Javits appointments, so I decided to look. There, I saw an appointment for the next day, and one thing you should know about booking appointments on the website is that they are tough to get at first but if you are the first to book the appointment, you have 20 minutes to fill out the rest of the form and book it.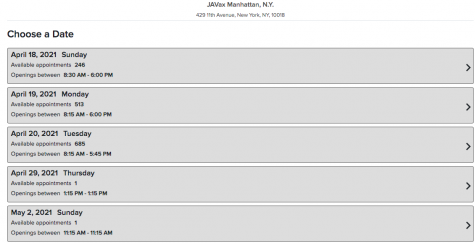 The screen on the NYS website shows Javits vaccine appointments available. 
If you are the first one to book an appointment on this page, then that becomes unavailable to everyone else and you'll have 20 minutes to fill it out. 
What it's like to get a vaccine at the Javits Center, one of the state's largest vaccination sites
If you live in Manhattan, or even the Bronx or Brooklyn, and try to make an appointment, you may have seen the Javits Center pop up as a mass vaccination site where anyone can go get the Pfizer/BioNTech, and previously the Johnson & Johnson vaccine at any point. Considering it was the closest option for my family, that's where my parents and I got it, and when you walk in, it immediately feels like a war effort. Members of the National Guard greet you and direct you to where you need to go. Many people wondered why the National Guard is there, but they actually have a very important job which is to collect, transport, and when needed, administer COVID-19 vaccines. At the Javits Center, the vaccines were only administered by registered nurses, and the National Guard played more of a logistical role in the process.
When you enter, you'll most likely hear information about the COVID-19 vaccines over the loudspeaker, a chilling reminder that while the Javits Center was previously one of the happiest and busiest places in NYC, it is now a location of one of the most ambitious vaccine campaigns in history. 
All in all, the whole process was super quick, easy, and organized. They filled what used to be one of the wings of the convention center with individual booths, with computers and plexiglass surrounding each, and at these booths, people who would be receiving the vaccine would fill out and answer a health screening and go get the shot. The administration itself is also very organized, and the main hall of the convention center is organized into three sections: the vaccination area, the waiting/examination area, and an area where you can take photos with backdrops of "Vaccinate NY" and an updated number of how many shots had been given out at the Javits Center, which is over 250,000 right now.
At one time, likely around 300-500 people will be able to roll up their sleeves and get their vaccine, and there's often very little waiting time. 
One interesting feature of the Javits setup are the various medical tents spaced out throughout the vaccination area. These are used for everything from common side effects to bigger situations like potential cases of anaphylaxis or fainting. 
When I received my first dose of the Pfizer vaccine on Sunday, I immediately felt very hot and fairly nauseous, which I later learned was something called a 'vagal response' where my vagus nerve responded to the shot itself paired with all of the emotions of the day, but those side effects quickly subsided. Out of an abundance of caution, they said they wanted me to spend the 15 minutes after the shot in one of the tents, and the tents contain snacks, waters, and juices as well as a bed and an IV cart in case anyone needs medical attention.  -Zach Kaplan
Conclusions from the iNews staff
The vaccine rollout is picking up pace nationwide, which is a very good sign, and it's looking like the U.S. will be at the desired number for herd immunity by summer. Get your vaccine if you haven't already! – Zach Kaplan