Where to eat around the iSchool that isn't overrun by students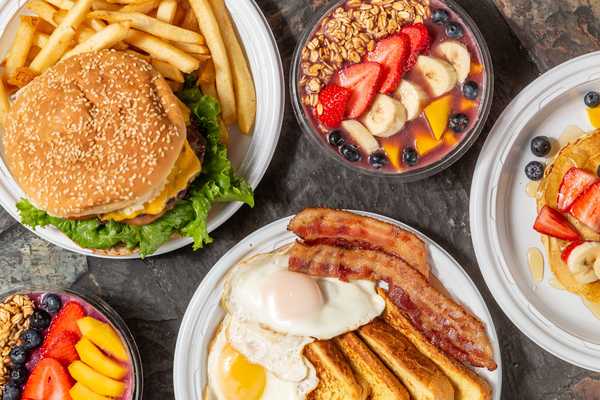 Soho, the current residency of the NYC iSchool, is not a food desert. In fact, some of New York's most famous restaurants are here. Sullivan Street Bakery, Dominique Ansel Bakery (the creator of the cronut) and Blue Ribbon Sushi are all just a short walk away. However, if you're a high school student, you probably don't have the funds to buy a $8 sandwich every day. 
Enter, the iSchool student body's favorite food spots. Among them, 99 cent Pizza,Trader Joes and Essen Market. (If you want to learn more about them, you can find reviews here on the site.) However, one of the great challenges of having lunch at the same time as hundreds of other students is that seemingly all the good places for lunch are overcrowded. So, I've taken the suggestions of some iSchool students to find the best places to eat that aren't always packed. 
Shake Shack
One of the great challenges of the iSchool is sometimes wanting a good burger and not having the right options. Shake Shack is delicious, and has a wide variety of choices for your burger or whatever food you want. But, you have to make some sacrifices to eat there. 
First is the price. Shake Shack isn't super expensive, but you should expect to spend at least $5 there on any given day. But, if you want an affordable snack, then I suggest the $3.25 hot dog, or for $3 more, a more filling meal of the Chick n' Shack.
Secondly, the walk. It's about 10 minutes from school, but the food takes a while to make. If you have access to a credit card this is easily remedied using the Shake Shack app, which is very easy to set up. 
Domenico Fabbri, a junior said, "The Shack Burger is exquisite. The Shack sauce is perfect, and I'm a fiend for them."
If you're craving some really filling food, Shake Shack is perfect. Take it into consideration the next time you're trying to avoid the lines.
Chobani Cafe
Chobani Cafe is an extension of the Chobani yogurt brand. Originally it was going to be a couple month long pop up, but now it looks like it's here to stay.
The first thing to know about Chobani Cafe is that it's a pretty popular destination for visitors in SoHo. The line doesn't usually get longer than a minute or two, but don't expect to be able to sit there. However, the food doesn't take so long to come out. 
Affordability! The bane of any SoHo roaming student's existence. Unfortunately, Chobani doesn't have your back on this one. Their best meal, definitely a smoothie and whatever bagel based dish you prefer. Personally, I like anything with avocado. But, it does tend to be upwards of $8 for just a sandwich, and for that meal, around $15. 
Briana Melguizo, a freshman, says, "The coffee is really good, but for a yogurt brand, they [yogurt based foods] really aren't that good.
So is it worth the hefty fee? I would say Chobani's food is an 8/10 and their service is excellent. Plus, like a true corporate pop-up, they have some pretty good promotion tactics. If you spend enough, they'll give you a free 2 liter bottle of Chobani brand cold brew. And depending on the holiday that's closest, they may even offer you a free tote bag or snack. So if you're willing to pay the price, I would definitely consider paying a visit to Chobani Cafe. And while you're at it, take some pictures. It's really very pretty.
The Thompson Finest Deli
A true New Yorker loves a good bacon, egg and cheese sandwich. On a roll, of course. Thompson Finest Deli is definitely the best place for B.E.C.S., and you can't discredit their knack for making great crispy chicken (with bbq sauce). 
While only a short walk from school, you'll probably find that the Thompson Finest Deli is never overrun with iSchool students. On a busy day there's about 5 or 6 people in there, but since it stretches towards the back it doesn't get so cramped. However, all the food is made to order so it can take up a good chunk of your period to be waiting there. According to freshman Elyse Ventirum, "They have a great lemonade selection, but the lines are long and you have to get their attention."
My suggestion for your meal would be a B.E.C.S. with Joe's Lemonade. $7 total!
One of the great things about Thompson Finest is that they have amazing service. The workers are very friendly and make the place feel that much more comfortable. So, if you're willing to spend a few extra dollars, Thompson Finest Deli is a really great place to eat.
Dunkin Donuts
Dunkin is an East Coast classic, and has always had great coffee. But what about for lunch? Right next to 99 cent pizza, this tap to pay, cash and card accepting destination has sweets and meals.
If you're hungry and you don't have cash for 99 cent pizza (or just want a change), Dunkin Donuts is perfect for you. An affordable suggestion, one of the breakfast sandwiches. They're usually pretty affordable and definitely under $5. Or, for a drink, the iced matcha is actually fantastic. It's not as cheap as a plain coffee but definitely worth the time difference. As for crowdedness, it's not very popular so there aren't generally tons of people inside.
The downside? The quality of the food. Dunkin Donuts doesn't make any of their food onsite and thus the food is never great tasting. Take, for example, the 'Snackin Bacon. It's very sweet and very over processed, but not filling. 
However, Maila Corea, a freshman at the iSchool, says, "Every Friday, it's Donut Friday and I buy my friends a donut each from Dunkin." Maila is a big fan of D.D. and goes there often.
If you struggle with the overcrowded restaurants at lunch time, then these places are the cure. (Side effects may include priceiness, lines or bad food.) But all jokes aside, they have some pretty great foods. Make sure to check it out, and while you're at it, try some of my recommended dishes!