Diversity of culture through food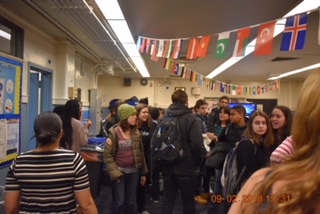 Mrs. Charter, a Spanish teacher at the iSchool, created the Multicultural Food Festival, which occurred on February 9th in the cafeteria.
The festival was a project to make food that represented many cultures. Most students brought in distinctive foods like Matzah, pie, or empanadas.
The point of the festival, as explained by Mrs. Charter, "Was the kids were studying about food and diversity in Spanish culture and because we have so many cultures in our school I felt it would give the kids an opportunity to showcase their culture."
The only rules were try not to use nuts because of student's allergies. Students also had to hand in a written presentation that goes over the history of the country, which the food is from and the significance of the food.
100 students came to the cafeteria to work the festival.  These students were in Mrs. Charter's Spanish 1 sections, which consisted of four classes with around 25 students in each. These students were fed first and then waiters proceeded to show in a stream of 100 more students.
Waiters came from the kitchen laden with juice. On the lunch tables more than 50 unique foods were placed. From Apple Pie to Kugel, the lunchroom was covered with foods of different sizes and shapes. Dishes came from places like Nigeria, Trinidad, and Israel.  
According to Mrs. Charter, her favorite memory was when, "Two girls came out in traditional African garbs and they wore their attire during the event. To see the kids so excited about that and wearing their attire, that's what I enjoy."  
Freshman Andie Krein said, "[My] favorite part of the event was how there were so many different foods cooked in different ways from so many different cultures."
Everyone in Spanish 1 was required to come to the festival, but many people who weren't required to come came.
Izabella Orozco, a freshman student, said, "My favorite part about the festival was that there was so much food."  
The Multicultural Festival was a great success. The festival's purpose was to showcase each other's cultures, and it did so perfectly.