The truth behind the shooting of David Ortiz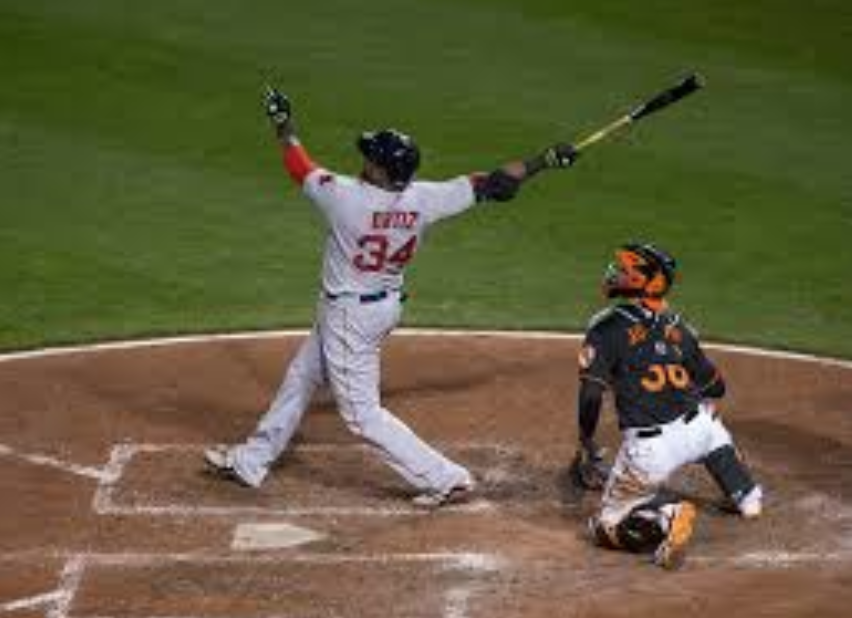 Fitzgerald Perez JR and Adrian Acosta
November 8, 2019
Tuesday, June 9th, 2019. A fairly cool night for Santo Domingo with no clouds in sight. As the sun sets on the horizon, people are sitting outside with family and neighbors, enjoying each other's company and blasting merengue for the whole neighborhood to hear. 
On the corner of Masoneria Street, there's a very modern building that appears to be out of place. It's surrounded by run-down buildings and abandoned apartment complexes. There's a club that stands out from the rest of the buildings in the neighborhood with its bright lights, The Dial Bar and Restaurant. Sports cars parked out front, luxury food, politicians, soldiers, actors, athletes, and common folk. The Dial Bar and Restaurant has it all.
People are enjoying themselves. Part of the restaurant is outside, and you look to the side  of the restaurant and there are three friends catching up on life. David Ortiz, the MLB star and native to the Domnican Republic, and Jhoel Lopez, famous talk show of Domincan Republic, and Cisco Fernandez, a friend of Ortiz are eating on the outdoor patio. On the side of the street, you see a man approaching the bar; he suddenly stops in front of the table where Fernandez is sitting at and shoots Ortiz.
The bullet went through Ortiz's back, and Lopez is caught in the crossfire. The bullet went through Lopez's thigh. Everybody runs out of the bar in chaos. The shooter runs from the bar, hops on a motorcycle and is gone. 
The authorities show up and ID both victims. They could tell from the single bullet that Lopez had been collateral damage. They ask themselves who would shoot Jhoel Lopez and David Ortiz. Over the coming weeks, the police begin to investigate the motives of the perpetrators. The real question is, if Ortiz was the target, what was the motive?
Childhood
David Ortiz was born on November 18, 1975 to Leo Ortiz and Ángela Rosa Arias in Santo Domingo, Dominican Republic, as David Arias. He later changed to his father's last name, Ortiz. He was the oldest of 4 kids and was more mild and calm than his siblings. He was always seen as an athletic but sensitive and a generous boy. He went to school and attended at Estudia Espaillat High School and never got in trouble.
 He grew up in Gauley, a poor and dangerous part of the capital. He says riots, protests, drugs and shootings happen in his community everyday. Even today, Dominican Uber drivers refuse to drive into that neighborhood, but it is often a fun neighborhood these days that get overlooked by the violence and its culture and people get ignored. 
His father wanted to keep his son out of trouble and didn't want him in the streets. His father supported his son's baseball ambitions but wanted him to practice in the backyard and not to play in the streets so he did not get caught in the middle of a tussle. But Ortiz Defied his father and snuck out to play vitilla with the other boys in the neighborhood. Vitilla is a baseball-like game with a broomstick for a bat and a bottle cap for a ball. But when he heard his dad's motorcycle, he would run back into his house. But even then people still came to see David hit.
 From a young age he had fallen in love with the sport of baseball and dedicated all his time to it. Growing up he would admire baseball players like Ramon Martinez and made friends through baseball. His father actually played pro-baseball in D.R., which inspired David to not only play pro but one up his father and make it to the MLB. From a young age he knew he wanted to play baseball in the major leagues. He practiced hard everyday and worked toward his goal of becoming the best.
He would practice day and night, rain and heat, Monday to Sunday. It all paid off when a scout came to him and his mother. In that poor, beat up, and crime riddled part of the Dominican Republic, there was a small house where David Ortiz signed his first major league contract. To him it was the end of his journey because he finally made it, but he would soon learn that it was only the beginning.  
MLB Career
The Minnesota twins recruited a young david ortiz. He had finally made it in the Major Leagues, but now he had to prove his skill against the best teams in the world. David played his first Major League Game in 1997. He was a designated hitter and a heavy hitter. He went into the MLB swinging, literally. Though he was talented and showed potential he was held back by being on a team that was lackluster. He was a good player and great to watch, but his skill would get put down cause he held his whole team on his back and the coaches didn't know what they were doing.
 In January of 2002 his mother, one of his biggest supporters, sadly passed away in a fatal car accident in the Dominican Republic. This crushed David. His mother was his everything. This hurt even more because his mother wasn't at his wedding. But despite his sadness, he pushed through. And he honored his mother by pointing to the sky every time he crossed the plate, pointing to his mother who was looking over him from heaven.
He was later traded to the Red Sox where he was given the nickname Big Papi based on his recorded shattering home run hits. He really shined when he was with the Red Sox and proved all doubters wrong that believed he was overrated. He proved his skill and added his name to the record books. Boston beloved him and he represented his country by donating to programs that help support dominican children and families. Both Boston and the Dominican Republic love David Ortiz.
 Over his career he has acquired trophies and awards for his skill and dedication to the game he loves. He has won 3 World Series with the Red Sox in 2004, 2007, 2013 and was the World Series MVP in 2013. He won the Babe Ruth award in 2013 and the Roberto Clemente award in 2011. He won the Silver Slugger award in 2004-2007, 2011, 2013, & 2016. He was hitter of the year in 2004, 2005, 2016. He is the Red Sox single season homerun leader with 54 in 2006 season. He ended his career in the 500 home run club and as one of the best players, unargued, to play the game. 
Retired Life
After David Ortiz retired, he had a lot of time on his hands. He is worth 55 million dollars and is a prominent figure wherever he goes. He spent more time with his wife Tiffany and three children Alexandrea, Jessica, and D'Angalo. He often traveled the world with his family but then he started working harder on his charity the David Ortiz foundation He also founded the David Ortiz children's foundation, a charity that helps sick children in New England and the Dominican Republic who need surgery and need help with their health issues. He always believed in helping the less fortunate. He used his money and status to help others in need. He went in 2013 to give away food and toys in his old neighborhood in the Dominican Republic. While he was running his charity, he was also hired by Fox Sports to cover baseball. Anyone who watches him knows he has a personality which stands out compared to others and always has high energy and makes everyone laugh. Everyone says he is a lovable guy. An immigrant who worked hard to get where he is at in life and prove to others you can do anything you put your mind to. One of the best MLB players of all time, a kind and funny person. Who would want to hurt him?
Reactions
When David Ortiz was shot, the Dominican Republic was full of confusion and anger. They asked themselves, why would they shoot somebody who is considered the "hometown hero" of baseball to the people of DR? 
Most of the anger came from fans who were able to find one of the perpetrators, Eddy Vladmir Feliz Garcia. Nicknamed the "getaway driver," he suffered a gruesome beating after falling off the motorcycle he was using to help the shooter flee the scene of the crime. Fans and bystanders saw Garcia and immediately started to beat him. 
The other perpetrators had not received anything close to the treatment of Garcia. Most had either been taken into custody or had gone into hiding. The list of perpetrators is as follows:
Victor Hugo Gomez

Alberto Miguel Rodriguez Mota 

Joel Rodriguez Cruz

Rolfy Ferrerya Cruz  

Oliver Moises Mirabal Acosta 

Reynaldo Rodriguez Valenzuela

Lanny Estefanny Perez Reyes 

Gabriel Alexander Perez Vizcaino

Franklin Junior Meran 

Polfirio Allende Dechamps Vazques 

Jose Eduardo Ciprian 

Carlos Rafael Alvarez
Everybody on this list had contributed in some way or form to the shooting. Victor Hugo Gomez ordered the hit on Cisco Fernandez. Gomez has been linked to the Drug Cartel "Del Golfo" Gang. And so in 2011, Fernandez had ratted out his cousin, so the police took that as a motive for planning a hit on Fernandez. 
The misconception that took place on June 9th was that both Ortiz and Fernandez were wearing white pants, and Ferrerya was given orders to shoot the man in white pants. So when the shooter Rolfy Ferrerya Cruz approached the two he shot Ortiz on sight. 
However, this is not believable since Fernandez and Ortiz have no resemblance. They are different in height, skin tone, clothing, etc. The only thing that they had in common was both happened to be wearing white pants. They also had both been sitting in different parts of the table. Ortiz is one of the most recognizable people in Dominican Republic, so it wasn't believable when the authorities told the public that Ortiz was not the intended target. 
After analyzing the video, you can see that Fernandez had sat in the same seat throughout the whole day, proving once again that you could have not mistaken Ortiz for Fernandez. Earlier in the video it is seen that Mota had sent a picture of Fernandez to confirm his arrival. This is also confusing because why would they send a picture of Fernandez to then shoot Ortiz. 
Rumors and Speculation
Without little public information on why Ortiz got shot, people had to make up their own theories on what had happened. One example was that Ortiz had been money laundering and got into some trouble in the process. This obviously isn't true because Ortiz is a multi millionaire so there would be no point for him to money launder. 
Another theory was that Ortiz had a dispute over a woman. With no answer from authorities the media picked up many of these claims and they became mainstream. This just added to the confusion on whether or not Ortiz was in fact the target or not. As of now there is still no motive on why Ortiz got shot instead of Fernandez. 
When contacting the Boston Police Department, they had said that the investigation was being led by the Domincan Republic police department. Obviously,we couldn't get a word from them. 
Also, recently the Dominican Republic Police Department has been claimed to be corrupted, so it could be another factor of why the story keeps changing. 
Road to Recovery
"You could get scared because you don't know if youŕe going to survive" says Ortiz in an interview with Rob Bradford of WEEI Sports Radio Network. He grew worried after the doctors in Boston told him he would have to go through a third surgery. He then had realized the severity of what had happened. 
In an interview with Univision, Ortiz says, "I cried and asked myself if I deserve this ," as he talks about why somebody would do this to him after all he has done to help people in need and give back to the country he loved. He also didn't understand how the media had made up all these fake stories on why he got shot, and why they would try to ruin his reputation. Ortiz will still be "working at [his] foundation. [He's] going to keep trying to help people get better. Because itś my nature. I'm not going to let a gunshot wound, or a bandit, change my nature." And that's exactly what he has continued to do. His foundation hosts events to raise money to donate to kids in terminal health and disease in New England and Dominican Republic. 
Because of the shooting some events like the "David Ortiz Fantasy Camp" had been postponed because of the shooting. However, Ortiz will be hosting his 12th Annual Celebrity Golf Classic is still on schedule to happen between November 21-24 of this year. This goes to show how much David loves his community and gives back to his people. Ortiz couldn't fathom why somebody would try to kill him, and take away his opportunity to help hundreds of thousands of people. 
Fans of Ortiz everywhere had a sense of relief when he made a surprise appearance at his old playing ground Fenway Park, throwing out the ceremonial first pitch. "I wanna thank the Red Sox, my real family, they have always been there for me, supporting me, they were the first ones there, thank you." this just goes to show what type of person Ortiz really is. "I wanna thank god for giving me a second opportunity to be able to be here with all of you." For Ortiz to come back after such an incident like that truly reflects how much of a "symbol of resilience, strength, triumph, and love," as Dave O'Brien, Red Sox Announcer puts it "Our one and only Big Papi, The Red Sox Hall of Famer number 34, David Ortiz!". 
On October 2nd, the Washington Post reported that Ortiz will be returning to "FOX as a studio analyst for Major League Baseball's 2019 postseason."
The shooting of David Ortiz has been an ongoing investigation as of the day of the shooting, and is being conducted by retired police commissioner, Ed David of the Boston Police Department, a long time friend of Ortiz. He owns a security company called the Ed Davis Company. The company is built up of "world class security risk solution experts." Their purpose is to "identify, analyze and develop comprehensive, powerful solutions that minimize their exposure to both physical and cyber security risk." 
The incident is still being investigated and as of now there have been no new leads.