The rise of youth activism in the 21st century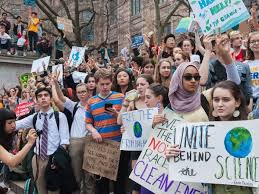 Vera Topcik, Reporter
January 7, 2020
Greta Thunberg, Emma Gonzales, Malala Yousafzai, and Gavin Grimm. You may have heard these names on the news. These people are activists, but they all have one thing in common: they all started protesting when they were teens.
There has been a recent change in the 21st century. Teens, young adults, even children, have started to take the lead in fighting for what they believe in. They have led protests, marches and strikes, and most of them are not at the legal age to vote yet.
The rise of youth activism and teens taking more of a stand has shown others that teens can have a say in the issues of our world.
"I think that activism shows our power, and the power that we have in our voices," says Alliyah Logan, a senior.
Logan has been getting involved in her community throughout her high school career. For her, it's important to help her community with the issues it faces. One of these issues surrounds the education systems in New York City and the diversity in schools. 
"My foundation in my activism has always been improving my own community," Logan stated.
A lot of teens who decide to get involved in activism normally start from their community or problems that affect them. Lots of teens eventually expand their work to more communities and eventually entire countries.
Malala Yousafzai was a teen when she started to fight for her beliefs. She got involved in protesting for education for women because she was affected by the Taliban's oppression against women and their ability to get an education. She started protesting within her community first, which resulted in her getting shot in the head by the Taliban.
She now works across many countries in giving more women opportunities to go to school. She has even worked with the UN to try and solve this issue and spoken out in many places where women don't have the opportunity to get an education. She is a primary example of a youth activist who started out small in her community and ended up reaching people across the globe.
Another example of a teenager who got involved because she was affected by an issue is Emma Gonzales. Emma was a student at Marjory Stoneman Douglas High School in Parkland, Florida, where she survived a school shooting. After the shooting, she and fellow survivors decided that enough was enough and began protesting for gun control. 
Gonzales has now spoken at different events, across the country, fighting for gun control so that schools everywhere can be safer. She started taking action mostly because she herself was a survivor in a school shooting. She started by fighting for her own school community, she then ended up fighting for her entire country. 
These two teens are prime examples of young people who have decided to use their voice in a world where there are a growing number of problems. It is especially important for Emma Gonzales in the United States, where the government is a democracy, and all people need to be heard. And it's even more important for Malala where she had lived under the control of the Taliban and women's voices were not heard at all.
According to Jessica Taft, a leading scholar in Youth Activism at the University of California Santa Cruz, "To not include them is anti-democratic. They deserve to be listened to, to be seen as collaborators and treated as equals." 
It's important for everyone's voice to be heard, no matter what age. 
With these teens standing up to fight because they have been negatively affected by certain issues, this could mean that the rise in youth activism is not a good thing after all. It could mean that today's youth has had to endure a lot of hardships that they shouldn't have to experience, more so than any other generation of youth. Because of this, these teens have decided that enough is enough.
According to Greg Dimitriadis, the series editor of the book Beyond Resistance! Youth Activism and Community Change: New Democratic Possibilities for Practice and Policy for America's Youth, "Young people today face an unprecedented set of risks and challenges, including vastly diminishing economic and social possibilities." 
It's a huge issue in today's world that our youth have to endure a lot more hardships than they should. These hardships today include hunger, lack of education, poor housing, discrimination of race or gender, and much more. It is absolutely unacceptable that they are forced to endure all of these things at a very young age. 
However, activism has been seen to be useful for teens who are involved. It gives them certain skills they need for adulthood, and it creates more awareness for these teens' surroundings and overall creates a more empathetic society, which could lead to making a better world.
Logan has been working on improving the school systems for her community in NYC. For her, it was important that she began by focusing on where she lives and later expand to a more international scale. She has been working with youth activist groups, such as NYCLU teen activism project and GirlUp. She has participated in many rallies and protests. 
"Seeing how communities come together when they're rallying was, for me, really inspiring to see so many different perspectives of black people fighting for Black Lives Matter," Logan said, when talking about an experience she had during a black lives matter protest.
"Activism helps you know more about the world, you're not in a bubble, you're not restricted from knowing things that you wouldn't know about if you didn't get involved." says Miami Dade College student Gaby Quintero. Having knowledge and skills from getting involved in politics can help a teenager develop skills for the professional world of jobs and can help them make the important decisions they would have to make as an adult, like voting.
iSchool teacher Mr. Singh is the moderator of the Social Activism Club. He has seen some of his students become involved in activism in college and their careers. Being involved in activism early on has proved to be a useful skill for some of his students after graduating high school.
"The normalization of activism among young people is going to be hugely beneficial to society as we move forward; teens are becoming more knowledgeable and passionate about issues that affect themselves and others.  This, I think, will result in greater empathy and willingness to act in creating positive changes to unjust circumstances," says Mr. Singh.
The rise of youth activism has shown the world that children and teenagers can have a voice in today's issues and that they have just as loud of a voice as adults. If the youth of today start to use their voice more and more, the world could change for the better.